Aries:
This week you are going to be in full power mode. You are going to be full of ideas, inspiration and primed to take action and execute many tasks. Your self-confidence will be at a peak. However, beware of alienating people because of your passion, temper and drive. Too much of an independent streak could make you feel lonely. Your finances look steady and you shall thrive in your career. Some of you may pay more attention to your appearance and style. This is also an excellent period to meet someone new. Overall, this is going to be an extremely positive week hence, ensure that you make the most of it.
Ace of Cups |
Taurus:
This week you are going to be full of inspiration and confidence. Projects started currently could take off successfully. It is time to step up and take the lead in important matter at home and work. People are going to trust your leadership skills and abilities. This is an excellent period to collaborate and work with others. Working as a team will bring you much success. Your networking skills will benefit you during this period. Beware of becoming too emotional or losing your temper. Stay rooted and grounded. Pay close attention to your intuition and dreams.
Queen of Wands |
Gemini:
This week your home and family will take center stage. Some of you may have faced major heartbreak but it is time to move on from the past. Stand your ground and defend your thoughts and ideas. This is in-fact a lucky period during which you could have inspiring ideas and visions. Some of you could opt for wild celebrations and enjoyment which may help you feel good about yourself. It will also bring in fresh and exciting energy. Stay open to receiving love from any quarters during this period.
Four of Wands |
Cancer:
This week you shall be given the ability to handle multiple tasks and responsibilities. There shall be more than enough energy and firepower backing your ambitions. You will have the capability to emerge successful through any and every barrier. It is certainly going to be a positive week for your work/career. Travel is on the cards for some of you. There is a need to drop your shields in your personal relationships. Some of you may feel a sense of loneliness or sadness. You are asked to step out of your comfort zone and communicate with vulnerability and seek support.
Two of Pentacles |
Leo:
Some of you Leos are going to create a solid structure and foundation in your lives. It includes inculcating better habits and discipline. Release unnecessary clutter from your surroundings. De-cluttering and balancing will help you step into your power. Create more space for better things to enter your life. Don't be afraid of showcasing your talents and abilities. This is an excellent period for love and relationships. You are going to be understanding, romantic and emotionally expressive. Singles could meet someone special who is very caring. Your personal relationships will certainly see major improvements.
Two of Wands |
Virgo:
You may have to take action to break a stalemate/block in your work and career. You have the ability to overcome any obstacles through sheer willpower and inspired action. Believe in the impossible and it shall happen. However, along with that make sure that you investigate and research all the details properly. Some of you may receive a new job offer, a contract or a project out of the blue. This is an excellent period for love and romance. Singles could meet someone special. You family and friends are going to make you feel loved and comforted this week.
Two of Swords |
Libra:
You are running far away from your old patterns. You will have immense energy to execute many tasks this week. Your energy is going to be strong, independent and impatient. You are trusting your instincts and not wasting any time. Make sure that you do not miss important details in your hurry to get things done. Going deeper into the root of a problem will help you get rid of issues faster than usual. Your finances look stable. This week you may also have the opportunity to pamper yourself and enjoy the good things in life, such as spa, food, drinks, shopping, etc.
Knight of Swords |
Scorpio:
This week you have the ability to shine! Be strong, bold and confident. There could be a renewal in your personal life. If there has been any confusion in the past, it will get resolved. Connect with your emotions and you will find the right solutions. You are a water-sign and have the ability to get to the depths of emotions without much discomfort to get to the truth of the matter. Your home is going play an important role in your life this week. Take time to pamper yourself and enjoy all the good things life has to offer. Eat, drink, shop, and indulge to your heart's content.
Queen of Wands |
Sagittarius:
Some of you have come to the end of a tough cycle. The Magician indicates a brand new beginning in your life, making it an excellent time to visualize and manifest whatever you want. Take time to heal and let go off of things that do not excite you anymore. Speak your mind without fear. Your home may need time and attention this week. Some of Saggis need to lighten up and actually have fun. You need to firmly believe that good luck is finally entering into your life and it is going to make you feel amazing.
The Magician |
Capricorn:
This is going to be a very busy and fast paced week. There will be multiple calls, texts, messages and meetings. Try to balance out all this quick energy by slowing down when necessary. Make sure to note down all the ideas and inspirations coming your way during this period. This is going to be a lucky week for your work/career and things will work out in divine timing. You may face some challenges in your personal life and are asked to drop your defensive outlook. Be open and vulnerable. Speak your truth and it will transform your relationships.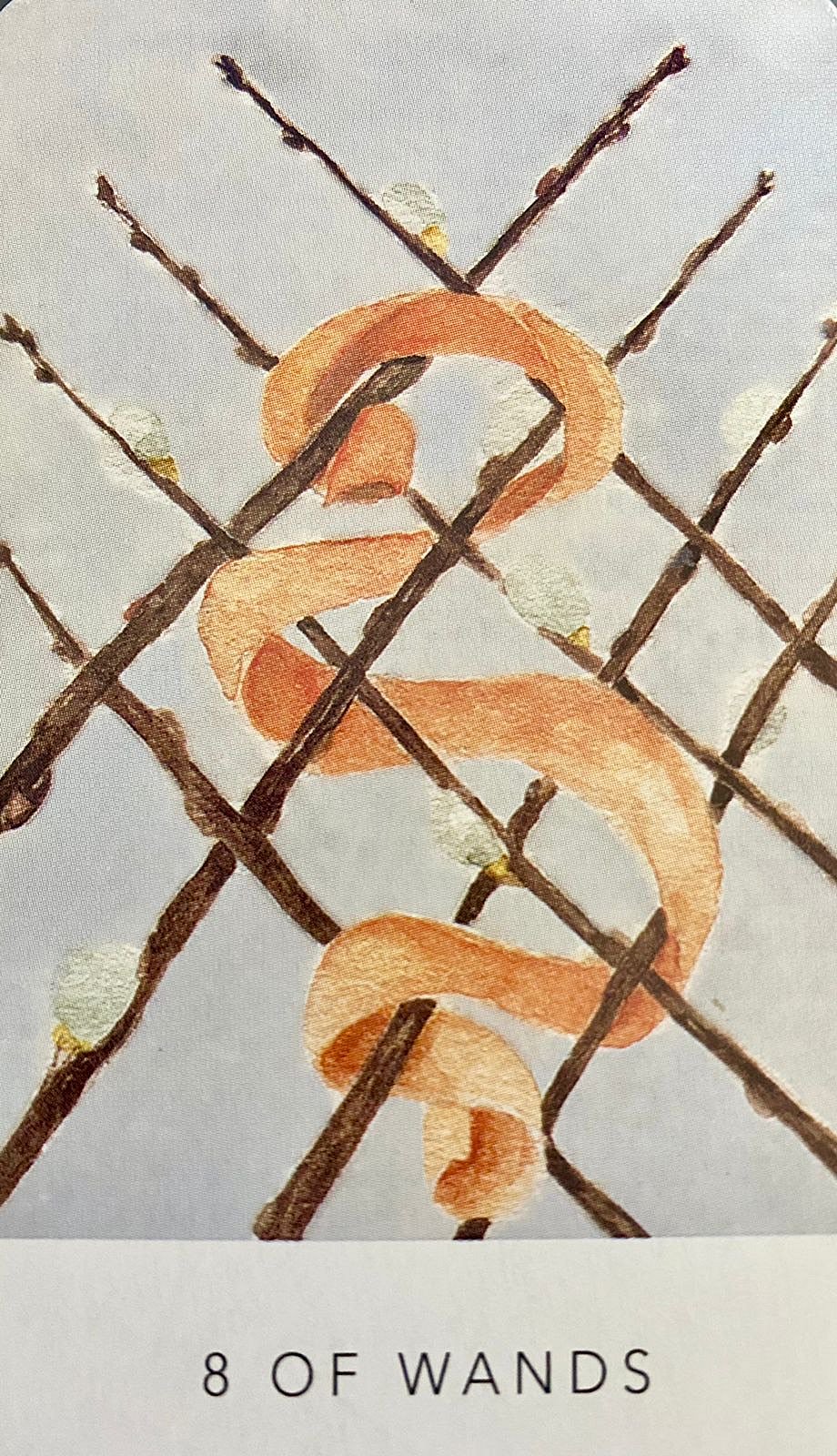 Eight of Wands |
Aquarius:
Don't go slow and steady this week. Instead, ignite your passions and chase your dreams. Quit being humble and showcase your talents. This week your focus will also be on your money and resources. Some of you may actively look for new job opportunities which will increase your finances. Beware of going back to any unhealthy patterns from your past and overindulgence. Your personal life is going to bring much needed positivity and calmness in your life. Make the most of all the abundant love that your close relations will offer you.
Page of Pentacles |
Pisces:
This week again clear out the clutter from your surroundings. Your energy is going to surge and grow. Some of you could be offered a position of authority and importance. Your impatience could lead to some disagreements, hence beware of your temper. Try to stay away from your old habits and patterns. Keep your heart open to meeting old friends and acquaintances with whom you may share old memories. Take time to rest and enjoy the company of your family and friends. Your partner/companion shall bring much joy into your life.
Knight of Wands |
Deck- White Sage Tarot
(If you have a story in and around Mumbai, you have our ears, be a citizen journalist and send us your story here. )
(To receive our E-paper on WhatsApp daily, please click here.  To receive it on Telegram, please click here. We permit sharing of the paper's PDF on WhatsApp and other social media platforms.)