Aries:
Dear Aries, this could be a slow moving week which will need you to rest and contemplate. There is a lot of healing coming your way. Some of you may need more time to recover from a particular situation. Use this period to seek clarity, plan and strategize. Don't shy away from speaking your truth with conviction. Work will remain stable and steady. It is ok to take some space away from your loved ones. Their needs shall be taken care of one way or another. Follow your heart and try to channelize some peaceful energy for yourself. Engage in a hobby which brings you joy.
The Hermit |
Taurus:
This week keep away all your burdens and responsibilities. It is time for you to focus on your transformation, especially your appearance. Indulge in the best things that life has to offer. Eat, drink, shop and make merry. Keep things fun and flexible. It is a good time to socialize and collaborate with people. Let your guard down. Use this period to relax and recuperate from any health issues you may have faced. This is also an excellent period to start a new health and fitness regime. Make the most of this auspicious energy where you are going to start feeling more like your authentic self.
Ten of Wands |
Gemini:
Dear Gemini, you may have experienced massive changes in recent times and those changes will continue to occur even during this week. Your career is now going to come into focus. It is time to be fearless, bold and confident in your abilities. Use your passion and creativity to think out of the box. You will be full of energy and zest for life but try to be gentle in your interactions with others. Your past has been put behind and you can now start life with a clean slate. There shall be an opportunity to begin something new which will have great potential for success. Your ability to manifest is very strong, hence make good use of this period to visualize and set the right vision for your future. Make time for self-care.
The Magician |
Cancer:
This week, multiple options and decisions are going to confuse you. The advice is to pick whatever lets you take care of your own needs first and gives you more independence. Use this period to dig deep into your psyche and inner world. Don't accept surface level answers. Some of you may opt to receive advice through occult practices (tarot/astrology) or therapy. Travel is indicated for a select few. It is time to take a break and focus on things that bring you fulfillment. Spending time in a calm and peaceful space will bring much contentment.
Seven of Cups |
Leo:
This week your finances and overall stability is going to come into the picture. There shall be huge potential to create wealth and abundance in your life. Some of you may decide to spend on luxury items and experiences. It is time to relax and enjoy the good things that life has to offer. Some of you may break ancestral patterns when it comes to money and finances. A family member or friend could need financial help. Take care of your precious belongings. A new romantic cycle could begin for some Leos.
King of Pentacles |
Virgo:
This week, set your sights on bigger and higher goals. The focus shall be on your career. It is time to build your skills and professional capabilities. Some of you may have to change your plans and set better standards of output. Stay open to new and fresh possibilities. Use this period to meticulously visualize and manifest your desired future. Some of the projects started now will have potential for great success. Use your communication skills and social networking skills to your advantage. It is also time to be of service to those in need of help.
Page of Pentacles |
Libra:
This week you are channeling much fiery, bold and confident energy. You will be in a rush to accomplish many tasks and achieve your goals quickly. This is going to be a busy period, however, you need to slow down a little and keep your temper in check. Avoid getting distracted by calls, texts and messages. Meditate and contemplate before jumping to conclusions. Don't try to carry all the burdens by yourself, instead, use your leadership abilities to delegate responsibilities correctly. People will depend on you during this period to show them the path. Let go of the need to be right.
Page of Wands |
Scorpio:
This week you are going to be bold and confident in your approach. Use your creativity and leadership skills at your work-place. Your past experiences will help you get ahead quickly. You are going to be particularly emotional during this period. Try to work through your feelings and address them instead of brushing them aside. Your personal life is looking good at this time. There could be a celebration or party in your family. Singles could meet someone special and those in committed relationships will see an improvement in their connection. Some Scorpios may decide to get engaged or married soon.
Queen of Wands |
Sagittarius:
Dear Sagittarius, stop looking into your past and regretting your actions or decisions. Your past will only leave you confused. Instead, use your intuition during this period to move forward slowly and steadily. A step by step approach will help you progress well and take the lead on matters. Pay attention to your dreams and gut instincts. Make time for self-care and meditation. Most of you need good sleep to feel better. Overall, this could be a good period if you quit overthinking and focus on the small joys of life.
Five of Cups |
Capricorn:
Dear Capricorn, you may have recently closed some tough chapters in your life. It may seem hard to walk away from difficult emotions and the feeling of not getting enough support. This week, you have the opportunity to move into a more peaceful space, away from all the chaos. There is a lot of healing and clarity coming your way. The energy is gaining momentum for you to step into your power. Start bringing your ideas to life and trust your creative process. Use this period to introduce a healthy daily routine and schedule. Any changes to your diet and fitness regime will be fruitful. Yoga and meditation shall also being excellent results.
Six of Swords |
Aquarius:
Dear Aquarians, this week you will feel confused about taking a decision. It is time to follow your intuition and truth. Slow down a little and tap into your inner-voice. Let it guide you. There is a lot of healing coming to your mental and physical health. Your friends and community will play an important and positive role in your life during this period. When it comes to work, you will be confident and bold in your approach. Your previous experiences will help you move ahead quickly but avoid getting too rigid, opinionated and arrogant because you think you know what is the right method. Stay open to listening to new ideas.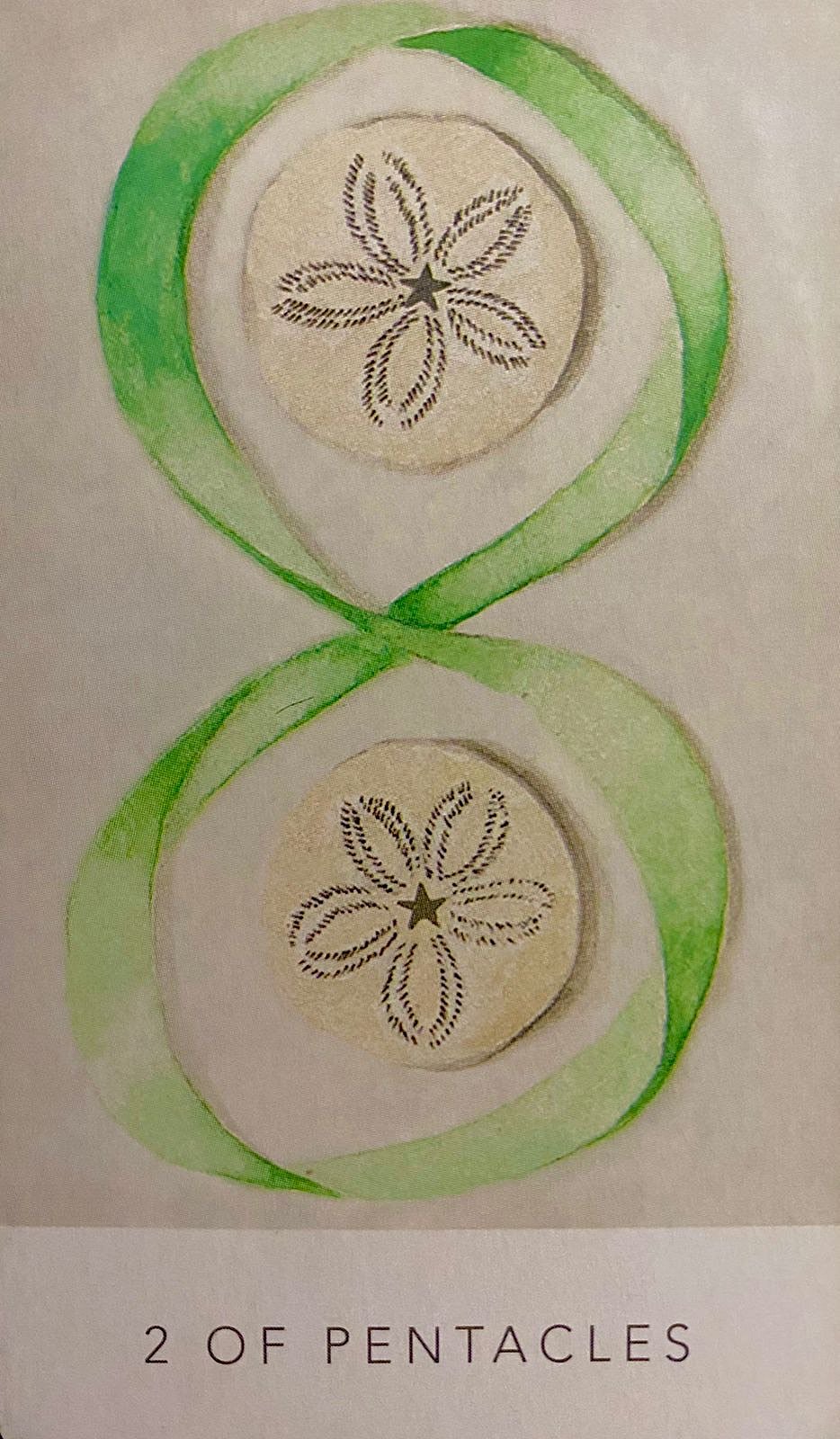 Two of Pentacles |
Pisces:
This week try to slow down and take time to think and reflect. Some of you are starting a new cycle in your life. Before life and work picks up pace, it is important for you to rest, recuperate and enjoy a little. Some of you may make an expensive purchase or spend on a luxurious experience. At work, you could have an opportunity to apply or aim for a new leadership position or an authoritative role. Communication and collaboration is your key to success at work. Delegate your responsibility instead of doing everything by yourself. It is time for you to start focusing on your health and physical fitness.
The Hermit |
Deck- White Sage Tarot
(To receive our E-paper on WhatsApp daily, please click here.  To receive it on Telegram, please click here. We permit sharing of the paper's PDF on WhatsApp and other social media platforms.)