A meal to begin but rather difficult to end, those are exactly what thalis should be. Named for the vessel on which it serves with a number of small bowls. It is a  gastronomic adventure for foodies. Thalis are found all over India with a different variant. It showcases the best dishes a cuisine has to offer.
Today we go through restaurants in Mumbai which serve Authentic Gujarati styled Thalis. Each better and more enticing than the next.
Revival Indian Thali Restaurant
The ambience of the restaurant is good. Food is served in traditional bronze utensils as it is one of the Gujarati traditions which, adds a vintage charm. The thali is 700 rupees for two. The benefit being is it an unlimited thali and you can eat to your hearts content. The thali consists of 30 items made with organic ingredients served daily with Gujarati and Rajasthani elements. They have a welcoming drink and a chass to end the meal. They also serve up sweets with the thali at the end. The sweets change daily and the dishes too are rotated on a monthly basis. Located in the CST area of Mumbai- 361, Sheikh Memon Street,between Jumma Masjid and Crawford Market.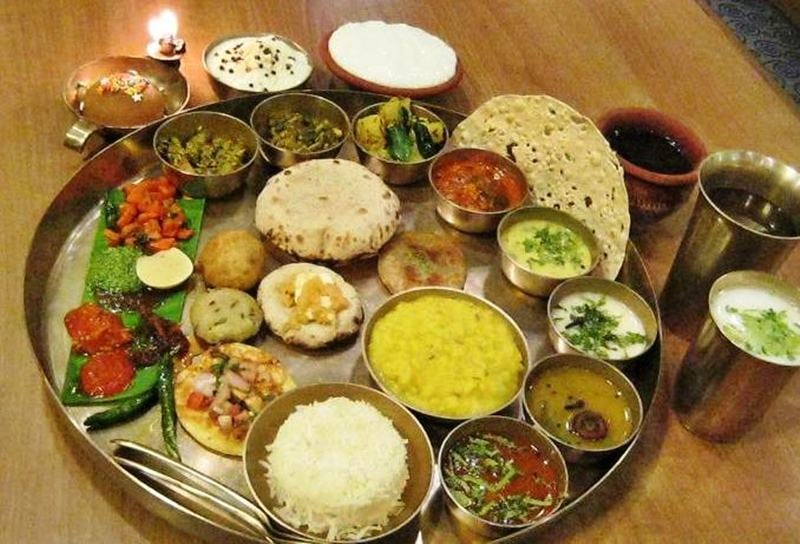 Chetana Thali
This is a Restaurant at Kala Ghoda which has been here since the last 66 years, serving Rajasthani, Gujarati & Maharashtrian versions of the thali. The food is definitely superb and filling.Well Known for their Dal Bati Churma and Churma Laddo. The Gujarati Thali offers Undhiyo and the seasonal Amaras. Sweets served in the thali have a wide variety to offer.  Located at 34, K Dubash Marg, Kala Ghoda,Fort. Cost Rupees 800 for two approximately.
Golden Star Thali
This Restaurant is famous; in this locality and the patrons hold it in high esteem. The first serving itself is filling though it is an unlimited thali, well balanced flavours. Basundi and Dahi vada are nice. The ghee used in the cooking process lends a special taste. Located at 330, Raja Rammohan Road,opposite Charni road station, Girgaum Cost rupees 800 for two approximately.
Maharaja Bhog
This place is fantastic, the ambience a bit pompous, but the food is wholehearted and generous. A lot of dishes on the Thali will take your taste buds on a joy ride   . 30 items in total with the best things rajasthani food can offer. Located at Oberoi Mall,Goregaon east. Cost rupees 700 for two approximately.
Samrat Restaurant
This place is an old-timer with great food and efficient service. The food is an authentic experience. They have an a la carte concept, good dal, dahi vada and mini samosa as appetizers and well made rabdi at the end of the meal. It is located at Prem Court, ground floor, JT Road, Churchgate. Cost rupees 800 for two approximately.
Panchavati Gaurav
A place which is well known for its hearty meals, with numerous choices in the vegetable dishes they offer, it is packed on Sundays, all the elements on the thali complement each other perfectly, a must try place. It is located at Kemox House, Karamchand Mansion ground floor, Bombay hospital Lane, New Marine Lines. Rupees 800 for two approximately.
Shree Thaker Bhojanalay
A restaurant located in the by lanes of Kalbadevi, a central part of south Mumbai. Established in 1945 is considered to be one of the best, it also has awards to prove it. The serving begins with chutney, pickle and salad which are followed by starters, the main dishes and ending with a sweet. Dishes which stand out are Undhiyo, farsan and mutter paneer, corn methi pulao. The sweets served are kheer, rasmalai and pineapple kesari. Prices are rupees 400 for two weekdays and 500 on weekends.
(To receive our E-paper on whatsapp daily, please click here. We permit sharing of the paper's PDF on WhatsApp and other social media platforms.)
Published on: Friday, August 28, 2015, 05:52 PM IST