RAMESH KALYANARAMAN Executive Director, Kalyan Jewellers |
'Larger market-share in Tier II, Tier III towns' : Ramesh Kalyanaraman, Executive Director, Kalyan Jewellers
Kalyan Jewellers registered a consistent uptick in footfalls and revenue throughout 2022 - and it is the year that truly marks the return of normalcy across markets with minimal disruptions, garnering sturdy revival in demand momentum.
The younger consumers' jewellery preferences are consistently evolving; often influenced by factors such as affordability, minimalism, cultural trends and growing popularity of all-season jewellery. Keeping up with these changing trends, we have consistently revamped our product offerings with fresh jewellery designs.
Overall, the industry is witnessing an unprecedented consumer shift towards organized, experiential and service-backed retail experience. Kalyan Jewellers has emerged as a major beneficiary. Over the years, we have created a niche market positioning as India's national-local jeweller, competing with the likes of pan-India as well as local jewellery players. With our hyperlocal approach being an integral part of the brand strategy, we are confident that the brand will garner larger market-share in Tier II and Tier III towns. In line with this, we have announced aggressive expansion plans for 2023, making the brand more accessible to our patrons.
On the back of ongoing demand momentum and stabilising gold prices, we are confident that the jewellery industry will register high double-digit growth in the third quarter of this financial year, carrying forward the trend of strong revenue in the early half of 2023.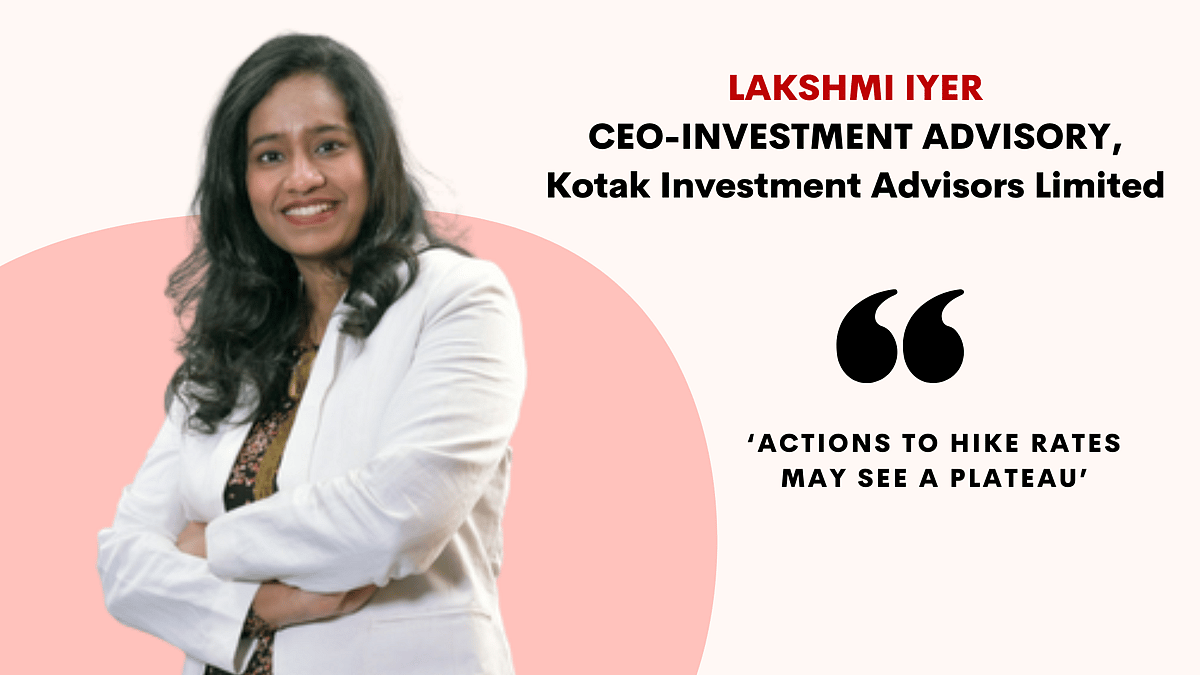 LAKSHMI IYER CEO-Investment Advisory, Kotak Investment Advisors Limited |
'Actions to hike rates may see a plateau' : Lakshmi Iyer, CEO-Investment Advisory, Kotak Investment Advisors Limited
The year 2022 was marked by polarization – be it geographically for India standing tall, or equities. So 2023 would be a year to watch out for 4 Cs – CPI globally – are we seeing a trend reversal or just a lull before the storm, China - will the dominance return and how soon, and Currency - will USD continue to display its indomitable spirit. An overlay of these factors, coupled with geopolitical events, could well mean possibility of Convergence (4th C) in returns, in equities and fixed income as an asset class. Central banks' actions to hike rates may see a plateau in 2023, but may be too soon to pivot towards rate cuts.
SAMIR KUMAAR MODI Founder & Managing Director, Colorbar Cosmetics |
'Focus on personalized immersive experiences' : Samir Kumaar Modi, Founder & Managing Director, Colorbar Cosmetics
The beauty and skincare industry has been resilient in the past, and we are eyeing a robust return to growth in 2023. The natural beauty and personal care segments are growing at 1.5x the overall market with trends such as hyper-personalization, inclusivity and sustainability making great strides. Given the rising digital and social awareness amongst new-age consumers, Colorbar Cosmetics is geared to offer a distinctive omni-channel customer experience with a focus on providing personalized immersive experiences. Being a proud purveyor of inclusive beauty, all our products come with a 'clean beauty' promise. With our current retail footprint extending in 200 Indian cities, we are expecting the brick-and-mortar store sales to remain strong averaging higher spending levels in 2023, whilst pushing our digital expansion simultaneously.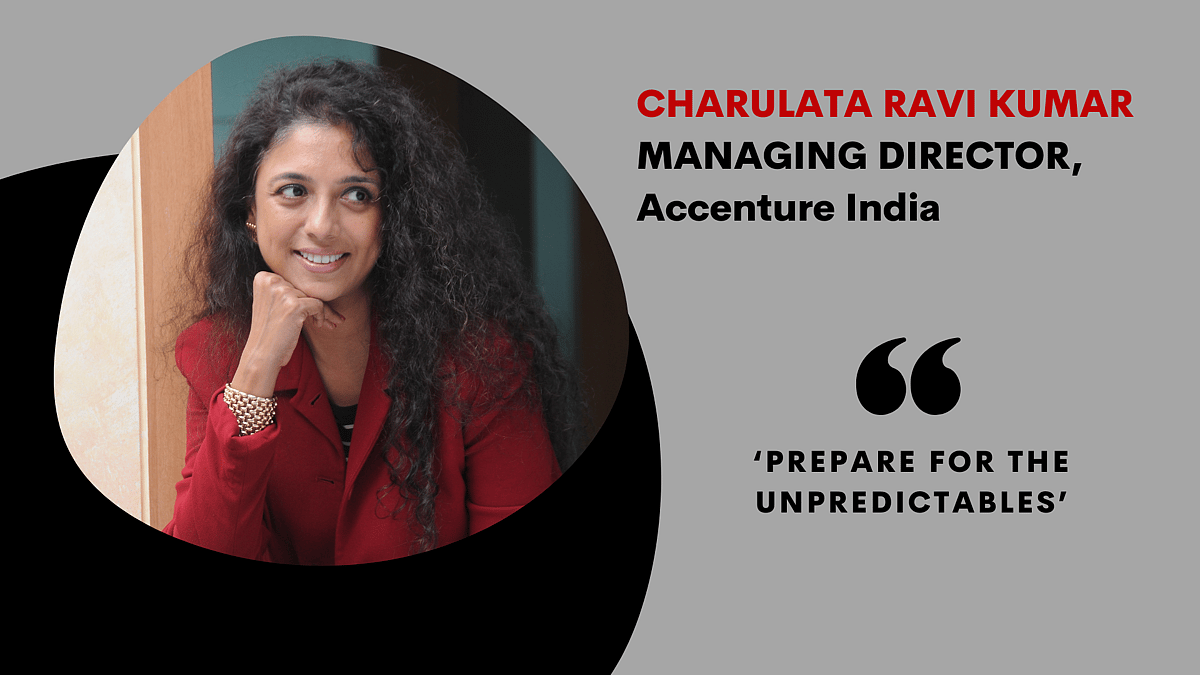 CHARULATA RAVI KUMAR Managing Director, Accenture India |
'Prepare for the Unpredictables' : Charulata Ravi Kumar, Managing Director, Accenture India
The see-saw between the need for control and the anxiety of what's next will see the year bring in technologies that empower people to cope and control better while brands and organizations continually learn to navigate power shifts. Here are 7 shifts that will shape how the interlocks between brand, consumer, business and community can change the predictables.
Evolving Faster: Transforming from a 'Sell More, Sell Better' to an 'Adapt Faster, Experience Better' approach that integrates into people's lives with intense trust and deep relevance.
Enjoying Smarter: Re-classifications of luxury vs essential will see a number of categories and price brackets pushed out of consideration sets. People will make choices around 'how it makes me feel' rather than 'what status it gives me'.
Expressing Better: The new awakening of 'making this life count' will nudge people towards expressing and following their passions and hobbies. Aided by AI and neural networks, platforms like Canva, Jukebox, Midjourney are bringing out the artistes in us to create and share.
Eliminating Clutter: Experience more in life and exchange within communities in order not to hoard and clutter will accelerate the rent or exchange economy as we learn the benefits of physical and emotional decluttering.
Embracing Communities: Fjord Trends 2023 report identifies communities of belonging with platforms like Reddit, Discord and Twitch bringing like-minded sets together. These communities will be interacting at multiple dimensions of Web3 enjoying collectibles, NFTs, token-gating and more.
Equalling Search: Interchangeable search formats will democratise it even further. Text to voice, image to text, voice to image, image to video, language to language, etc.
Ensuring Permissions: Digital rejection as a result of data misuse will be a powerful tool in the hands of digital users as they become more aware of the lack of transparency and risks. People will decide how much data they will share, enriching the quality and better customizations.
Power shifts from brands to people can be interesting. One that can be a smooth sail through any ebb and flow or a tug of war that breaks the chord. It won't be about predicting the future. It will be about taking on the unpredictive together.
SATYAKI GHOSH CEO, Domestic Textiles, Aditya Birla Group |
'Our focus will be on sustainability' : Satyaki Ghosh, CEO, Domestic Textiles, Aditya Birla Group
The outlook for 2023 is mixed. The fashion/apparel business has a global value chain and hence gets affected due to global macro issues. The Western markets are going to remain tough unless the Ukraine-Russia war ends quickly. European and North American markets have labour and inflation issues, compounded by gas availability issues. These are the consumption markets and hence export outlook will remain muted. Home textile as a category is under pressure now post COVID, but the China situation may reverse that. So Indian business houses have to tread carefully in the textile/apparel business. India market is still holding and should hold in 2023 but the high demand days of post COVID reverse buying are over... so the outlook is cautiously optimistic.
At the Domestic Textiles business of Grasim too, we are cautiously optimistic. Our business spans from yarn to fabric to apparels with Linen Club being our flagship brand. All domestic consumption channels (offline and online) should be OK, while export business may get muted. However, there is buoyancy in the other Asian markets like South Korea, Japan and Middle East, which is good for us. We should be OK in 2023 unless the pandemic comes back.
The key challenge: To keep the business focused and on track in an uncertain year after a very good 2022. This year, Domestic Textiles will focus on sustainability as a key lever to differentiate in this industry.
ABRAHAM ALAPATT President & Group Head - Marketing, Service Quality, Value Added Services & Innovation, Thomas Cook (India) and SOTC Travel |
'Travel sentiment will be very strong' : Abraham Alapatt, President & Group Head - Marketing, Service Quality, Value Added Services & Innovation, Thomas Cook (India) and SOTC Travel
Travel sentiment has been at its all-time high. The industry is now in the process of revival and we are witnessing an acceleration in our businesses across holidays, foreign exchange, MICE, Business Travel and travel insurance. We are positive that the strong travel sentiment will continue in 2023 and are confident to see positive recovery and growth over our pre-pandemic numbers. At Thomas Cook and SOTC, our forward pipeline looks positive and we expect a 25-30% YoY growth in 2023.
Customers are now keen on luxury travel/exceptional experiences, in-depth exploration of mono destinations, staying in eclectic accommodations, exploring the diversity of our country by experiencing local stays and culture, etc. To encourage customers, we have already launched our exciting portfolio of Europe Holidays for summer 2023 to favourite locales including the UK, Switzerland, France, Austria, Scandinavia, Italy, Belgium, Netherlands, Germany, Vatican, Turkiye and Greece. Given the visa challenges witnessed in 2022, our intent is to help customers plan well in advance in order to avoid last-minute disappointments. Additionally, we are offering an exciting inaugural offer: a complimentary 3-nights luxury cruise experience across Barcelona, Savona and Marseille.
The key challenges: Given the current delays and challenges in visa issuance for outbound Indian travellers, we hope to see positive developments in terms of accelerated visa issuance in 2023. Also, further rationalization of airfares (which have still not returned to pre-COVID levels) will fuel travel momentum even more - for 2023 and beyond.
ASHISH SINGHAL Co-founder and CEO, CoinSwitch |
'Long-term outlook for crypto is unchanged' : Ashish Singhal, Co-founder and CEO, CoinSwitch
The year 2022 has had its share of economic, geopolitical, and market difficulties. I see the current bear market as a cleansing process. Weak businesses will perish, while companies with strong product-market fit and the right business model will emerge stronger. The turbulence of the past few months is caused by the poor business practices and risk management by the concerned exchanges, and not a reflection of the long-term arc of crypto. The long-term outlook of crypto, therefore, remains unchanged.
CoinSwitch has always focused on the product. We believe attracting investments, talent, would not be a problem if we succeed on the user problem. In 2022, we innovated on our crypto offerings with Crypto SIPs, a systematic way to buy crypto assets in India; CoinSwitch PRO, the first-of-its-kind KYC-compliant platform that allows users to trade crypto assets in Indian rupees across multiple exchanges with a single login. In 2023, you will see us launch our first non-crypto wealth tech product, even as we shall continue to innovate on our crypto offerings.
The key challenge: Regulatory uncertainty. Regulations will help bring peace, and more certainty, and help Indians participate meaningfully in the global crypto revolution.
NEERAJ BAHL MD & CEO, BSH Home Appliances (India & SAARC) |
'Aggressive on D2C strategy, localization' : Neeraj Bahl, MD & CEO,
BSH Home Appliances (India & SAARC)
Year 2022 was a year of revival for the industry at large as we witnessed strong spike in demand across cooling, laundry and refrigerators. Overall, we've grown double digit again (in comparison to 2021). Our Made-in-India-for-India products in mass-premium category such as the top load washing machines and Max Flex 3-door refrigerators as well as our premium built-in cooking appliances played a big role in driving this growth. Interestingly, the demand was evenly distributed through the year; so while we did not witness a festive spike per se, we had strong month-on-month growth. This trend is also a strong indicator of a shift in purchase behaviour, which is more need-based and not just occasion-based. Both retail and e-commerce channels grew simultaneously. We will continue our efforts to shape our D2C strategy and go aggressive in reaching our consumers directly in 2023.
We will also focus further on manufacturing free-standing mass-premium products in cooking and we hope to capitalize on our locally-relevant innovations as differentiators in the segment. Beyond this, there will be expansion in factory lines for both cooling and laundry to achieve our target of 75% localization by 2025. With ease in material and freight costs, we are hopeful that 2023 will offer stronger growth momentum.
MOHANRAJ J CEO, Duroflex |
'Ensuring efficiency in operations will be key' : Mohanraj J, CEO, Duroflex
The mattress industry in India can be very safely termed as a sunrise industry; it is yet to reach its prime. Today, it is where the Indian painting and coating industry was in the late 90s, and it is still making its way into the conscious purchase set of a consumer. The marketing efforts of each brand in this industry will be instrumental in expanding the horizons of the category.
In 2023, the mattress industry will continue to grow at 8-10% annually. The focus will be on riding the wave of home improvement conversation and capturing the value-seeking consumer that still uses unbranded mattresses. This will be further aided by Internet advancements enabling penetration into smaller cities. As a brand, we will be working towards bringing efficiency to our operations. We will work towards maintaining our growth at 20-25%, and this will be well-backed by our investments in technology and infrastructure. Being a consumer-centric organisation, we will continue to serve consumers with our research-backed sleep essentials and brand experience centres.
The key challenge: Uncertainty of the markets due to the macro-economic conditions. However, challenges always bring opportunities with them and we will ensure that we seize the right ones.
AYUSH TAINWALA CEO, Lavie |
'Fashion industry will adopt hybrid mindset' : Ayush Tainwala, CEO, Lavie
The market for fashion accessories is expanding. Product design and improvement are in tandem with consumer trends; so 2023 is going to see quite a few changes in the fashion and retail industry, omni-channel and hybrid shopping being one of them. This will lead the industry players to adopt this hybrid mindset for building brand awareness and strengthening customer loyalty. Experiential retailing, driven by AR & VR, will lead retailers to drive customer engagement and create immersive retail experiences. Brands lagging in personalized interactive mechanisms will have to gear up to remain in the system. Sustainability and digitization will determine and change fashion trends in future.
At Lavie, we successfully launched our Monogram collection and plan to introduce premium products under the name of Lavie Luxe by June 2023. We will also expand to Tier II and Tier III cities. This year, we are at about Rs 500 crore customer value, we aim for 50% growth in 2023 as well as doubling our exclusive outlet count.
The key challenges: The much talked about inflation and economic downturn and keeping up with constant changes in the fashion industry.
(If you have a story in and around Mumbai, you have our ears, be a citizen journalist and send us your story here. )
(To receive our E-paper on WhatsApp daily, please click here.  To receive it on Telegram, please click here. We permit sharing of the paper's PDF on WhatsApp and other social media platforms.)