The central government told the apex court on March 12 that living together as partners and having sexual relationship by same-sex individuals, which is decriminalised now, is not comparable with the Indian family unit — a husband, a wife, and children born out of the union — while opposing pleas seeking recognition of same-sex marriage.
It stressed that same-sex marriage is not in conformity with societal morality and Indian ethos.
The affidavit said the institution of marriage and the family are important social institutions in India that provide for the security, support and companionship of the members of our society and bear an important role in the rearing of children and their mental and psychological upbringing also.
While one sympathises, even empathises, with the plight and predicament of the LGBT community and lauds the Supreme Court's decision to decriminalise homosexuality in 2018, same-sex marriage is something that stretches this freedom a tad too much. I am not conventional or orthodox. Nor do I believe in the institution of marriage — but from a societal point of view and also to retain the sanctity of marriage as a social and familial bond and institution, it must be said that the government is right.
Read Also
Rights and wrongs of gay marriage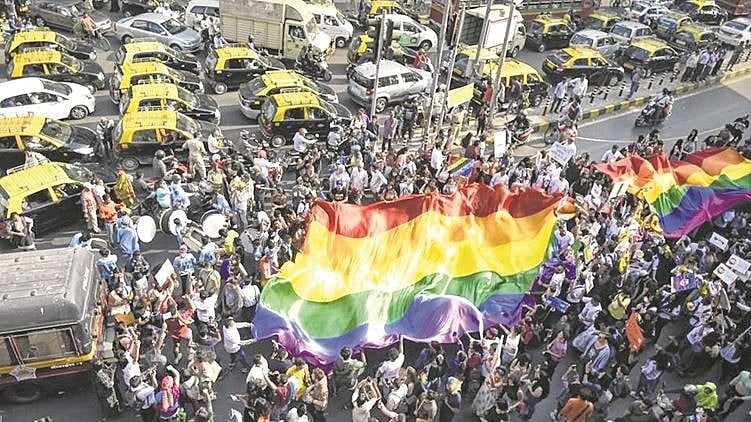 Famous sociologists duo MacIver and Page called marriage "a psycho-sexual procreational set-up that involved heterosxual individuals". Both the great sociologists were very sympathetic towards lesbians and homosexuals but averred that their living together couldn't and shouldn't be compared with an age-old conventional nuptial bond between two heterosexual individuals. Marriage may be a stamp of legitimacy for two persons loving each other but in the case of a same sex relationship, it's trivialising the very institution. As MacIver and Page stated in the beginning, marriage is predominantly a procreational set up to produce progeny and give a social status to them. That some heterosexual couples may be against giving birth to offspring is their cautious and conscious decisions because they are capable of producing child/ren but are not interested. But unfortunately, a same-sex couple is physically unable to produce offspring of their own. Adoption is not always a very feasible idea.
A child needs a set of "gender-contrasting" parents (feminist Germaine Greer's phrase), not same-sex parents because the perfect blending of Yin (female energy) and Yang (male energy) is learnt and imbibed only when there are conventional parents (mother and father). Arguing that a same-sex couple could serve as mother and father to an infant is not practical. A lesbian couple rearing a child will be able to inculcate only feminine attributes and behavioural traits in him/her and a homosexual couple nurturing a child will be able to drill only the male behavioural perspectives in the child. In this way, a child's development will be lop-sided.
In other words, same-sex marriage deconstructs marriage and takes away a privilege that is given to two people, a man and a woman who are married, who have a child or adopt a child.
In fact, LGBTQ people across the world are suffering from Deprivation Syndrome, in which "sufferers" project themselves as people who are eternally at the receiving end. So, when rights are given to them, they want those rights to be absolute and not discriminatory. This is playing the victim card a trifle too much. LGBTQ people think that with the right to have the same-sex sexual relations, now the next step is to be on a par with heterosexuals in terms of marriage. This is gender stubbornness. Evolving societies have no problem with LGBTQ people, who have been accepted and assimilated quite well. Even in urban India, liberal Indians have no hang-ups and reservations regarding homosexuality. Same-sex marriages are also common in a few countries. But legitimising it in an Indian context is still a pipe dream. The law may allow LGBTQ people to stay together as couples. But then they've already had that right. Now converting that right into a marriage is something that Indian society is still not ready for. It can also be said that while homosexual and lesbian relationships are no longer frowned upon, their culmination in a marriage still raises eyebrows and will continue to for some time to come. Perhaps we are still not evolved enough to accept certain relationships with all their ramifications and permutations.
Sumit Paul is a regular contributor to the world's premier publications and portals in several languages. Views are personal
(To receive our E-paper on WhatsApp daily, please click here.  To receive it on Telegram, please click here. We permit sharing of the paper's PDF on WhatsApp and other social media platforms.)