Amit Kumar dedicates new album to father Kishore Kumar
PTI
Updated:
Friday, May 31, 2019, 11:38 PM IST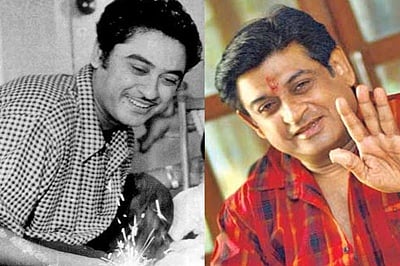 Mumbai: Kishore Kumar's son Amit Kumar and granddaughter Muktika Ganguly have come up with an album "Baba Mere" on the occasion of singer-actor's 86th birthday anniversary today.
"We celebrate my father's birth anniversary with the release of this new album "Baba Mere" and our label Kumar Brothers Music. The album is dedicated to my father. It is a very emotional moment for us," Amit told PTI in an interview.  "He (Kishore Kumar) was among the greatest musicians and actors of all time. There was no one like him and there will be no one like him," the singer said.
On the occasion of Kishore Kumar's birth anniversary, his sons Amit and Sumeet launched their music label – Kumar Brothers Music (KBM) – with the six-song album "Baba Mere". The title track has been sung by Kishore's 10-year-old granddaughter Muktika. "The video will show Muktika waking up in the middle of the night and in her dreams she meets her grandfather. The album is on a big canvas. It is like a film." The album is composed by Amit and written by Leena Chandavarkar Ganguly, with music arrangement by Ramesh Iyar, Gaurav Vasvani and Sumeet Kumar. "We wanted to do something where there is melody and harmony which is missing today. The album is a tribute to my father and his legacy. We are dedicating this album to him. The tracks are soft and melodious, we hope audience like it," Kumar said.
Saavn, India's leading music streaming service, will exclusively release "Baba Mere". Kishore Kumar, the Indian film playback singer, actor, lyricist, composer, producer, director, screenplay writer and scriptwriter, was born on August 4, 1929 at Khandwa in Madhya Pradesh. The versatile artist died on October 13, 1987. Considered as one of the most successful playback singers of the Hindi film industry, Kishore also sang in many Indian languages including Bengali, Marathi, Assamese, Gujarati, Kannada, Bhojpuri, Malayalam, Odiya, and Urdu. He also sang in private albums in several languages, especially in Bengali which are noted as all time classics. He won 8 Filmfare Awards for Best Male Playback Singer and holds the record for winning the most Filmfare Awards in that category.
(To receive our E-paper on whatsapp daily, please click here. To receive it on Telegram, please click here. We permit sharing of the paper's PDF on WhatsApp and other social media platforms.)
Published on: Tuesday, August 04, 2015, 05:36 PM IST