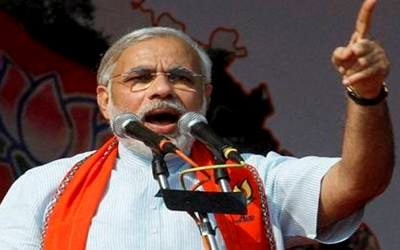 Ahmedabad: Gujarat Chief Minister Narendra Modi today accused Congress President Sonia Gandhi of inciting the people against his Government and dared her to get the Centre act against him if he has done anything wrong.
He also warned that her utterances would prove costly for the Congress party in the Assembly polls.
"Madam Sonia Gandhi had in 2007 called me Maut ka Saudagar (merchants of death), and people of Gujarat gave us two-thrid majority. This time she has called me a `cheat'. People are going to wipe out Congress from Gujarat," he said.
"Madam Sonia Gandhi if Narendra Modi has done any cheating, any fraud, I invite your Government in Delhi to file a case against me," the BJP stalwart said, addressing poll rallies in Ahwa and Vasnda towns in South Gujarat.
"You are trying to incite the people of Gujarat and you are also trying to insult the people by calling their Chief Minister a cheat."
He was replying to Gandhi's charge that the BJP Government's tall claims about development were nowhere to be seen in the state and its promises were hollow and false.
"The development which was promised in a big way is nowhere to be seen in this tribal land…because what they promised is hollow and false," Gandhi had said yesterday addressing a poll rally in Mandvi, Surat district.
The Congress chief had said "they (Modi and BJP) have no interest in the poor and common people and are only interested is their own development and that of a select few."
Modi had yesterday accused Gandhi of "spreading lies" about his Government.
The war of words between Modi and Gandhi comes just days ahead of the first phase of polling on December 13.
(To receive our E-paper on whatsapp daily, please click here. We permit sharing of the paper's PDF on WhatsApp and other social media platforms.)
Published on: Saturday, December 08, 2012, 05:18 PM IST