Today, the most important modern invention essential for comfortable living is an Air Conditioner. In India, air conditioners are an absolute need during summer season and are found in almost all the average middle class to high class families.
Air conditioners today are more energy efficient and cost effective than before. Brands are now launching highly energy efficient five star bee rating ACs with exceptional design and features. The huge variety is sure to perplex the consumers.
If you are thinking of buying an energy efficient air conditioner then you have landed on the right page. We have jotted down a guide to help you. Read on to discover more about the tips and tricks to buy an energy efficient air conditioner.
Things To Consider While Buying An Energy Efficient Air Conditioner
There are few important factors that you should look for when buying an energy efficient air conditioner to save your electricity bill and keep your home cool. These are discussed below in detail:
1. Energy Efficiency Rating (BEE Rating)
Today, the bee rating is provided to all kinds of appliances so as to know its power consumption rate. These ratings are given out of five and provide basic information of how energy efficient the appliance is. Further, these are in correspondence to the bureau energy efficiency of India. The higher the rating the lower is the energy consumption and hence the better are the savings.
The best energy efficient air conditioners are the one with the five star rating. These ones are a bit expensive but work to cut down your electricity bill to a greater extent. However, you can also go for a 3 or 4 star rating AC. They also work on power saving mode and comes in a reasonable price. So, we suggest you to go for an AC with ratings of three or higher to cut down your bills in the longer run.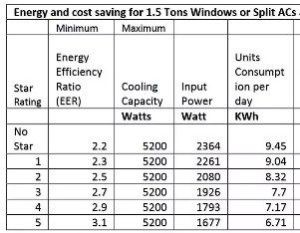 2. Buy The Proper Size
A large AC doesn't necessarily means better cooling. In fact, the big size ACs  are not only waste of electricity but are also less effective as they cool the room too quickly without removing humidity inside the room.
We suggest you to first figure out the square feet area of your room than follow the guidelines to determine the correct cooling capacity for your room. A  rough measure suggest that a room with an area of 120-140 sqft requires 1 ton AC, a room with area of 150-180 sqft requires 1.5 ton AC, and a room with area of 180-240 sqft needs 2 ton AC. Relate the area of your room along with the cooling requirement to get the best energy efficient AC. Don't go below or above the cooling capacity as it would simply cause energy and money wastage.
3. Programmable Temperature Settings
These days all the window and split ACs come up with a digital display so that you can set a precise temperature. Always prefer to keep the temperature settings between 22-24 degrees in summer season as they cool your room faster even without straining the AC compressor.
Additionally, in few of the ACs you get an Auto mode. In this mode, first the fans and the compressor go on high speed to cool the room instantly to a set or a default temperature of 22 degrees. Once the temperature is maintained, the compressor turns off and the fans works on a moderate speed to maintain the temperature. In this mode, a larger chunk of electricity is saved. So, prefer buying ACs with auto modes.
4. Window Or Split AC
Both window or split AC can be energy efficient depending on their BEE star rating. The window units are cheaper and easy to install than the split ACs. But the only glitch you need to have a perfect size window to install them in your room.
On the contrary, the split ones are high on cost, quieter, and aesthetically pleasing and even provide better air distribution. If your pocket permits go for a split AC.
5. Inverter Or Non-Inverter
Choosing the best inverter model is always efficient than a non-inverter unit. The inverter compressor's rotation can be varied as per the load requirement and hence the power saving. Contrary to it, the non-inverter compressor will only turn on or off. It can not vary its speed as per the load and as a result frequent turning on or off consumes more energy. We recommend you to choose a inverter AC as it is more efficient to an non-inverter AC.
6. Filters
Filters work to remove the dust, pollutants, and other particulate matter from the air. All the ACs come with a basic to advanced level filters. With the advent in technology the top AC models have as high as seven stage filtration process. The higher the filtration rate, the lesser load would be on the compressor and the higher energy efficient it would be.
Not only this, these filters work to remove the common bacteria, viruses, and other micro-organisms from the air and thus letting your breath cool fresh air all the time. Removal of all the contaminants from air prevent the risk of infections, cold, cough, irritation, and other air-borne diseases. So, go for an AC with good filters for your health and pocket safety.
7. After Sales Service
After sales service is the warranty you get after purchasing the product. The higher the warranty period the better it is. Look for the service oriented brand which have a good network to meet the service need of your product.
We suggest, you only go for reputed brands like Voltas, Hitachi, Samsung, LG, Carrier, and Mitsubishi. These brands are known for their quality and customer satisfaction guarantee. They have a high connected network in all the major and three-tier cities for good after sales service.
8. Product Price
Price is also an important factor to consider but it is obviously a personal factor. You have  to buy a product that suits your pocket. Nonetheless, AC is a one time investment. Buying something that is high in quality and energy efficient would definitely give your lucrative results later.
A 3 star rating AC comes in a reasonable price and with star rating rating the price increases of an around of Rs.3000. A five star rating AC is around 10% higher in cost than a 3 star rating AC. Sameway, the cost of inverter AC is much higher than a non-inverter AC by around 20%. So, no matter what price range you are choosing make sure it has a good bee star rating.
An AC is a one tome investment. You can't simply go and choose any one. In fact, you need to research a bit and discover the basic working of it. Once you know what you have to look for the task of selection becomes pretty easy. For the same, refer to our buying guide it has in-depth information on how to buy the best energy efficient AC. Till then happy shopping.
Disclaimer: This is branded content.
(To receive our E-paper on whatsapp daily, please click here. We permit sharing of the paper's PDF on WhatsApp and other social media platforms.)
Published on: Friday, April 05, 2019, 04:12 PM IST