A glittering full moon rose on Wednesday as people around the world waited for a cosmic event known as a 'super blood moon'.
It's when a full lunar eclipse coincides with a supermoon, which is when the moon is particularly close to Earth and appears brighter than normal.
For about 15 minutes, as the moon moves fully into Earth's shadow, the moon appears to turn red. The reddish light around the edges is the sunsets and sunrises happening at that time on Earth, projected onto the moon's surface.
New Zealand, Australia and some other places in the Pacific and East Asia saw the show before midnight, while night owls in Hawaii and the western part of North America saw it in the early morning hours.
Sky gazers along the U.S. East Coast are out of luck because the moon will be setting and the sun rising. Europe, Africa and western Asia will miss everything.
It's the first total lunar eclipse in more than two years. While the total eclipse lasts just 15 minutes, the entire show lasts for five hours, as Earth's shadow gradually covers the moon, then starts to ebb.
The colour is the result of the sunrises and sunsets in Earth's atmosphere projected onto the surface of the eclipsed moon.
The moon will be more than 220,000 miles (357,460 kilometres) away at its fullest. It's this proximity, combined with a full moon, that qualifies it as a supermoon, making it appear slightly bigger and more brilliant in the sky.
Unlike a solar eclipse, there's no harm in looking at an eclipsed moon.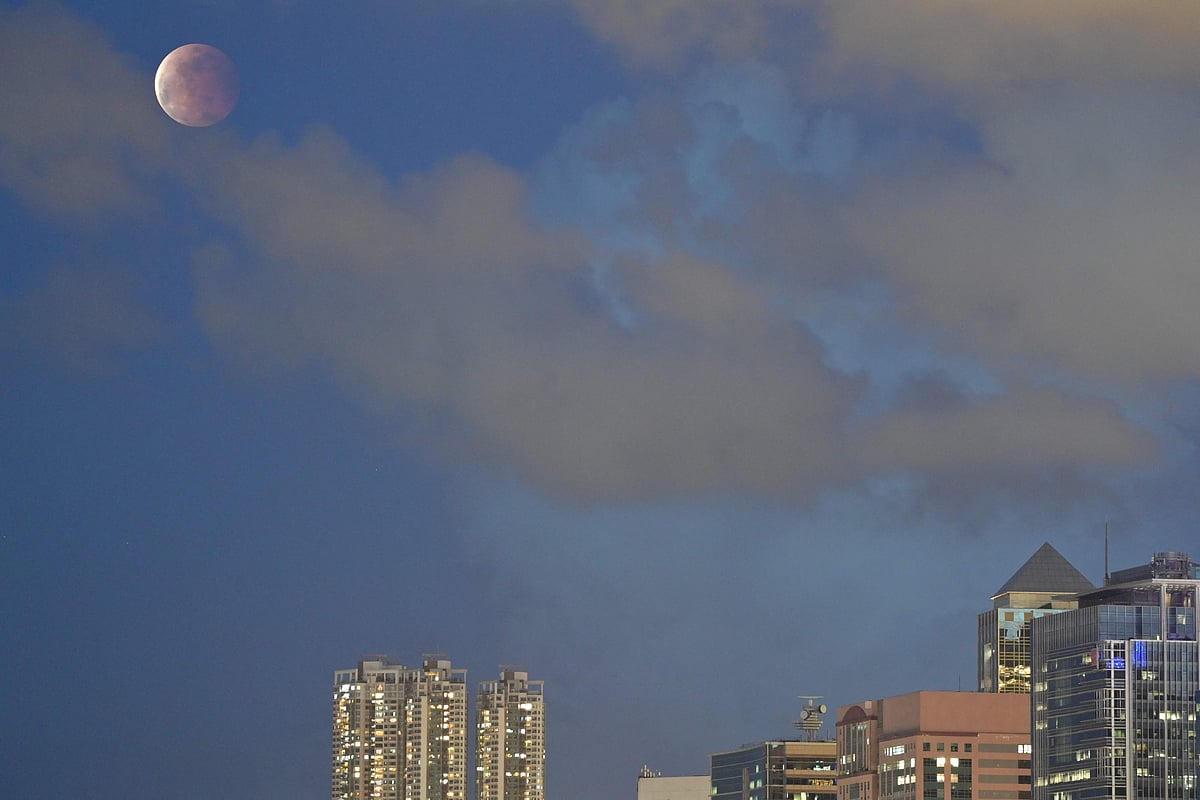 The moon is pictured above Hong Kong on May 26, 2021, during a total lunar eclipse as stargazers across the Pacific are casting their eyes skyward to witness a rare "Super Blood Moon". | AFP
A full moon is seen framed with a US flag during totality of a total lunar eclipse as the moon enters Earths shadow for a "Super Blood Moon" on May 26, 2021 in Chico, California. | AFP
The Moon as seen over Santa Monica, California on May 26, 2021 during the "Super Blood Moon" total eclipse. | AFP
The full super moon is seen before entering the partial eclipse in Melbourne on May 26, 2021 as stargazers across the Pacific are casting their eyes skyward to witness a rare "Super Blood Moon". | AFP
The full moon is seen during the partial eclipse in Sydney on May 26, 2021 as stargazers across the Pacific are casting their eyes skyward to witness a rare "Super Blood Moon". | AFP
A yacht sails past as the moon rises in Sydney Wednesday, May 26, 2021. A total lunar eclipse, also known as a Super Blood Moon will take place later tonight as the moon appears slightly reddish-orange in color. | PTI
People set up their cameras and telecopes as they prepare to capture the "Super Blood Moon" in Singapore on May 26, 2021, ahead of a total lunar eclipse as stargazers across the Pacific cast their eyes skyward. | AFP
Clouds cover the Moon as a photographer views it from Santa Monica, California ahead of a total lunar eclipse early on May 26, 2021, as stargazers across the Pacific are casting their eyes skyward to witness a rare "Super Blood Moon". | AFP
The Moon rises over the Opera House in Sydney on May 26, 2021, ahead of a total lunar eclipse as stargazers across the Pacific are casting their eyes skyward to witness a rare "Super Blood Moon". | AFP
The Moon rises over the Opera House in Sydney on May 26, 2021, ahead of a total lunar eclipse as stargazers across the Pacific are casting their eyes skyward to witness a rare "Super Blood Moon". | AFP
(To receive our E-paper on whatsapp daily, please click here. To receive it on Telegram, please click here. We permit sharing of the paper's PDF on WhatsApp and other social media platforms.)