Indians are getting ready for a festive time as they are all set to celebrate Janmashtami and Ganeshotsav.
On Monday, people across India took part in Janmashtami celebrations amid relaxed COVID-19 restrictions for second year in a row.
Janmashtami is celebrated every year to mark the birth anniversary of Lord Krishna.
As per the Hindu calendar, Lord Krishna, an avatar of Lord Vishnu, was born on the eighth day of the month of Bhadra. The day mostly falls in the months of August or September as per the Western calendar. In 2021, the holy occasion of Janmashtami is being celebrated on August 30.
Preparations for Ganeshotsav have begun across India with only a few days left for the 10-day-long festival to commence.
Here's a look at India's colourful Janmashtami celebrations and Ganeshotsav preparations:
Devotees gather outside Dwarkadheesh temple to pay obesiance to Lord Dwarkadheesh on Janmashtami festival, in Mathura, Monday, Aug 30, 2021. | PTI
A devotee being blessed by a priest as she offers prayer to Lord Krishna on Janmashtami festival, at ISKCON temple in Prayagraj, Monday, August 30, 2021. | PTI
child dressed as the Hindu deity Krishna, takes part in the celebration of the birth of Hindu Lord Krishna Krishna Janmashtami at Lalitpur on the outskirts of Kathmandu on August 30, 2021. | AFP
Devotees pour sugar on an idol of Hindu god Krishna during the Janmashtami festival marking the birth of Krishna at a temple in Amritsar on August 30, 2021. | AFP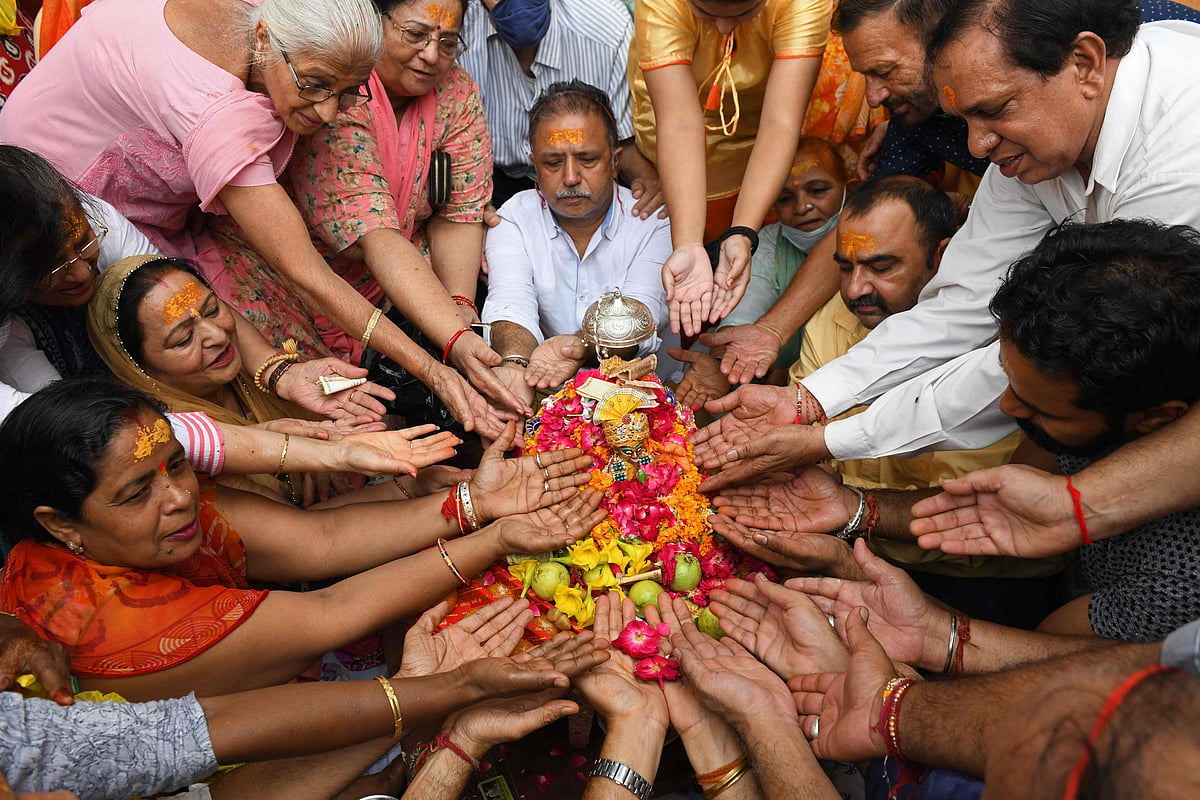 Devotees pay respect to an idol of Hindu god Krishna during the Janmashtami festival marking the birth of Krishna at a temple in Amritsar on August 30, 2021. | AFP
A devotee holds an offering tray with an idol of Hindu god Krishna on the occasion of Janmashtami festival marking the birth of Krishna outside a temple closed due to the Covid-19 coronavirus pandemic in Mumbai on August 30, 2021. | ANI
Children dress up as Lord Krishna on the Janmashtami festival, at Durgiana temple in Amritsar, Monday, Aug 30, 2021. | PTI
Children dress up as Radha and Krishna on the Janmashtami festival, in Kolkata, Monday, Aug 30, 2021. | PTI
Devotees dressed up as Lord Krishna and Goddess Radha celebrate Krishna Janmashtami festival at a Radha Krishna temple, in Kolkata on Monday. | ANI
TOPSHOT - A man takes pictures of his child dressed as Hindu god Krishna on the eve of Janmashtami festival marking the birth of Krishna at the illuminated Durgiana Temple in Amritsar on August 29, 2021. | AFP
A child dresses up as Lord Krishna to take part in the Janmashtami festival celebrations, in Ajmer, Monday, August 30, 2021. | PTI
Devotees perform Bhajan on the occasion of Krishna Janmashtami festival at ISKCON temple, in Jammu on Monday. | ANI
A Hindu priest performs a ritual in front of idols of Hindu god Krishna and Balarama on the occasion of Janmashtami festival that marks the birth of Krishna, at a temple in Bangalore on August 30, 2021. | AFP
A child dresses up as Lord Krishna to take part in the Janmashtami festival celebrations, in Ajmer, Monday, August 30, 2021. | PTI
A decorated Lord Krishna idol in an illuminated Birla Mandir on the eve of Krishna Janmashtami festival, in New Delhi on Sunday. | ANI
Kashmiri Pandit children dressed up as Krishna and Radha as they participate in the Janmashtami procession at Lal Chowk in Srinagar, Monday, Aug. 30, 2021. | PTI
Kashmiri Pandit children dressed up as Krishna and Radha as they participate in the Janmashtami procession at Lal Chowk in Srinagar, Monday, Aug. 30, 2021. | PTI
A child dressed as Lord Krishna on the occasion of the Krishna Janmashtami festival, in Lucknow on Monday. | ANI
Artists dressed in costumes of Hindu deity lord Krishna and his mythological accomplices wait before they perform as a part of ?Janmashtami? festival to mark the birth of Lord Krishna in Kolkata on August 30, 2021. | AFP
Janmashtami festival celebrations at an ISKCON temple in Bengaluru, Monday, Aug 30, 2021. | PTI
An artist gives final touches to Lord Ganesha at a workshop ahead of the Ganesh Chaturthi festival, in Jabalpur on Sunday. | ANI
An idol of Lalbaugcha Raja bein carried by the devotees passes from Chatrapati Shivaji Terminus at Colaba ahead of the Ganesh Chaturthi festival, in Mumbai on Sunday. | ANI
An idol of Lalbaugcha Raja bein carried by the devotees passes from Chatrapati Shivaji Terminus at Colaba ahead of the Ganesh Chaturthi festival, in Mumbai on Sunday. | ANI
(To receive our E-paper on whatsapp daily, please click here. To receive it on Telegram, please click here. We permit sharing of the paper's PDF on WhatsApp and other social media platforms.)