India is commemorating its 75th Independence Day on Sunday.
Showering of flower petals by two Air Force helicopters, a separate block at the venue for "corona warriors", Olympians as special guests and a socially distanced audience were among the highlights of the 75th Independence Day celebrations at the historic Red Fort in Delhi.
'Azadi ka Amrit Mahotsav' was celebrated under which a series of events have been organised across the country.
The Independence Day celebrations across the country were curtailed for the second consecutive year due to coronavirus, a reflection of the 'new normal' effectuated by the pandemic.
However, India still bloomed with vibrant colours, pride and joy as citizens celebrated Independence Day with fervour.
Here's a look at India's 75th Independence Day celebrations.
Women wearing colourful dresses carry a 75 feet long national flag during 75th Independence Day celebrations, in Bengaluru, Sunday, Aug. 15, 2021. | PTI
A large national flag placed at Victoria Memorial during the 75th Independence Day celebration, in Kolkata, Sunday, August 15, 2021. | PTI
omen bikers wear turban pose for a photo during 75th Independence Day celebration in Bengaluru, Sunday, Aug. 15, 2021. | PTI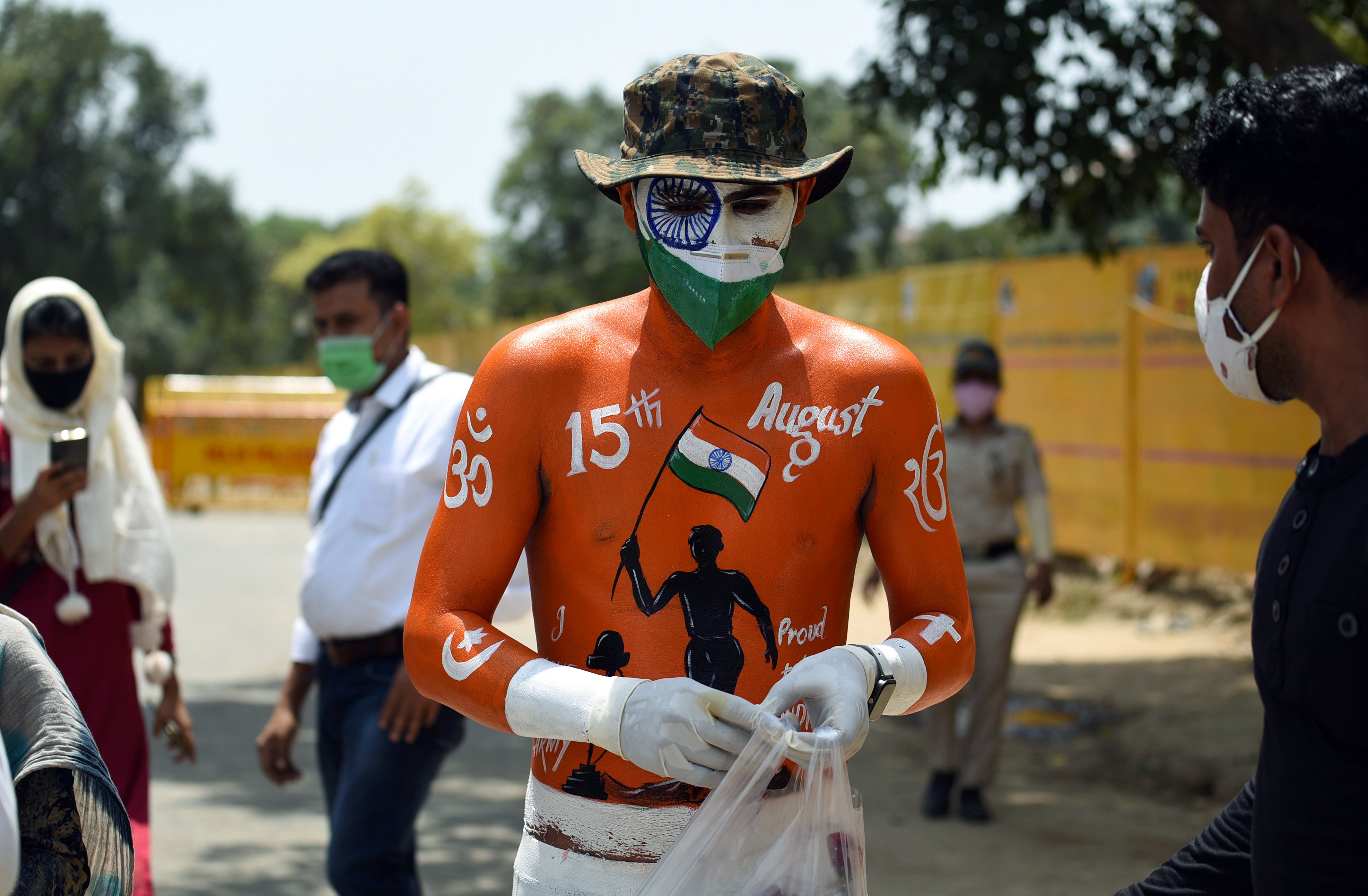 A man paints his body as tricolour walks near India Gate on the occasion of Independence Day, in New Delhi on Sunday. | ANI
A huge procession by Lakshmi Priya trust carries a 400-meter-long Indian flag on the occasion of 75th Independence Day celebrations, in Bhubaneswar on Sunday. | ANI
Underprivileged children celebrate the 75th Independence Day, in Bhubaneswar on Sunday. | ANI
People carry a 75ft long Indian National flag during a rally to celebrate the 75th Independence Day, in Ahmedabad, Sunday, Aug. 15, 2021. | PTI
Indian Army participates in a boat race at Aakkulam Lake during the 75th Independence Day celebration, in Thiruvananthapuram, Sunday, August 15, 2021. | PTI
Border Roads Organisation (BRO) hoisted the National Flag at Chang La Pass, at an altitude of 17,000 feet on 75th Independence Day, in Leh on Sunday. | ANI
IAF Chopper shower petal flower on the occasion of 75th Independence Day, at Red Fort in Delhi on Sunday. | ANI
Artists perform a dance on the occasion of the 75th Independence Day celebrations at Devi Lal Stadium, in Gurugram on Sunday. | ANI
Indo-Tibetan Border Police (ITBP) jawans celebrate the 75th Independence Day on Sunday. | ANI
Students participate in a cultural program during the Independence Day function, at?Maulana Azad Stadium in Jammu, Sunday, Aug 15, 2021. | PTI
(By agencies)
(To receive our E-paper on whatsapp daily, please click here. We permit sharing of the paper's PDF on WhatsApp and other social media platforms.)
Published on: Sunday, August 15, 2021, 05:57 PM IST