Celebrity drape artist Dolly Jain tells SHIKHA JAIN how a six yard creation can do wonders
Celebrity professional sari draper, Dolly Jain holds the world record for draping the unstitched garment in 325 ways. She is also the fastest sari draper to set a Guinness record of 18.5 seconds. Here are her recommendations for the bride and even the bride's mother…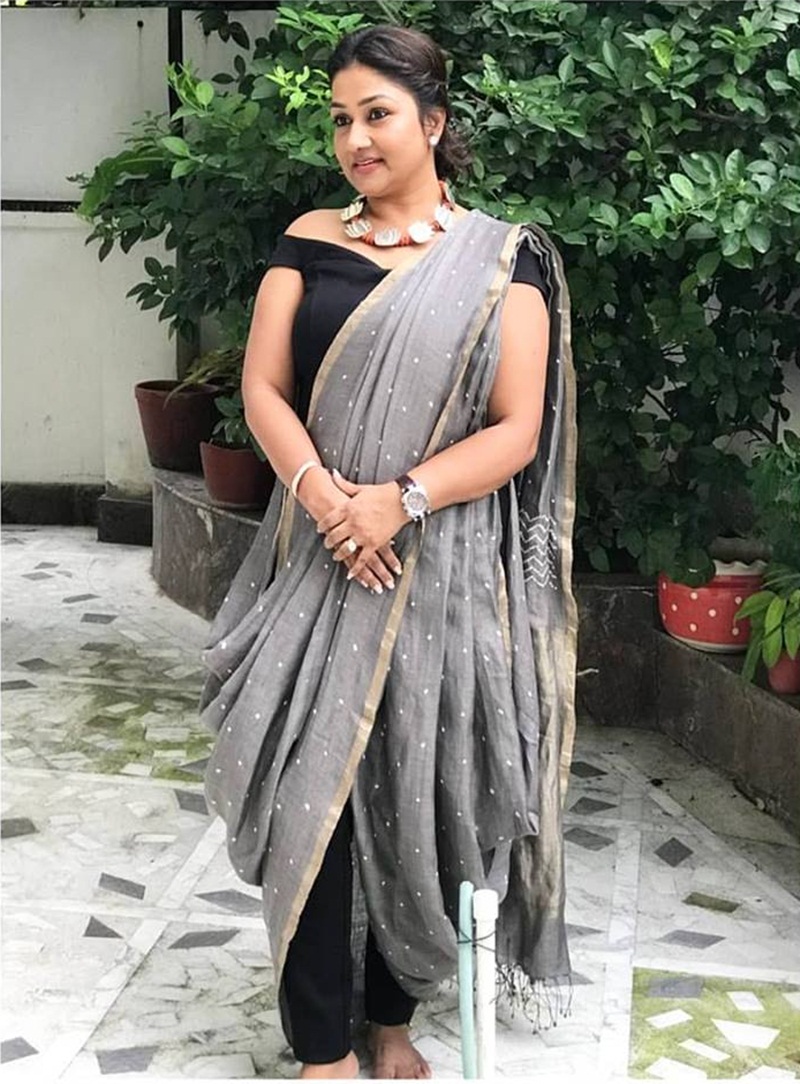 Fits all
The wedding season is still on and so is the mad rush of sporting the best garment. Running between the stores and designers, I would suggest the readers try a novel way to dress up. Sari is the only outfit that fits all. The garment is versatile in nature and has always been very special to me, and with 325 looks in which this garment can be styled, it's even more special.
Art of folds
I cater to every single woman who is interested in wearing a sari. But, all the more to the women who shy away from wearing this garment because once I show them the versatility of the garment, they will surely fall in love with this six yards of fabric. I believe that draping a sari is a skill that should be available to women who like to dress well and innovate on their styles. The garment should not be discarded for lack of innovation. Even though the sari is not so ubiquitous as it used to be, young Indian women are warming up to the sari as an outfit for just about any occasion. It helps that over the years, the sari has evolved manifold, primarily because of experiments with materials, embroidery and prints. So, to all the women out there, draping is nothing but the art of folds or the magic of folds, which, when done properly brings out the beauty of the woman.
Client inspiration
I learn from all the women I drape. For me, it's all about making a lady feel elegant and comfortable in a sari. So each time any woman comes to me with a new fabric, I ideate and give her something new. Women, either from the city or the rural areas, ladies of all ages, whether young or old are my inspiration.
To each her own
As of now, my limit is 325 draping styles, but, yes it can be done in unlimited ways. There are so many different saris available in the market and each client personality also varies, so, I like to drape my clients according to their personal style and personality.
Get your bridal look right
With so many styles of sari draping prevalent these days, women are spoilt for choice. But personally, I do have a certain preferences. According to me, the Mermaid style would suit the bride's mother, whereas the bride can sport the Hip-hop style on her Bachelor's night. Moreover, the bride would look very graceful in the sari in a Lehenga style for her sangeet programme.
Classic draping styles
These would be the hip-hop style that's done over the pants, the Mermaid style that has absolutely no skin-show, and the lehenga-sari style which is about pairing a lehenga with dupatta and a sari. This is because these styles are evergreen and make a lady look contemporary with a traditional twist.
(To receive our E-paper on whatsapp daily, please click here. We permit sharing of the paper's PDF on WhatsApp and other social media platforms.)
Published on: Sunday, April 28, 2019, 06:30 AM IST