A city that is a prominent destination when it comes to some fine pieces of historical architecture is Warangal. It was earlier called 'Orugallu' which means one stone, since the entire city was carved out of a single rock. The Kaktiyas who ruled here in ancient times built many monuments, impressive fortress, and massive stone gateways. On 28th February 2013, Warangal was accorded World Heritage place status by UNESCO.
In order to reach Warangal, you can take flights to Hyderabad which is 140 km from the city. If you wish to take the rail route, Warangal has its own rail head which is connected to major cities. Since most of its tourist attractions have historical significance, we take you on a journey back in time to explore these aging beauties. 
Thousand Pillars Temple
It is located at Hanamkonda, an important part of the Warangal City. It was built in 1163 AD by the great Rudra Deva.The architectural style if of the Chalukyas and is dedicated to three deities, Lord Vishnu, Lord Shiva and Lord Surya. Devotees of all faiths come here to pay homage and capture this gigantic piece of art. The name suggests the pillars which are major support to the temple.
Bhadrakali Temple
A temple which is counted among the oldest temples of Indian history rests 3 km from Warangal. It is dedicated to Kali Matha or Bhadrakali Ammavaru. She is considered to be a true example of strong women. The temple is surrounded by lush greenery and opens up to the gorgeous banks of Bhadrakali Lake.
Warangal Fort
It is one of the best heritage sites in India, located 3-4 km from the city. It was built in the 13th century in the reign of Kaktiya king Ganapati Deva. It spreads across 19 km and is famous for its graceful and finely carved pillars.
Ramappa Temple
It is known as the Ramalingeswara Temple, popular for its magnificent art and architectural brilliance situated 70 km from the city. It is situated in Palampet village of the Venkatapur Mandal, in Mulug Taluka of Warangal.
Ramappa Lake
The Kaktiya rulers, who were the primary ones here, were known for their traditions of constructing a tank adjacent to any temple. The Ramappa Lake is an example of the same, which has a picturesque set up that, will soothe your eyes.
Pakhal Lake
Apart from Ramappa Lake, Warangal is blessed with another one called Pakhal constructed in 1213 AD by the Kakatiya king Ganapathi Dev. It is located 54 km from Warangal city. The lake creates a charm on its visitors, with its glorious beauty. It looks stunning if you happen to visit on a full moon.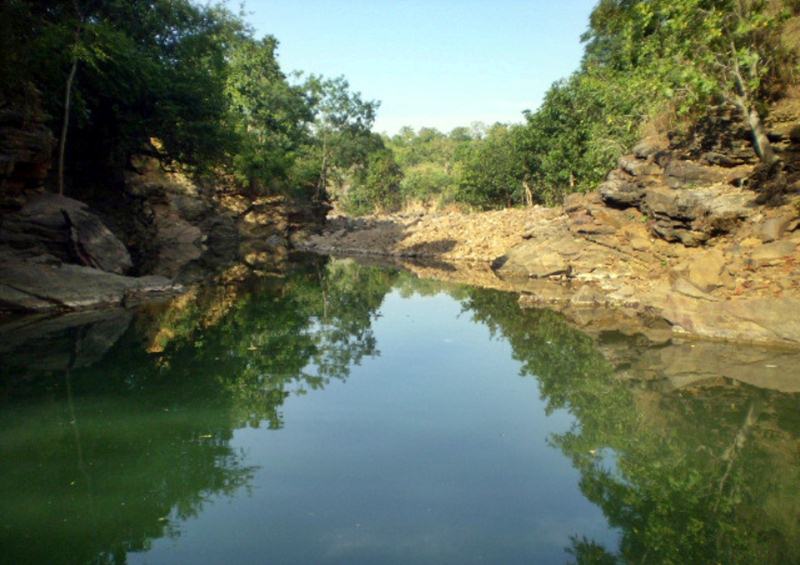 Khush Mahal
It is located near Warangal fort and was built by Shitabh Khan. It is a beautiful structure and a must visit for tourists to witness the influence of Tughlaq architecture.
Kolanupaka
This place represents a blend of history and religion. It was believed to be the birthplace of a great Veera Shaiva called Saint Renukacharya. Currently, it is a famous pilgrim spot for Jains.
Ethrunagaram
It is located 80 km from Warangal city and is a sanctuary on the banks of River Godavari. Surrounded by dense forests and serves as a home to exotic wildlife species which include, the Spotted Deer, Neelgai, Blackbuck, Sloth Bear, Panther and Tiger.The best time to visit here is from October to May.
Mallikarjuna Swamy Temple
One of the famous temples in Telangana, which has 500 years of great history dedicated to Lord Mallikarjuna Swamy. The temple is situated in a cave at a village called Kommeraveli.
Sammakka Saralamma Temple
An ancient temple built in the 12th century and is believed to have been built in the memory of two tribal women, who stood up for the welfare of their community. It is situated 90 km from the city of Warangal.
A small place like Warangal has made it to be a World Heritage with efforts of people who strive to preserve ancient beauty. Free Pree Journal requests its readers to take a step in preserving such places of historical significance. 
Source:
(To receive our E-paper on whatsapp daily, please click here. We permit sharing of the paper's PDF on WhatsApp and other social media platforms.)
Published on: Monday, October 12, 2015, 07:25 PM IST