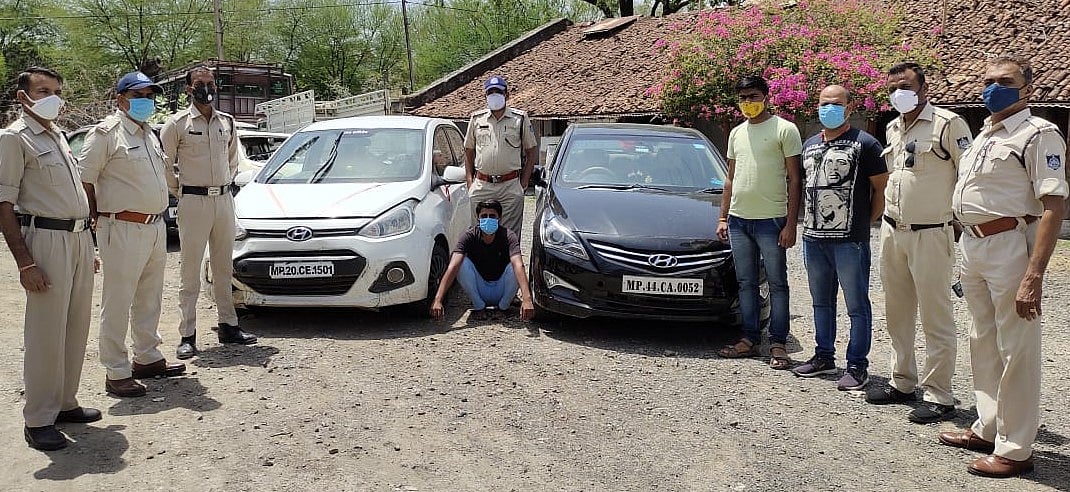 Neemuch (Madhya Pradesh): A police constable posted at Manasa police station was injured after a drug peddler attempted to mow him down with his car loaded with poppy husk. The incident occurred on Sunday night. Injured constable is Anil Dhangar, Manasa police station incharge KL Dangi said.
Police seized two cars loaded with 1.24 quintals of poppy husk. Following a tip-off, police placed barricades and intercepted two cars (MP-44/CA-0052 and MP 20/CE-1501). Seeing police, one of the peddlers driving (MP 20/CE-1501) car attempted to flee from the spot while driving over Anil Dhangar.
As Dhangar's fellow team members saved him, car driver Vishal Gurjar, a resident of Lasudiya Antri village fled from the spot leaving the car behind.
Another car driver Kanhiyalal Gurjar, 26, from the same village was arrested by police. Police registered a case under Sections 307, 353, 332 of Indian Penal Code, 132/177 of Motor Vehicle Act and Section 8/15 of NDPS Act.
(To receive our E-paper on whatsapp daily, please click here. To receive it on Telegram, please click here. We permit sharing of the paper's PDF on WhatsApp and other social media platforms.)