Indore: Under the mega-vaccination drive, Madhya Pradesh achieved a landmark feat of administering 16,73,858 COVID-19 vaccine doses in a single day.
This is a record in terms of number of doses administerwed on a single day among the states in the country.
In MP, Khandwa district outdid 51 others districts by recording over 205 per cent of vaccinations against its target.
In Khandwa, 30,692 beneficiaries were inoculated against the daily target of 15,000 till 10 pm. Khandwa was followed by Chhindwara and Rajgarh with 190 and 174 per cent respectively.
Over-all, the state achieved around 125 per cent of the inoculation target of 13.13 lakh.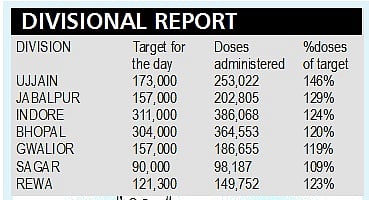 Khandwa among 29 districts, recorded more vaccinations than the target on first day of the mega drive.
Ujjain district stood second in Malwa-Nimar region and fourth in state by achieving 170 per cent of the inoculation target by vaccinating 1.2 lakh people.
When contacted, Khandwa chief medical and health officer (CMHO) Dr DS Chouhan said, ìWe have decided to proceed with mega vaccination drive to exhaust all the doses available with us. So, we have topped in state with maximum inoculation.
Khandwa vaccination in-charge Dr NK Sethia said 317 teams were constituted for the drive.
ìWith the cooperation of district administration, health department and public representatives, Khandwa district has topped in vaccination. Till 7 pm on Monday, about 28,503 people had received vaccines and while as per the final tally the target exceeded by 205 per cent,î he added.
District collector Anay Dwivedi, additional collector Rajesh Jain, district vaccination officer Dr Anil Tanwar, city vaccination incharge Dr AK Sethia motivated people for inoculation.
People queued at vaccination centres from 9 am on Monday to prevent corona infection. Free vaccination was arranged at all the centres on registration on the basis of Aadhaar card. Saplings were presented to those who came for vaccinations. They were also served refreshments.
Among Divisions, Indore and Ujjain Divisions achieved 124 per cent and 146 per cent of vaccination target till 10pm respectively.
In terms of number doses, Indore division outnumbered other six divisions in the state as total 3.86 doses were administered on the first day of drive, followed Bhopal division with 3.64 lakh and Ujjain division 2.53 lakh doses.
A total of 386,068 vaccine doses were administered in the Indore division which comprises 8 districts: Alirajpur, Barwani, Burhanpur, Dhar, Indore, Jhabua, Khandwa and Khargone.
As many as 253,022 vaccine doses were administered in the Ujjain Division which comprises seven districts: Agar, Dewas, Mandsaur, Neemuch, Ratlam, Shajapur and Ujjain.
(To receive our E-paper on whatsapp daily, please click here. To receive it on Telegram, please click here. We permit sharing of the paper's PDF on WhatsApp and other social media platforms.)