Ujjain: Remarks of Cabinet minister Mohan Yadav, on Thursday, irked the health workers who are on strike to press their demands which includes getting contractual appointment.
As the strike of medics entered day-3 the Cabinet minister at first avoided interaction with them. But, later he reached out to them and accepted their memorandum.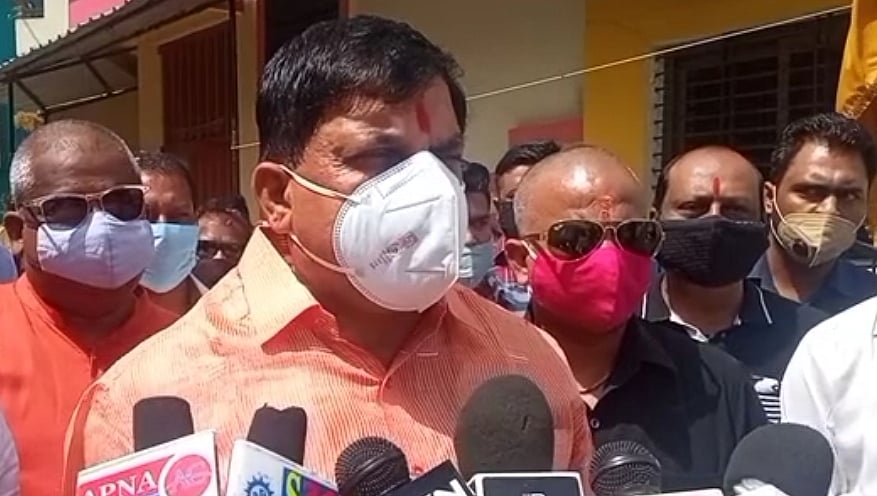 However, when a media person prodded him about his take on the matter, he said that they (medics) came to work out of their need and nobody was roped in forcefully.
The second wave of corona has fully exposed the condition of health services in the country. The staff crunch laid bare that public healthcare facilities across the country are in tatters, prompting the hospital management to hire temporary staff.
On May 25, the temporary staff of: AYUSH department, nursing staff, pharmacy department went on an indefinite strike to press their demand for contractual appointment, leaving the health arrangements of Government Charak and Government Madhav Nagar Hospital- the dedicated corona facilities- in tatters, again.
Cabinet minister Mohan Yadav, however, also assured the striking personnel that he will take up their demands with CM.
He added that they (staff) were needy, so they came to work and no one forced them the least bit for work. "Their aspiration to get contractual jobs here is good. The staff knows the work, the government needs them. I hope to find a midway," the minister said.
MEDICS IRKED
Temporary workers, who have been serving at corona dedicated hospital are on strike for two days demanding contractual appointment. Dr Chetna Rawal alleged that on the first day of the strike, health workers approached Covid-19 in-charge and state cabinet minister Mohan Yadav with their demands, but, the minister returned them saying that you needed money, so you came to work. Dr Rawal said that the treated meted out to the delegation was not decent.
"When the father of the minister was admitted in Madhava Nagar Hospital, we ensured his early recovery and sent him hale and hearty to his home," she said.
We are saddened to learn about what the minister has to say about our demands. We are at our wits end for we risked our life, ignored our family to serve the corona patients in this hour of crisis- FOR ALL THIS!î she added.
GOVERNMENT POLICY USED SELECTIVELY
The temporary workers cite the policy which was laid on June 5, 2018. As per the said policy the contract employees should be given 90 per cent of their salary at par with regular employees. This policy has been implemented in many departments, but it is still to be implemented in NHM. Despite submitting many applications in last 3 years, their side is not being heard. There are about 19, 000 contractual health workers in the state including 500 from Ujjain district.
HEALTH WORKERS KNEEL BEFORE COLLECTOR
Temporary health workers of Covid-19 hospitals on Thursday kneeled before collector Asheesh Singh to press their demands. Health workers wearing PPE kit under 40-degree Celsius temperature asked the collector to give them a permanent or contractual appointment. Health workers, including doctors toward boy, were temporarily hired during the second wave of Covid-19. As the second wave has started to decline, the government has served temporary workers a notice that their engagement will end on June 30. This is why these employees are on strike. On Thursday, they staged a demonstration in front of Charak Hospital for the third day and 'begged' before the passersby. Health worker Asha Sisodia said during the Covid-19 outbreak we risked our lives but now the second wave is receding, so we are being fired from our jobs. What should we do now?
Collector's assurance
On receiving information about the demonstration of health workers, collector also reached Charak Hospital. The health workers knelt before collector while putting up their demands. He assured that he would talk to the government in this regard. "The pandemic is still not over. Let it pass. Then all the issues will be discussed," collector said.
(To receive our E-paper on whatsapp daily, please click here. To receive it on Telegram, please click here. We permit sharing of the paper's PDF on WhatsApp and other social media platforms.)