The Supreme Court may on Friday decide the price at which the Covid vaccines will be administered, ending the price war that saw Pune's Serum Institute of India (SII) on Wednesday lower its price from Rs 400 to Rs 300 per dose; this was followed by Hyderabad-based Bharat Biotech reducing its vaccine price on Thursday from Rs 600 to Rs 400 per dose, both for supplies to the state governments.
There are, however, many anomalies in the Centre's new vaccination policy declared 10 days ago on April 19 and they may be sorted out in the hearing at 12 noon before the Bench of Justices Dhananjaya V Chandrachud, L Nageswara Rao and S Ravindra Bhat . The three-judge bench has taken cognizance of a suo moto case registered by former Chief Justice Sharad Arvind Bobde last Friday.
ALSO READ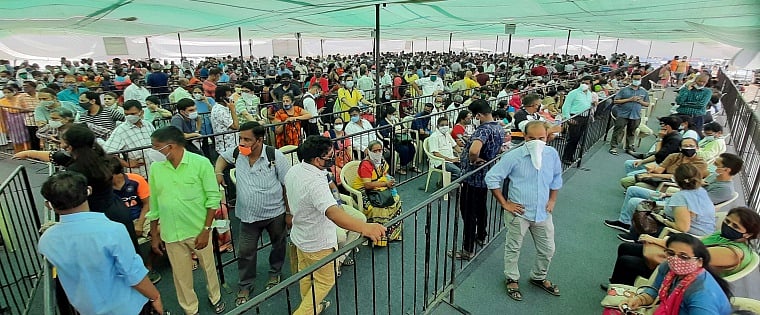 COVID-19: Maharashtra Congress ministers to donate salaries towards free vaccination drive
In the last hearing on April 27, the court had posed many queries and sought clarifications from the Centre. Besides supply of Oxygen, beds in hospitals and availability of essential drugs, including Remdesivir and Favipiravir, the Centre was asked to clarify on eight issues concerning vaccination. They are:
-- The basis and rationale for differential pricing of vaccines to be supplied to the Centre and the States;
-- Projected requirement of vaccines in view of opening up of the vaccine programme to persons in the age group of 18-45;

-- Modalities proposed to meet deficit in the availability of vaccines;

-- Steps proposed to enhance the vaccine availability by sourcing stocks from within and outside country;

-- Modalities for administering the vaccine to the older age group (45 and above) who have already received the first dose;

-- How to meet the additional demand of 18-45 population;

-- How supplies are to be allocated between various states if each state is to negotiate with the vaccine producers; and finally

-- Steps taken and proposed for procurement of other vaccines apart from Covishield and Covaxin and the time frame for implementation.
(To receive our E-paper on whatsapp daily, please click here. To receive it on Telegram, please click here. We permit sharing of the paper's PDF on WhatsApp and other social media platforms.)
Published on: Friday, April 30, 2021, 12:16 AM IST