Acting on the specific complaint, teams of Anti-Corruption Bureau (ACB) carried out raids at the four different locations in the districts Balodabazar, Bastar and Balrampur, Kawardha and arrested three patwari and a Janpad CEO red handed while demanding bribe on Friday.
ACB team of Balodabazar, arrested accused Kuleshwar Gaiakwad (60), Chief Executive Officer Janpad Panchayat Bilaigarh for demanding a bribe of Rs 20,000. He was demanding kickback to clear the pending amount Rs 3 lakh of a contractor who carried out construction in a government school building. As the officer was not ready to release the pending amount without hush money, the victim complained the matter to ACB, after which a trap was laid and the Janpad CEO was arrested red handed on Friday from his official residence, an ACB officer said.
Secondly, a government land and revenue officer (Patwari) Mukesh Kumar Bisai (27) was caught red handed while accepting bribe money of Rs 8000 cash, in insurgency hit Bastar district. The Jagdalpur unit of ACB laid a trap following a serious complaint and the corrupt Patwari was arrested from his office. He was demanding a bribe of Rs 8000 from the victim to transfer the land records in his name, ACB press release said.
Another Patwari, Amit Gupta, Patwari of Halka number 26 of Rajpur tehsil of Balrampur district, is accused of demanding a bribe of Rs 50,000 in lieu of giving copy of B-1, map, measles. After verifying the complaint of the applicant, the Ambikapur unit of ACB organized the trap. After this, the team arrested Patwari Amit Gupta, who had come to collect 40 thousand rupees as the first installment of the fixed amount.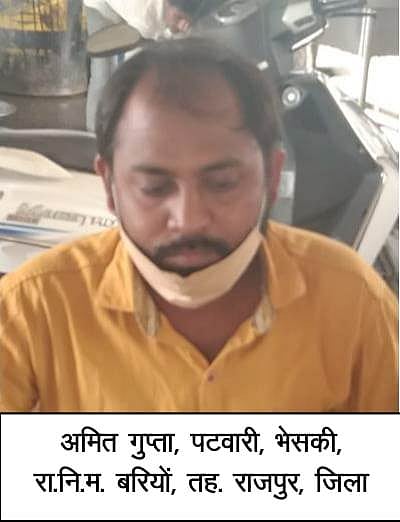 Similarly, the ACB team carried out a raid on the office of Patwari Gajendra Chandrawanshi, from Shashpur Lohara, Kawardha district, and arrested him for taking a bribe of Rs 11,000. He was also accused of demanding bribes in order to hand over credit book.
The ACB said, all these corrupt officers were arrested red handed under the supervision of Director ACB and Economic Offence wing Arif Sheikh and Superintendent of Police Pankaj Chandra.
Offence were registered against all these government officials as per anti-corruption law, an official of ACB said.
(To receive our E-paper on whatsapp daily, please click here. To receive it on Telegram, please click here. We permit sharing of the paper's PDF on WhatsApp and other social media platforms.)