It has been tough time for Narendra Modi, since 2014. He has been saying that he is facing issues due to his successor — the UPA government, and there have been problems for last 60 years. And, after getting elected, he was often found travelling the world in bid to save the nation from current crisis or to prevent future ones. Throughout all this, he has tried his hardest to remain dignified. Sometimes he succeeded, but often he failed.
India's Prime Minister has made waves as a jet-setting leader since taking over the office in 2014. Yet, as it often is with Modi, much of the public attention will probably be placed on something else entirely. Modi has become well-known for his vigorous hugs, handshakes and selfie obsession with world's known people, displaying a tactile familiarity that often takes counterparts by surprise.
The list of awkward moments of Narendra Modi is just increasing day by day. But Narendra Modi at the end sails the ship smoothly without getting into much controversy. No doubt Narendra Modi is a hugger and photogenic too. But, here are some goof-up moments of Indian prime minister:
Modi goofed up on stage, and confused himself as well as Mrs. Abe
2. 'Main apna favourite hoon', when Modi wore a suit printed with his own name.
3. This what happened when Mark Zuckerberg blocked Modi's camera
4. When Angela Merkel missed his hand.
5. When he couldn't contain his enthusiasm upon meeting Obama.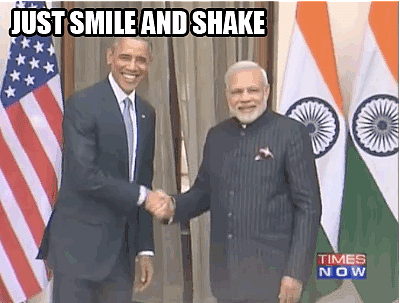 6. Modi's exasperated look when not being a part of this conversation.
7. When Modi was not in a mood to let French President Francois Hollande leave.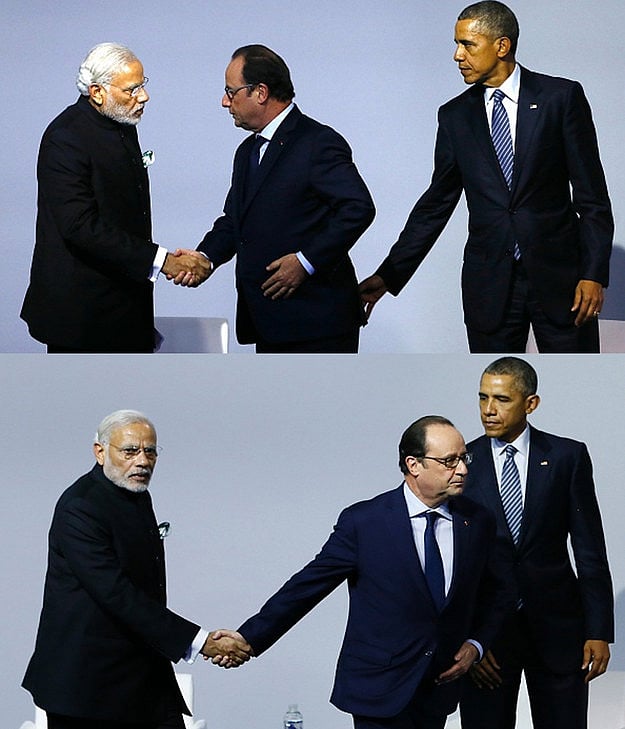 8. Modi shook two hands at a time, that weren't reaching out to him.
9. When Modi made everyone gasp for a minute, when he wrongly said 'Weed Energy".
10. The entire trip to this heritage site in China was a giant awkward moment.
11. When Modi met Baba Ramdev and they couldn't control their love for each other.
12. Modi messes it up, posting a selfie by signing in Tony Abbot's face 
13. When he suddenly started channelling Beyoncé during yoga day.
14. When his high-five wasn't entertained with enthusiasm.
15. When Advani was hugged by Modi; the reaction says it all.
(To receive our E-paper on whatsapp daily, please click here. To receive it on Telegram, please click here. We permit sharing of the paper's PDF on WhatsApp and other social media platforms.)
Published on: Saturday, September 16, 2017, 05:00 PM IST