Party affiliations had a direct impact on the 14 Goan candidates contesting elections in the Swindon Council on May 4, as all four Labour Party candidates won their seats and all nine Conservative Party candidates and one Independent candidate lost the elections.
The four Goan Labour Party candidates who won their elections were sitting councillor Adorabelle Amaral-Shaikh (Borough Seat), Domingos Dias (Parish Seat), Joseph Pereira (Parish Seat) and Danial Vales (Parish Seat).
The nine Goan candidates who contested from the Conservative Party and lost the elections were Anabelle Pegado (Parish Seat), Edwin Rodrigues (Parish Seat), Romaldo Fernandes (Parish Seat), Agnelo Estrocio (Parish and Borough seats), Norton Fernandes (Parish Seat), John Barreto (Borough Seat), Raul Fernandes (Borough Seat), Brenda Fernandes (Borough Seat) and Vilma Crasto (Parish Seat).
Independent candidate Mariano Rodrigues also lost the election for the Borough seat.
Incidentally, three Goan candidates had contested the elections for the Central Ward in Swindon. Amaral-Shaikh (2,960 votes) defeated John Barreto (1,577 votes) who came in second and Mariano Rodrigues (73 votes) who was placed fourth.
"I am beyond ecstatic, I am filled with gratitude and humility to all the 2,960 voters. The support and trust shown in choosing me again for the next 3 years as the Labour Ward Councillor shows residents really know the importance of electing a Councillor who works tirelessly," said Adorabelle Amaral-Shaikh.
"However, the road to victory was not an easy one. It was full of challenges and obstacles, but with determination, perseverance, and the support of my residents, I was able to overcome them and emerge victorious. Winning is not just about having the most votes; it is about inspiring and bringing people together around a common vision and values."
"Throughout my campaign, I spoke about the need for change, progress, and unity. We spoke about the importance of recognising the diversity and richness of our community and the critical work of addressing inequalities and injustices."
Added a jubilant Danial Vales: "It has been a wonderful journey especially with support and guidance from Swindon's first Goan Councillor Imtiyaz Shaikh and sitting Adorabelle Amaral-Shaikh."
"Winning this election has given me a great experience. It has given me a chance to prove to the people what Labour Party stands for and to see how we work. I pledge to work for the community and let us make Swindon a better place to live."
Joseph Pereira, another winning candidate, assured to be committed to work and contribute towards the enrichment of the kids and elders.
Domingos Dias, who also won the elections, said he was privileged to have been appointed as parish councillor in Central Ward with a winning candidate for the Borough elections, Councillor Adorabelle Amaral-Shaikh.
"Together, we have spoken to numerous residents and local communities. I will endeavour to work with my fellow Labour Parish Councillors and for the betterment of our area and all its communities," he said.
Former mayor re-elected 9th successive time at Watford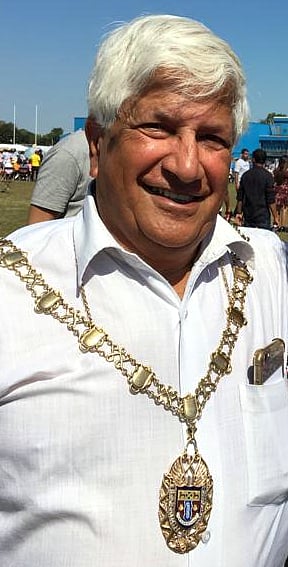 Former mayor of Goan origin and Sitting Councillor Rabi Martins from the Liberal Democrat Party won the borough seat at the Watford Council.
"I am thrilled and humbled to be re-elected for the 9th consecutive time," said Rabi Martins, who traces his roots to Varca.
"These are times when individuals, communities and businesses face economic and environmental challenges so I look forward to being able to provide help and support in whatever small way I can. I will, of course, also continue to make myself available to any UK Goan for advice and guidance."
Elsewhere, Daniel Carvalho of the Conservative Party lost the borough seat at the Lincoln Council.
(To receive our E-paper on WhatsApp daily, please click here.  To receive it on Telegram, please click here. We permit sharing of the paper's PDF on WhatsApp and other social media platforms.)