Mumbai is a city which is truly cosmopolitan and these influences can also be seen in the street food of Mumbai. As Mumbai attracted migrants during its growth, the migrants brought along their cuisine. The people from Southern India brought along the Dosa which comfortably made a presence felt in the Mumbai street food scene. Dosa is a very versatile dish as the essentials remain the same but it can produce a lot of variety by what is put on top of it.
We bring you some of the popular dosa joints of the city, which are truly worthy to be tried.
Mithibai Dosa
Located opposite Mithibai College, in Vile Parle West. This stall is quite popular among the students of Mithibai College. They serve up an amazing variety of dosas- forty variations to be exact, Paneer Chili, Schezwan cheese and Open Mysore Masala dosa being popular. Jini dosa which is phenomenal. A roadside joint but it does not disappoint.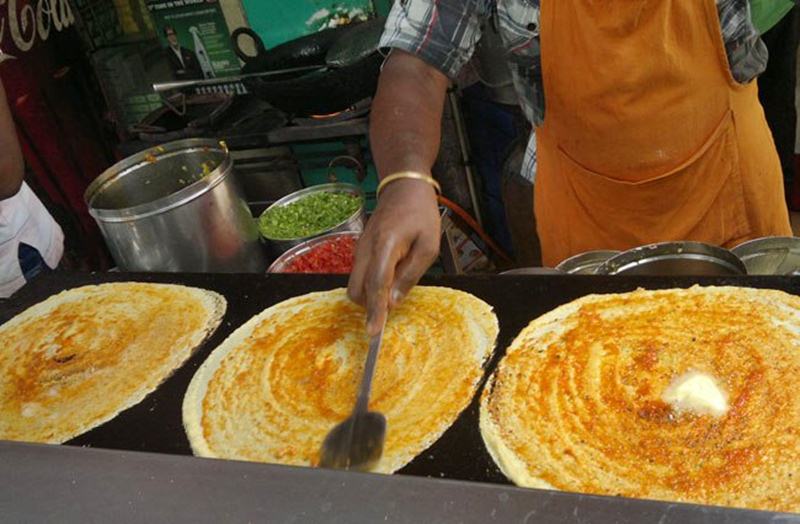 Khau Galli
This place is in fort and is most frequented by office-goers who work here during the day. The menu is limited but just tasting the food will make you overlook that. Mysore dosa, Masala dosa and sada dosa are on offer. Filling and generous it might as well be lunch by itself. The food is lip smacking and the dosa taste so good.
Narayan's Dosa
It is a small place, but the food makes up in flavor for what it lacks in space. The Palak masala dosa here is a different take on your everyday dosa. Other dishes are Mirchi Sada, Paneer Chili, Chinese Chopseuy. The service is prompt and efficient. Located at Grant road, Parmand building near French Bridge.
Anna's Mysore Masala Dosa
This is not a restaurant but a well known stall outside Sophia College. It is well known for its Mysore dosa which is soft on the inside and crisp on the outside, and for its Chinese dosa.
Manju Dosa
It is also caked mani dosa and is located at 16th road in Khar west. It has grown leaps and bounds from being a humble cart to a popular dosa joint, their cooks are from Karnataka. They serve up innovative stuff such as American Chopseuy dosa, Paneer Frankie dosa and Sandwich dosa. Their prices are quite good, not pricey.
Priyanka Fast Food
This is an outlet at Nariman point which has over 34 variations of dosas. With a pocket friendly range from 18 to 35 rupees. They offer piping hot food with masala, paneer and cheese being used in the preparations. A Mecca of sorts for the office-goers over here. Located opposite Air India Building and Express Tower. Amazing food for amazing prices.
Tirupati Dosa Centre
Jai Ambika Aahar Kendra popularly known as Tirupati Dosa Centre was started in 1996 by Nagraj Gowda. During the time it started it use to serve up only 15 varieties over time with progress they extended to 120 crispy flavors. The ambience is small simple and humble, but the food is the reason you should be here. Must haves include Pizza Dosa, American Dosa, Golmal Dosa, very popular among people you will generally see them lined out waiting for chairs. At 7 Bungalows, Andheri West, Opposite Jewel Shopping Centre, Versova road.
Nandu Dosa Diner
This place is known for their variety of dosa, keep that in mind while ordering. Cheap prices; it is more of a college type hangout with good flavors in Dosas. The frequently ordered Dosas are Schezwan sada, cheese chili dosa and Manchurian Dosa. A dosa to be mentioned is the Chocolate dosa which can be ordered at the end as a desert blended with melted chocolate chips or you can skip all the others and start with this sweet delight. Located at 24, Kent Garden, B.M.C Market, T.P.S Road, Near M.K. School Gate, Borivali West.
Mani's Lunch Home
This is a good restaurant with a few items but a high quality standard, with a homely taste and atmosphere. It has won the Times Now award 2014 for the best vegetarian restaurant. The Mysore masala dosa it does all south Indian dishes quite well. vAt 153 C, Mahskar Building, near Ruia College, Matunga East.
(To receive our E-paper on whatsapp daily, please click here. We permit sharing of the paper's PDF on WhatsApp and other social media platforms.)
Published on: Friday, August 21, 2015, 03:47 PM IST