At the end of The Dinesh Raheja Workshop, I always share a list of must-see Hindi film classics from the '50s, '60s and '70s for the participants (most of them in their 20s). These are films you simply can't afford to miss! I would like to kick-start my new monthly series on cinema classics with one of my favourite heist films, Jewel Thief (1967).
Director Vijay Anand had a landmark year in 1966 with two memorable films — Guide, an instant classic about a flawed man's spiritual redemption, and Teesri Manzil, a hugely enjoyable musical thriller that didn't insult your intelligence. It was a tough act for even the noted filmmaker to follow up. But match up he did with his next film, Jewel Thief (1967), a veritable Kohinoor amongst Bollywood heist films.
I am tempted to include a spoiler that will reveal the ingenuity of the film's shock climax when the identity of the hero's "double", the jewel thief, was revealed…But I will let you discover the "kahaani" for yourself. Why have I marked double in single quotes in the copy? Watch the film and go figure.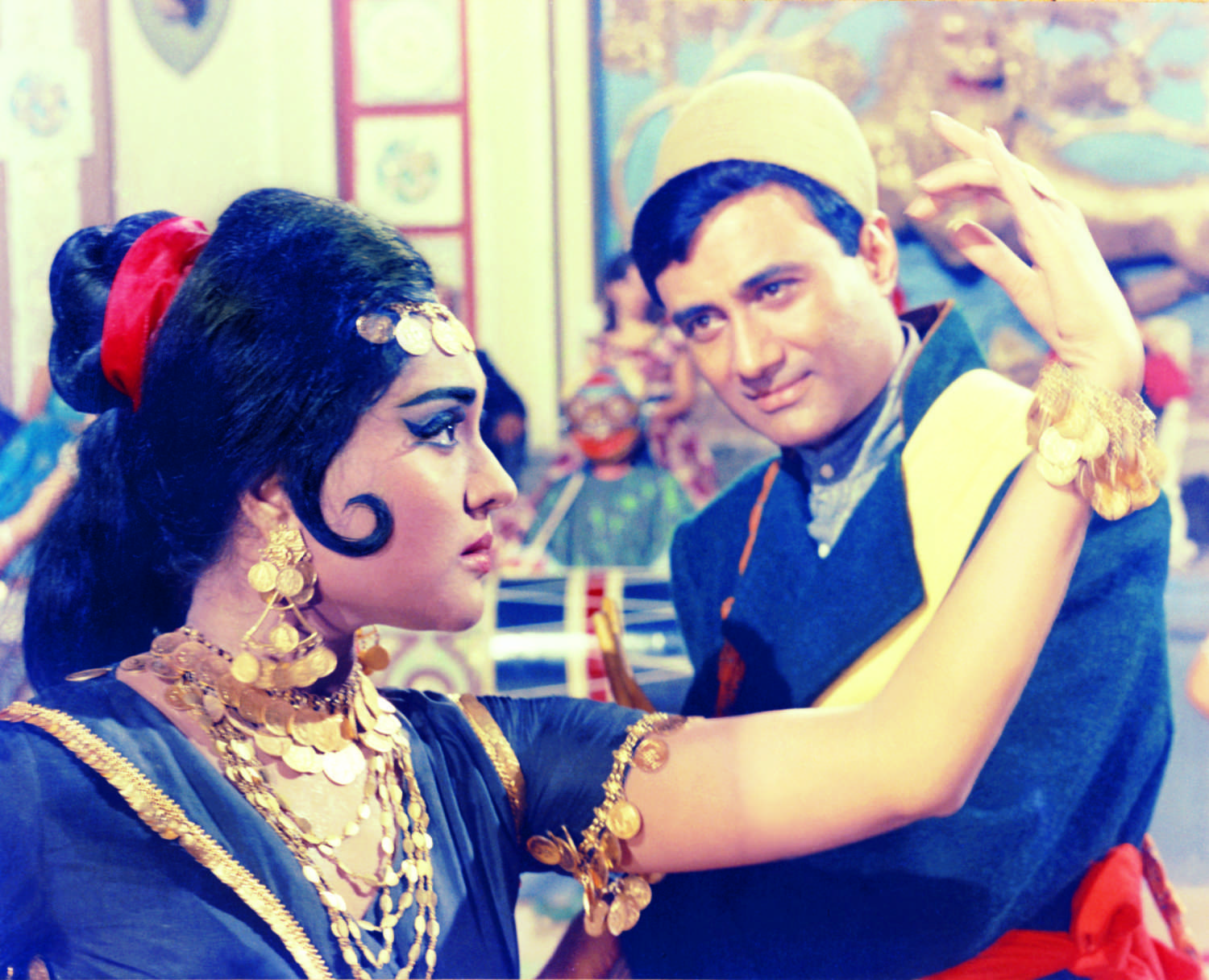 Bevy of beauties
This musical crime thriller — yes, we have such a genre in Bollywood — boasts of a fabulous music score by SD Burman, a bevy of bombshells (Tanuja, Helen, Faryal, Anju Mahendru) who could have made the cut in a Bond film, and the combustible chemistry of Dev Anand and Vyjayanthimala, all under the direction of the master of dramatic denouement, Vijay Anand.
Director Anand was famous for his innovative song picturisations and his fascinating framing of scenes: An unidentified man passes a bejewelled mannequin. When he moves away, the mannequin's neck is bare and a knowing laugh fills the background. In suspenseful scenes, the camera peers through wooden slats, carpet holes and intricately carved wall dividers to enhance the intrigue inherent to the plot.
Dev Anand plays Vinay who becomes the prime suspect after a jewellery theft…till the finger of suspicion swivels to his look-alike, Amar.
Vinay laments Yeh dil na hota bechara and sets off on a fishing expedition; he hooks Anjali (Tanuja) so that she recommends him for a job at her father's jewellery shop. Feisty Anjali gyrates with gay abandon to Raat akeli hai to ensure a nightcap; and falls head over (flung) heels in love with him. However, Vinay is drawn towards a beautiful stranger Shalini (Vyjayanthimala), whom he meets at Anjali's birthday party and who entwines herself around him and claims he is her fiance, Amar. Shalini enlists the help of her brother (Ashok Kumar) to substantiate her statement. Vinay easily disproves them but is intrigued; and chivalrously offers to stick his neck out to trace the dangerous Amar, the famous jewel thief.
Tracking down Amar involves a series of trysts with a cabaret cutie (Helen), a bejewelled dancer (Faryal) who is abducted after an electricity outage, and a libertine (Anju Majendru), who sports oversized dark glasses and sunbathes on the lawns next to a swimming pool. They all interact with Vinay as though he is the playboy, Amar.
You keep scratching your head
Since the director never offers a single glimpse of Amar, you keep scratching your head till you see red herrings everywhere you look. The climax is set in gorgeous Gangtok — Amar plans to rob the royalty while Shalini dances frenziedly to Hothon pe aisee baat with a revolving camera that spins 360 degrees. Vyjayanthimala famously danced through an entire stanza of the song in one single shot.
Vijay Anand holds you in a vice-like grip in this taut thriller. Sample this: A perturbed Ashok Kumar challenges Dev Anand to remove his socks at a party. He says, "I can prove you are Amar, and not Vinay as you claim. You have a sixth digit on your right foot."
In response, Dev smirks that he is afraid his socks could be torn and so he can't oblige. A chorus of skeptical voices insists that Dev remove his socks. Outnumbered, Dev reluctantly cedes. Tension mounts as the camera closes in on his feet. Dev slowly peels off his socks and teasingly, he places his left foot on the table supporting his outstretched legs before crossing it with his right foot…There is no extra digit. Playfully, he twiddles his toe to mock a bewildered Ashok Kumar.
Kumar's sly, at times mocking, smile is a perfect foil to Dev Anand's goofy grin. Vijay Anand had been keen on working with Vyjayanthimala before she married and eased out of the industry but when they finally collaborated, he found her rather aloof. However, Anand extracted a striking performance from the actress.
The film is a triumph for Dev Anand's production house, Navketan. Check out the film to see Dev jauntily sport the famed Jewel Thief hat (he wore headgear in Navketan's next, Prem Pujari, too) and learn why he is such an endearing and enduring symbol of charm.
(To receive our E-paper on whatsapp daily, please click here. We permit sharing of the paper's PDF on WhatsApp and other social media platforms.)
Published on: Sunday, May 05, 2019, 07:40 AM IST