Gone are the days when we heard the phrase "Dakiya Daak Laya"…We have come to the phase of modern style of communication which has metamorphosed into texts and eloped furthermore with emojis. On the occasion of World Post Day, meet five personas who have mastered the art of reviving postcards with the help of social media, thus flagging themselves in best of both worlds.
Daak- Hidden treasures
Daak which translates to post in Hindi is an initiative that goes beyond holiday postcards. Started as an online weekly newsletter circulated amidst family and friends, the treasures unearthed by Onaiza Drabu and Prachi Jha include incredible stories, poems and photographs from the past that you probably wouldn't find anymore! Onaiza states that postcards were not their initial choice, but the quest to bring back stories from a subcontinent's literary and cultural past, gave it the molding they were looking for. She says, "We do small digests of information, what better format than a postcard! Since then we have had a whole host of readers write to us and exchange postcards and it has been a heart-warming exercise especially given how rare postal exchanges are these days."
Jinesh Bagadia- Indian Army's postman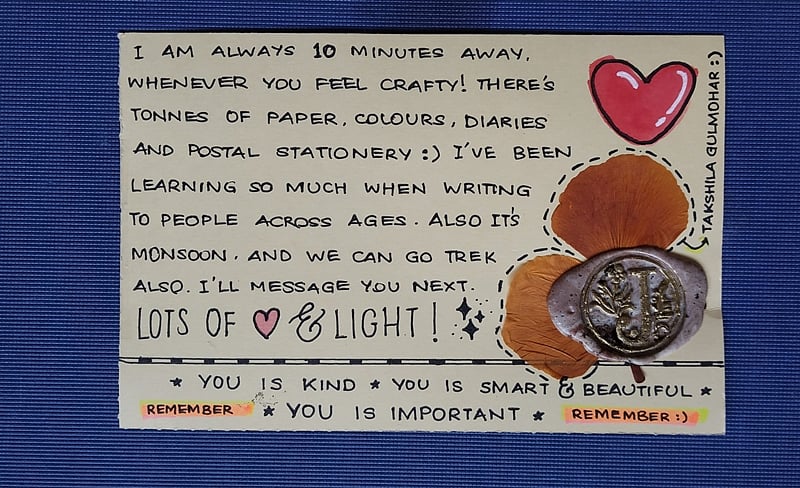 For Jinesh postcards were a vessel that ordained completion once filled with the soul of calligraphy. With the process of delivering and receiving postcards being out of fashion for many, he emphasizes that it is a process that needs immense trust. He says, "From 3 days to 3 months your letter could be in transit safe or might have been eaten by rats on a train, you never know. But what you must trust is the process – Create, send and wait. There's joy in all the steps involved."
Bagadia's project #100DaysofSiachenPosting is one thought that cannot be replaced whatsoever. He recalls reading a book wherein a helicopter pilot asked them the reason why they were not sending any letters back home. To which they responded in the next airdrop, in a tiny piece of cloth that "we do not have any paper". He took this matter subjectively and sent letters to the soldiers of Siachen. "While writing the cards, I would read the book daily in the morning and then make the card inspired from what I read. Drop the card on my way to station and post a photograph. All before getting to work at 10!" he said.
Tanishka D'Lyma- Not so mundane Mumbai
For every Mumbaikar the maximum city serves as a canvas that is yet to be explored. For Tanishka, postcards are a medium that allow one to experience the moment by giving attention to detail. She says, "It's a great medium especially in this age because the whole act of looking at postcards, writing and receiving one makes you stop and take time out to pay attention to this simple act. It's not like receiving a text message." Tanishka's previous series was all about Mumbai. She emphasized on the quintessential parts of the city that weren't usually talked about, giving a non touristy feel to her creations. "I had to rule out talking about the classic vada pav and local trains and got down to the everyday that's usually hidden under the cover of what seems mundane", she adds.
Tawfik Manham- Feel free to post
Mumbai based Industrial Designer Tawfik Manham started off his journey with postcards at a very young age by writing letters to family and friends on his stay in Riyadh. Fast forward to the present, Tawfik wanted to use the same old way to connect with his loved ones. This laid the foundation to #postcardperday project that was started in 2015, which is sending out postcards with his own drawings to anyone who wanted to connect on a daily basis. He says "I got immense response when i kicked off this project, got many calls from those who received it and shared how special it is to receive a letter where you can touch and feel. Read your handwriting and enjoy the illustration i make on it. It speaks volumes and has that personal touch and connection."
Omar Khan- Vividly Vintage
Omar Khan has documented Paper Jewels- story of postcards that served as an essential mode of communication during the Raj. From archives to private collections in India, Pakistan, Europe and the US, Omar has delivered a masterpiece in the form of his book 'Paper Jewels'-a one of its kind collection, to be envious of, especially for those who scavenge vintage artwork. So how do postcards find a way to survive in digital times? Omar says the modern forms of communication become even more visual – Instagram, Snapchat – they may resonate with audiences who see things through pictures more than through words. At the same time, while handwriting is vanishing, they do remind us of the unique personal visual form of handwritten messages accompanying images. "Postcards allow us to see what people a hundred or more years ago considered important, how they represented themselves to each other and others around the world. As an early form of mass communication, they are a priceless window into history", he adds.
(To receive our E-paper on whatsapp daily, please click here. To receive it on Telegram, please click here. We permit sharing of the paper's PDF on WhatsApp and other social media platforms.)