On the occasion of Vasant Panchami, it rather feels exactly the opposite of spring. With winter still prevailing in the form of heavy snowfall and the recent hailstorm in the northern parts of India, we wonder if this is a common phenomenon or climate change that is rather alarming.
The hailstorm that hit several parts of Delhi and its adjacent areas definitely took us off-guard. While snow in India is predominant in Jammu and Kashmir, the cold wave has travelled down south making it chilly even in the month of February.
A view of a street after hailstorm struck various parts of Noida,
PTI Photo |
Multiple avalanches occurred at many other places in the Kashmir valley, but due to lack of communication and connectivity, the extent of casualties or damage, if any, is not yet clear. Authorities have shifted 78 families from avalanche-prone areas of Waltangoo Nar and Kund in Kulgam district to safer places.
Local residents along with security personnel search the bodies of 10 missing policemen after a snow avalanche hit a police post at Qazigund Jawahar Tunnel in Kulgam district, some 90 km from Srinagar.
Photo by STR / AFP |
According to weather experts, a cold outbreak during an anticipated warm weather is quite common and can last from a day to a month. This however doesn't indicate global warming or climate change.
Why is Mumbai so cold?
"It is a seasonal phenomenon and temperatures are expected to fall further as a result of snowfall over the northern parts of the country, cool northerly winds have brought down temperatures in Mumbai," said KS Hosalikar, deputy director, IMD.
Photo by Money SHARMA / AFP |
Causes of Hailstorm
According to AccuWeather Storm Warning Meteorologist William Clark, "The main reasons that hail occurs with the greatest frequency during the spring is that the jet stream and energy higher up in the atmosphere is still rather strong as compared to the summer months."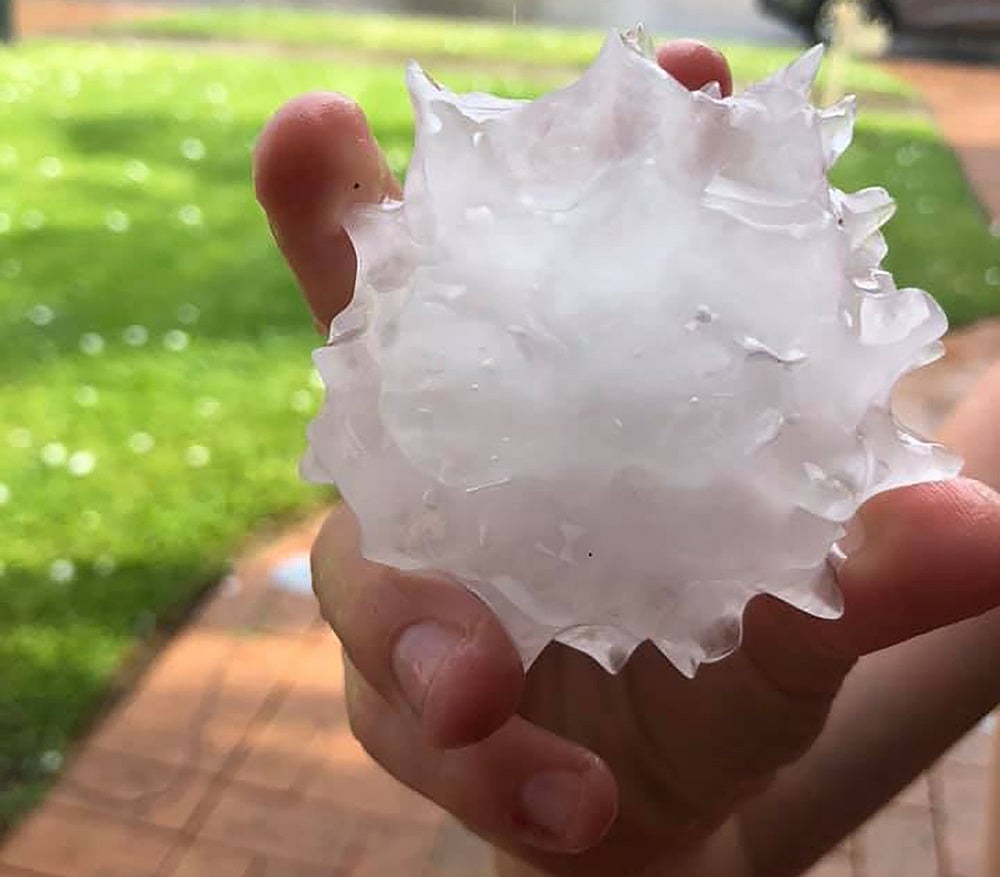 A large hailstone
Photo by Handout / RACQUEL COLEMAN / AFP |
Hail develops when rising air in a thunderstorm, known as the updraft, lifts water droplets high into the atmosphere where temperatures are below freezing. This causes the water droplets to turn into hailstones before falling down to Earth. The stronger the updraft, the larger the hailstones can become before succumbing to the pull of gravity and falling to the Earth's surface.
"In the spring, the freezing levels in the clouds are much lower [than they are during] the summer, allowing the hail to more easily reach the ground," Clark adds.
Did you know?
The UN weather agency identified an 1888 hailstorm in Uttar Pradesh, which killed 246 people near Moradabad, among the all-time deadly weather events in the world.
(To receive our E-paper on whatsapp daily, please click here. To receive it on Telegram, please click here. We permit sharing of the paper's PDF on WhatsApp and other social media platforms.)