Safe House
After acquiring a data storage device, ex-CIA traitor and criminal Frost (Denzel Washington) is attacked by a team of mercenaries led by Vargas so left with no choice Frost surrenders to the American consulate and is sent to a local safe house maintained by Weston (Ryan Reynolds), a young CIA agent. When Vargas and his men attack the safe house, Weston escapes, taking Frost. It is revealed that Vargas is working for CIA and trying to retrieve the storage device from Frost. While on the run, Weston wonders whom to trust and what does the device contain? Does Weston also remove unflattering facts about CIA from his report to get promoted? Watch the taut spy action-thriller for Washington and Reynolds' performances.
The Book of Eli

In a post-apocalyptic world, Eli (Denzel Washington) is travelling on foot and along the way his survival instincts are brought to the fore. He meets Carnegie (Gary Oldman) who dreams of controlling people by using a certain book and he has sent his henchmen across the landscape to search for it. Eli meets Carnegie's daughter Solara (Mila Kunis) and Carnegie realises that Eli has the book he wants—a Bible. Eli escapes Carnegie's clutches along with Solara and he explains to Solara that his book is the last remaining copy of the Bible. Watch this post-apocalyptic neo-Western action film to see whether Eli manages to take the book to its destination.
American Gangster

In the 1960s, detective Roberts (R   ussell Crowe) is in charge of cases involving a brand of heroin called 'Blue Magic' around the time that Lucas (Denzel Washington) is buying Blue Magic from Thailand and smuggling it into the US. Lucas becomes Harlem's crime boss and falls in love with Eva (Lymari Nadal). Till meeting her, he keeps a low profile to avoid police attention but on one occasion Roberts notices Lucas. Now Lucas has to not only deal with an enemy mafia who threaten his family but also corrupt detectives. Lucas gets arrested by Roberts' team. Watch the gritty throwback to classic gangster films with great performances from the lead pair to see what Lucas does to shorten his jail sentence.
Training Day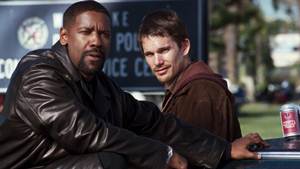 In the film about a day in the life of two cops, rookie cop Jake Hoyt (Ethan Hawke) is to be evaluated by veteran detective Alonzo (Denzel Washington). When Jake sees a young Letty being assaulted, Jake protects her and later finds Letty's wallet on the ground. During the course of the day, Jake comes to know about Alonzo's illegal activities and Alonzo kills a person to make it look like a justified shooting. When Jake refuses to take his share of the loot, Alonzo pays a gangster to kill Jake. Watch this taut crime thriller and brutal police drama to see if Jake manages to avoid getting killed and arrest Alonzo.
The Siege

Following a bombing, US captures reported mastermind (Sheikh) behind it and the FBI receives demands to release him. In New York, FBI agent Hubbard (Denzel Washington) comes into conflict with CIA agent Kraft (Annette Bening). Samir, who admits to signing the visa application of one of the suicide bombers, gets arrested but Kraft insists that Samir is not a terrorist. After more attacks the President declares martial law and Major General Devereaux (Bruce Willis) seals off Brooklyn to track down the terrorists. Hubbard and Kraft arrive in time to stop Samir from setting off a body bomb which he intends to detonate among peace marchers but Samir shoots down Kraft. Watch the thriller to see if they manage to subdue Samir and foil his plan.
(To receive our E-paper on whatsapp daily, please click here. We permit sharing of the paper's PDF on WhatsApp and other social media platforms.)
Published on: Saturday, April 23, 2016, 04:15 PM IST