TED Talks have added to the movement of the spread of "free knowledge" and ideas worth discussing, considering and disseminating. Millions around the world have felt inspired and driven after attending a TED event. On Saturday, August 11, 2018, the Fr. Conceicao Rodrigues College of Engineering in Bandra West hosted a TEDx on campus, at the Samvaad Auditorium, bringing together speakers from diverse and varied backgrounds. The theme being Rewind, speakers recounted their life experiences sharing ideas that engaged and enthralled the audience, keeping them hooked to speeches full of the anecdotes and the narratives that were woven around the theme. "This is the fourth version of TEDx this year. We have a total of 11 speakers today. We try to bring together people from various fields. This is a stage meant for ideas worth spreading. Our motivation behind the theme Rewind was the fact that there have been many ideas from the past which have proved to be successful or are still developing. Our present is a result of what happened in the past – ideas which have proved to be blessings," says Ayushi Bhatnagar, TEDx organiser. The event began with a welcome to dignitaries, an introduction to the talks and the lighting of the lamp by Local Superior, CRCE, Rev. Fr. Peter D'Souza, Director, CRCE, Rev. Fr. Valerian D'Souza and Principal, CRCE, Dr. Srija Unnikrishnan. The day unfolded gradually as a series of speakers from fields like film, TV, business, journalism and entertainment spoke on topics that were close to their heart. College faculty members, corporates, students from other colleges around the country and friends and family members of speakers attended the event, enjoying the event thoroughly and cheering for presenters as they concluded their speeches. The event ended with a talk and performance by ScoopWhoop performers Ankur and Akshay who created magic with voice and guitar performing a number of Bollywood songs from today and yesteryears – a fitting end to a day which progressed lyrically.
Some of the speakers tell us about their journeys and how sometimes "rewinding" can be useful – bringing back ideas, reimagining ideas and applying them to the present day for a brighter future – one based on wisdom and a more holistic understanding of life itself.
VS Parthasarathy Group CFO and CIO, Mahindra and Mahindra Limited
Group CFO and CIO, Mahindra and Mahindra Limited, V S Parthasarathy, has won several accolades for taking the company to new heights, for inspiring excellence among people, and for innovating systems to put the company on the map. "One should trust one's ability to design one's own career," ends Parthasarathy.
How do you implement visions and company strategies to further growth?
That's a very interesting question. Having a vision is easy. The hardest thing is how your vision gets converted to strategy and then converted to implementation. So one of the key things to remember is to keep the vision statement easy to understand for everybody. Second is a strategy which shows path. Think complexly… but make it simple for people to understand. What is the strategy.. Dominating… rapid export.. have products which delight. Make things not fuzzy but clear. Then the next step is implementation. The devil is in the details. Don't be on the surface. Last but not the least, it is nowhere about vision, strategy and implementation, it's about tenacity. That is the hallmark of a good conversion…
What tips would you share with up-and-coming business leaders as they try and build new companies and start-ups?
The new norms for new start-ups is not Return On Investment in the traditional sense. The new norm for the current generation is return on imagination. So your imagination should be big.. dream big, think big, talk big. However, like they say, "Aankh aasman par ho, kintu pav dharti par tike" – your feet should be firm on the ground, but don't stop dreaming… and then take steps. Take steps, fail fast, and when you succeed, it should be bombastic.
What are three most important qualities a leader must possess?
Trust, trustworthiness, and showing vulnerability.
What goes into the building of a brand in the 21st century today across the world? A global brand…
Catching the imagination. Brands are all about storytelling. How big is the story you can tell… That's the hallmark of a global brand.
Can you narrate an experience that was inspirational and life-changing for you and changed the way you approached work?
n There are many not one… But one of the things that I also mentioned in my TEDx talk today is that when I joined Mahindra I was given a set of people who were not the best, as assumed by the earlier department. And I told them I trust you to be world leaders. I trust you to make Tractors a world number one company. They responded and what happened after that was history. The entire team made us world number one, naturally in tractors. But the key thing was that these team members actually helped me achieve something which I personally thought would challenge everything and that we may come up short. That taught me about trusting people and telling them that they can achieve impossibles… Ordinary people can achieve extraordinary results if trust is placed in
them.
Tanvi Shukla News Editor, Mirror Now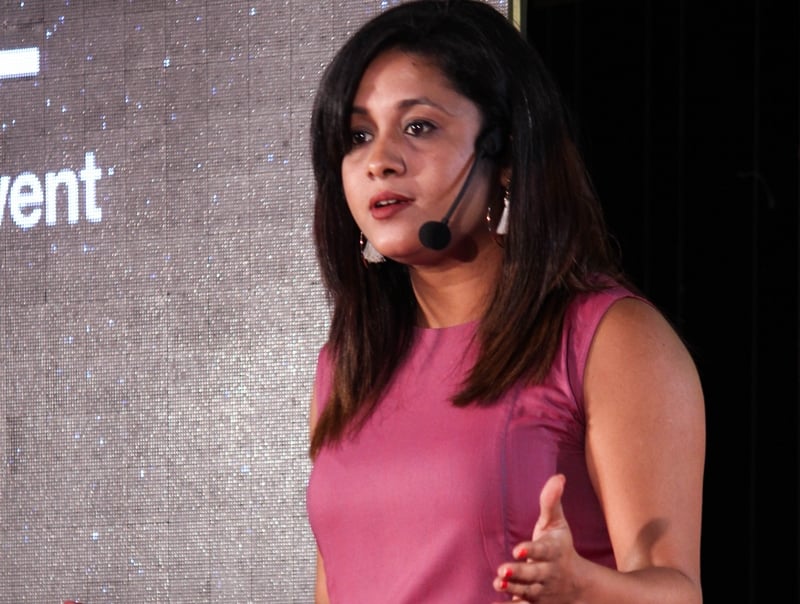 News editor and anchor at Mirror Now Tanvi Shukla ended her talk at TEDx last weekend with a quote. The intrepid anchor quoted Charles Dickens – "Take nothing on its looks; take everything on evidence…" In doing so, she perhaps hinted at how she goes about her job.
How was the move from print to TV journalism?
I loved what I was doing in print. Then I realised that at that age when you're younger you want to do much more, there's so much time that we have, so much energy, and so perhaps broadcast would make more sense. It is an extremely gruelling and hectic format. That's how the switch from print to TV happened.
What are the lessons of print journalism that you took to TV journalism?
In TV journalism we rush to break the news. Then you move on because we are constantly bombarded by 20 different news items and everybody is rushing to tell it all to the viewers. But from my print experience, I learnt that you need to go deeper into some of the stories. And sometimes when you do that you find a bigger story. Even after we've broken the story and we've moved on… we've told the people about it, we go back to it at the end of the day and we dig deeper.. or we follow up and we find out what happened after that. And often what you get is a bigger story.
What according to you are qualities a good reporter has?
Integrity, and lots of passion.
What are some challenges faced by news anchors in a world where other kinds of media, like social media, are important and significant in people's lives?
What you're saying, what you're writing, you have to be a lot more responsible about it. I think the younger generation can multi-task and be on Instagram, Facebook, Twitter, Snapchat etc. We can also learn to do that because that's the only way you're going to reach out to those people. And then maybe bring them back to the TV to get the rest of the story. It's a task to handle five different mediums… but then again, it's really about passion and if you're passionate about telling the stories, you will do it on whichever platform you get to reach out to people. Obviously, sometimes, people get carried away, because these mediums don't have as much accountability. We keep telling even our younger team members that think twice before you put out what you do on social media because somebody's believing you because you are from the media and they're going to take your word for it. So don't just read it somewhere or watch it somewhere and put it out until you know for sure what you are talking about. I think we all need to accept the reality that digital content and news is here to stay. But there is only so much that you'll get in that space. But like I said, for the nuances of any story… if it's a decision by the government, if it is a comment that has been made by someone.. for the nuances, for the larger impact and analysis, people still do come back home, switch on their TV and see what news anchors have to say. Or see what the experts who are on our show have to say.
Vibhas Sen, Paralympic Fencer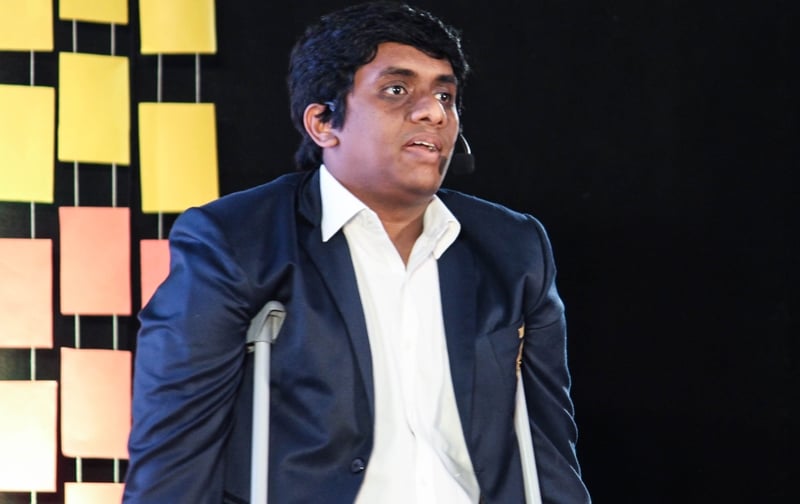 F encing became my visa," says Sen. Diagnosed with polio at three months, Sen talks about his journey from being a swimming champion to a fencing champion. Sen regularly participates in international fencing competitions to be able to qualify for the Tokyo Paralympics in 2020. "It's not how much you have, but what you do with what you have," says Sen, signing off.
What are the biggest challenges you have faced in your journey?
Mostly the mindset, because some people are not aware of our Paralympic sports. I think it's the mindset. People didn't know that people with disabilities can fence. As simple as that. I think it's more because of (the lack of) awareness.
What do you believe are the challenges that people with disabilities face today while pursuing sport or in other areas of life, like at school or at work or in the outside world?
I think the single biggest and the only differential is accessibility. That's the only problem which they face. People with disabilities are equal to everyone else. It's just the (lack of) accessibility that inhibits movement.
How did you decide to become a fencer?
I think I was destined to be a fencer. I started my career with swimming. Then I realised I have to switch sports. Age played a part here. I started swimming at a very late age. Fencing chose me rather than me choosing fencing.
Tell us about a few things that have always kept you motivated.
I think it's the support. When the chips are down, people are the ones who really keep me motivated, who push me. My family, my friends and my other supporters. Their support keeps me motivated.
Is there a formula for success? Can you elaborate?
Dedication and hard work. There's no formula. You just have to give your best in whatever you're doing I think.
You also work in digital advertising. How do you straddle sports and advertising? How is it switching between the two?
The only reason I'm able to pursue my sport is because of good bosses and good mentors. I have been in advertising for the last 12 years. They understand that hiring a sportsperson is not very easy. We have camps, we have international events which we must attend.
I think they have been very supportive and have given me leaves when I needed them. That's the reason I'm even able to pursue or balance both sports and my full-time career.
How do you think forgotten lessons from the past, life lessons, can be brought back and executed in the future?
People try to get things much faster today. They don't understand that there is a process. It takes time. Because of a fast-paced life, everyone wants to have everything right this moment. That's one of the lessons. You have to be patient. Things will take their own time. I think patience is the only thing that people have actually forgotten about. Be it a sport, a business. Anything you want to achieve you have to be patient.
(To receive our E-paper on whatsapp daily, please click here. We permit sharing of the paper's PDF on WhatsApp and other social media platforms.)
Published on: Sunday, August 26, 2018, 07:33 AM IST