Remembering today "The greatest showman" of India cinema Raj Kapoor on his 92nd birth anniversary. Raj Kapoor was one of the greatest and most successful director who started at a young age of 24 and also one of the best actor in the history of Indian cinema.
He ranked one out of the top ten for films 'Awaara' for his greatest performance of his time by the Time magazine. He also was a pioneer in making the Indian cinema bolder, by making his heroine show off their skin on the silver screen.
Some of Raj Kapoor's favourite heroines were – Nimmi, Vyjayanthimala, Zeenat Aman, Padmini Kolhapure, Nargis and Madhubala.
Also Read: Birthday Special: 10 best Shammi Kapoor movies that make us go Yahooo
During 50s and 60s it also rumoured of love affair between Nargis and Raj Kapoor. Their films 'Barsaat' became the first hit from his studio. Remember the scene where Raj holds Nargis in a violin – that iconic scene became a logo of RK films studios. Some of his real life scene like in 'Bobby' where Rishi meets Dimple Kapadia in her house was picked from Raj Kapoor meeting with his favourite actress Nargis at her resident.
Russian co-star Kseniya Ryabinkina from the movie Mera Naam Joker is in Mumbai to celebrate the 'showman' birth anniversary. She said, Ohhhhhh, difficult, difficult?" her sapphire yellow eyes dart. "Yes, yes, I remember now. The most difficult scene in Mera Naam Joker was when… How do you say it? cry? Cry when Raju's mother dies. I don't, can't cry easy."
Also Read: Soon To Be Mom – Kareena Kapoor turns 36
Here are some of his unforgettable roles…
1. Awara
The evergreen song 'Awara Hoon' sung by Mukesh was super hit at that time. The character played by Raj Kapoor was very innocent, poor man. The character based on Charlie Chaplin, whose life is changed by the lawyer and his love life Rita (Nargis). The on screen chemistry of lead actors Nargis and Raj Kapoor was one the reason for the great reception of the movie in sub continent.
2. Barsaat
Barsaat was one of the first highest grossing and hit movie directed by Raj Kapoor. The movie was ranked 'ONE' out of 'TEN' from his studios. The character of Raj Kapoor shows a romantic person who falls in love with Reshma (Nargis) while holidaying in the valley of Kashmir. The movie also stars Nimmi, Prem Nath. One of the most romantic song from the movie 'Barsaat mein humse mile tum…' is also so mesmerising even today.
3. Mera Naam Joker
Mera Naam Joker was one of the best movie where Raj Kapoor brilliantly portrays of a native clown, who make his audience laugh and cry. Raj Kapoor invested his huge fortune and 6 years in making of the movie, which unfortunately flopped at box office. But his character was loved and audience very much.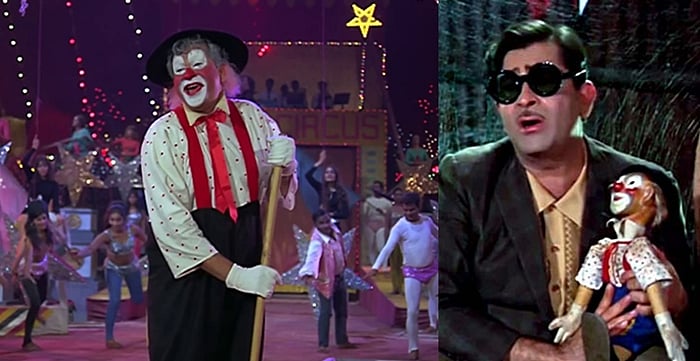 4. Shree 420
Another movie directed, produced and acted by Raj Kapoor and his favourite star Nargis is Shree 420. The 420 refers to section 420 of the Indian panel code. The character of Shree 420 was played by Raj Kapoor – a poor guy and also uneducated orphan who comes to Bombay with dreams of success. The role is again influenced by Charlie Chaplin, which was much like character in the film Awaara.
5. Jagte Raho
Jagte Raho – was a movie based on a poor man who comes to the city in search of work. The character of poor boy played by Raj Kapoor – who is thirsty and in search of water. However, this leads to some confusion wherein the residents assume that he is a thief and chase him.
(To receive our E-paper on whatsapp daily, please click here. To receive it on Telegram, please click here. We permit sharing of the paper's PDF on WhatsApp and other social media platforms.)