On this day, July 26, in the year 1999, the Kargil War between India and Pakistan came to an end. The war ended after Indian soldiers completely evicted Pakistani intruders from Indian Territory. The war was an armed conflict between India and Pakistan that took place between May to July, 1999. The war took place at Kargil district of Kashmir and other places along the Line of Control (LOC). The Kargil war is also referred as Operation Vijay on the Indian side.
The war stared when some Pakistani soldiers disguised as Kashmiri militants infiltrated into the Indian side of LOC. When the matter was reported by local shepherds, Indian Army patrol was sent to look into the matter. Five Indian soldiers were captured and tortured to death. Also, infiltration was noticed in Dras, Kaksar, and Mushkoh sectors. Moreover, heavy shelling by Pakistan army damaged ammunition dump in Kargil.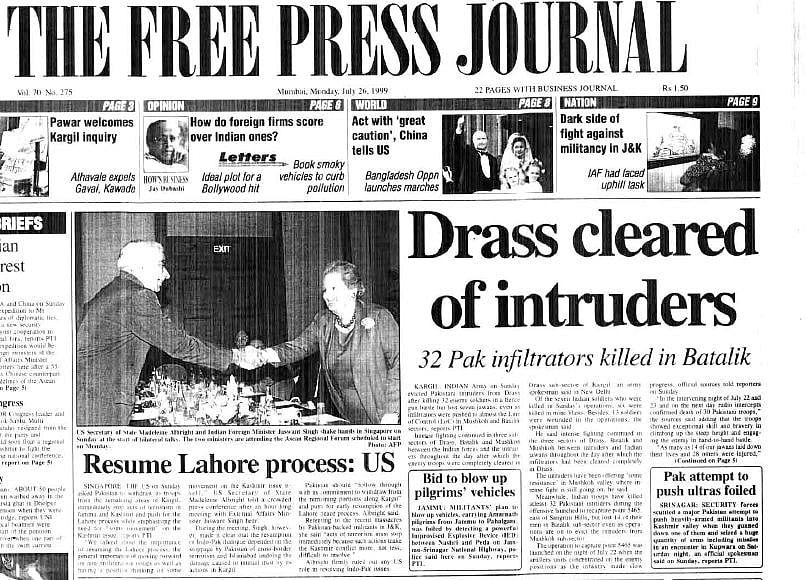 Indian army acted on the matter and soldiers moved to Kargil sector from Kashmir valley. Indian Air Force launched air strikes against the infiltrators. At the initial stages, Pakistan blamed the responsibility of infiltration entirely on the independent Kashmiri insurgents, but proofs later confirmed involvement of Pakistani paramilitary forces led by General Ashraf Rashid.
The counter attack by Indian Army and Indian Air Force recaptured the majority of the positions on the Indian side of LOC from Pakistani troops and militants. Facing international pressure and diplomatic opposition, Pakistan withdrew its forces from the Indian positions along the LOC. On 26 July, 1999, Pakistani soldiers were completely thrown out of the Indian territory and then Indian Prime Minister Atal Bihari Vajpayee declared Operation Vijay a success.
(To receive our E-paper on whatsapp daily, please click here. To receive it on Telegram, please click here. We permit sharing of the paper's PDF on WhatsApp and other social media platforms.)