A regular interview with the headlining act at the Goa International Jazz Live Festival was on the cards, but Varsha Naik spent the afternoon with Nerve under some rather unusual circumstances…

Ever had a day that didn't go as planned? When the Universe has an entirely different agenda chalked out? I was all set to have a power-packed professional day, take Jojo Mayer, drum maestro and his band, Nerve, out for an authentic Goan lunch, followed by a sharp interview. But what actually happened was as unpredictable as life itself.
 The background
On Day 1 of the Goa International Jazz Live Festival (GIJLF), as we played with a very friendly and silly pye dog that would run around in circles at breakneck speed and then collapse on the floor, I struck up a conversation with John Davis, the bass player of Nerve. We got talking about their first trip in India as a band and he expressed their desire to have a Goan meal, away from the hotel setup. I happily volunteered to show them a bit of Goan hospitality.
Sound check the next day ran late and it was about 3 pm when we left the venue, Stone Water Eco Resort. So Jojo and John, along with Aaaron Nevezie, sound engineer and Jacob Bergson, keys and synths, squished into my little blue hatchback and off we set. We quickly ascertained they had already been to the place I had scouted for lunch. Few frantic calls later I concluded there weren't many other good places nearby. And well, finding anything open on a Sunday afternoon in Goa – fat chance! While I was profusely apologetic and feeling like a complete nincompoop for the lack of foresight, the guys were cool and accommodating. We decided to just wing it, so onwards to Vasco we headed.
 Exploring Goa through New York eyes
While I tried to keep my head about me, and locate a place to grab some grub, the boys were full of questions about all things India – pye dogs (where they come from and how the word is often misspelt), languages and dialects, culture and life. As we drove down narrow, winding roads I talked about the unique bright coloured houses of Goa, pointed out old Portuguese houses and serene-looking chapels as we passed wandering cows and some well-fed goats (probably on their way to being biryani). They didn't seem to stop being amazed by the lush green avenues, how close traffic cut while on the road and the people on the streets. While I answered questions, my heart sank as I noted that every place was shuttered and quiet for afternoon siesta – I envisioned being the one responsible for starving the biggest act of GIJFL.
Someone spotted a restaurant just about to shut, so we quickly hopped out to try our luck. They didn't even acknowledge us, but the small snack shop next door seemed welcoming. So we sat upstairs at possibly the world's tiniest tables, as I ordered portions of pav bhaaji and sev puri. As Aaron, Jacob and John chatted about ingredients, I learnt that they are fond of cooking, and occasionally experiment with desi khana as well. Now pav bhaaji in Goa can only be so good, but the sev puri definitely hit the spot and we even ordered seconds. I was relieved at how easy-going the guys were, and sporting enough to enjoy the absurd afternoon away from hotels and fancy meals. After some sugary sweet cutting chai (which I explained is served in small quantities, as most Indians like to drink chai multiple times a day), I figured since we are going all street, it might be interesting try some paan.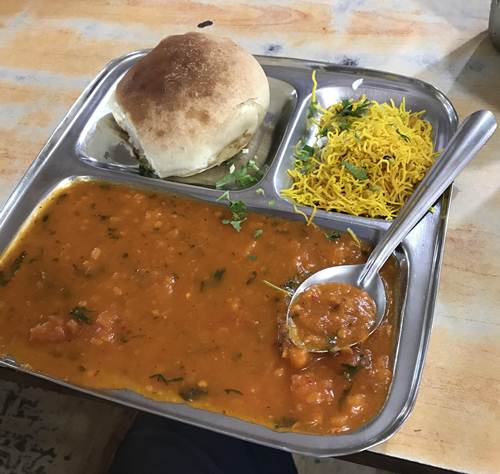 This gave me the opportunity to show them firsthand how directions are given in India. One man directed us "go straight, circle right, near the bus stand", another just a little ahead said "go straight, circle left, near the railway station." Since we had nothing to lose, and were clueless ourselves, we decided to try both and see which one 'paan'ned out. Just to be sure, I stopped once more and after a minute of conversation with a very animated fella, the boys were sure I had it figured out; I just looked back at them and said, "I have no idea what was trying to tell me!" Flabbergasted they retorted, "But you had such a long chat with him!" I explained I couldn't get a word in to stop him; we all had a good laugh over it and continued the prowl for paan. Finally, we pulled over and walked down a lane where a Sunday market was set up – stalls with fresh seafood, vegetables, fruits, and various types of dried fish – the melange of scents, colours, textures and flavours that is India. We did locate the paan shop, but only Jacob was brave enough to have a meetha paan. The seller and I were stumped when we realised we didn't know how to explain what chuna is – it's lime powder, boys.
 Simple things that bring real joy
As we headed back I was still feeling disappointed, having failed to deliver the promised Goan meal when they said the sweetest thing, "We travel so much, but we go from airport to hotel lobby to restaurants to venues. We hardly get to experience the places we visit, and what we did today was great, wandering the streets, where no one recognised us and just seeing the real India." Quite pleased with this, I honked at a bunch of guys hanging out on bikes and muttered, "roadside Romeos", which I had to explain as the term for boys who don't really do much except hang around and often eve-tease. So thrilled at this new word, Aaron exclaimed said they might use it as a song title some day! Ha!
Post our afternoon rendezvous, the band headed for some pool time and some shut eye, and I sat down to make sense of what just happened. I figured I didn't want to do a traditional interview anymore, when I had this bizarre story to tell. Before their performance the organisers asked Jojo for a quote to include in a press release. I was standing nearby when I heard him say that the best part of their trip was spending the afternoon in the streets of Goa and actually getting to see a little bit of the place. Professional decorum all out the window, I couldn't stop myself from going over and giving him a warm hug, which I think surprised us both. I guess, in true jazz style, we improvised and it was oh, so worth it!
(To receive our E-paper on whatsapp daily, please click here. We permit sharing of the paper's PDF on WhatsApp and other social media platforms.)
Published on: Sunday, December 24, 2017, 04:17 AM IST