At 83, when most people retire into oblivion, Vimla Kaul still goes to school daily to teach underprivileged children of her school-cum-learning centre, and as a student to learn, laugh and live every moment to the fullest, writes Shillpi A Singh
If octagenarian Vimla Kaul had to sum up her life in one word, it would be "rewarding". It encapsulates Kaul's eventful journey over the last 25 years, 23 of which she has spent nurturing Guldasta, a school-cum-learning centre for the underprivileged children of Madanpur Khadar village in the Delhi. Started by Kaul and her husband, Prof Hari Mohan Kaul, the school has touched many lives by empowering the underprivileged children of the village through education, giving them an opportunity to learn new skills and make themselves self-sufficient.
Livin' it
The couple had moved to Delhi after Prof Kaul's superannuation in 1993. "We were active Rotarians, and used to visit Madanpur Khadar village quite often. Once while distributing biscuits among children, an old lady remarked that 'biscuits would feed them for a while, but if they know how to earn their bread and butter, they will never go hungry'.
This casual comment made us think on how we could make a difference in their lives," she recounts. Kauls decided to start a school for village children, most of whom had never been to one. Vimla's years of teaching experience came in handy and one summer in April 1995, their school started with five students under a banyan tree at the village chaupal. Recalling the first challenge she says, "The first challenge was to communicate rightly, to be understood, and above all develop a trust factor. But being a woman helped me steer through as I got more understanding and respect than otherwise."
The journey was fraught with challenges that left her frustrated, but she even thought this much and no more. "To name the most pertinent hurdles were lack of space, lack of helping hands and last but not the least lack of finances. Facing them was a challenge, but with determination and focus, we managed to overcome all. Hurdles still raise their heads, but now I face them and do not lose hope, saying to myself, God is watching my intent. HE will help, and sure enough, HE does," she says with a smile.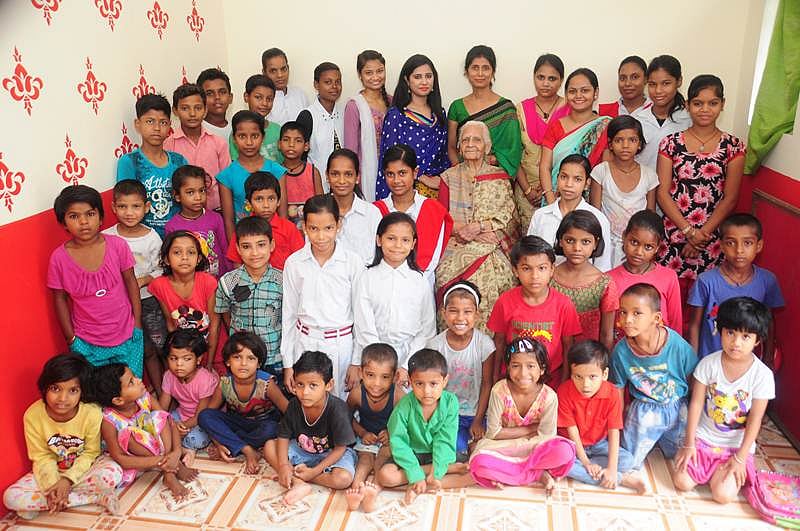 Vimla Kaul flanked by Guldasta's teachers (top row, from left ) Kajal, Naaz, Kumkum, Jyoti and children from KG to standard 4 |
 Success beckons
As Guldasta was not a regular school of big names, big banners and hefty fees, no one took them seriously, and it kept rolling like a ball from place to place. The couple shifted Guldasta to their housing colony in Sarita Vihar where around 150 students enrolled, but an irate neighbour forced them out; the school then ran from a park in the neighbourhood for 16 long years. "A resident threatened to go on a hunger strike if the school continued in the area. We had to decide whether to close the school or look for an alternative space. This unending and tiring search led us to an MCD park in the Dairy Farm near Sarita Vihar.
We continued taking classes there for twelve years," she recounts. Prof Kaul passed away in 2009, and since then she has been managing the affairs of the school and also formed an NGO, Vasundhari Society for Social Action to take care of Guldasta. The NGO runs tailoring classes, basic computer course, elementary beautician course, henna application course and dance classes for children and women of Madanpur Khadar, and organises health and eye camps for villagers. "Every year, girls trained by our NGO organise a camp here in Sarita Vihar, on the eve of Karwa Chauth. They are quiet sought-after names in the locality, and women throng their stalls in hordes, waiting patiently for their turn to get their hands and feet adorned with exquisite henna designs.
The girls keep their total earnings and donate a part of it to the NGO. So while henna adds a dash of colour to the festivities, the money collected at the two-day camp fills shades of joy in the life of someone, unserved and unreached," she says. Surprisingly, the number of girl students is more than that of boys, and so her NGO has started a programme to sponsor academically-inclined girls that includes identifying talent, mentoring them and funding their education. The school finally managed to get a brick-and-mortar structure in 2011 after an NGO, Mahamana Malaviya Mission, adopted it. "Their financial aid helped us rent a three-room building for the school in Dairy Farm. The current strength of the school is 88 children with 68 studying in classes KG to 4, learning dance, mehndi application, and some skills like tailoring, embroidery, knitting, plumbing, carpentry, electrician, etc," she quips.
Vimla Kaul receiving Jijabai Women's Achievers' Award 2014 at the hands of Najma Heptulla, Governor of Manipur |
Way forward
With help from Mahamana Malaviya Mission, she is at present on the lookout for land/ready building appropriate for a school so that Guldasta gets a permanent shelter. Khushroo Poacha's Seva Kitchen installed a Neki Ka Pitara (Fridge of Goodness) last year. "It was a kind gesture on Khushroo part. Now, children who come to school are served healthy and nutritious food during meal time. The fridge is regularly filled with fruits, milk, and milk products, biscuits, dates, eggs, juices, etc. by generous donors," she says appreciating the magnanimity of Poacha. But once again she's facing another threat to Guldasta's existence.
"A new school like ours has come up near Guldasta. It is trying to woo my children with goodies. But I have left it to the Almighty, let his will prevail," she quips. And over the years, Guldasta has touched many young lives by educating, grooming and providing vocational training to them. "Our children are not only degree-qualified but also well-settled, earning and living a good life, better than their parents', and that's quite an overwhelming and rewarding feeling for me," says Guladasta's founder. Her selfless service has been widely recognised, and she has been felicitated with many awards and honours over the years.
Age has never posed a problem for her, but it is her failing health that she dreads the most. At 83, when most people retire into oblivion, she still goes to school daily, as a student to learn, laugh and live every bit of it with Guldasta's children who are her family. "I feel that age is simply a count of numericals, not a signal to stop the activity.
My motivation is my desire to keep going in the sphere of my interest till health permits. I do not think age has anything to do with an individual's passion, on the contrary, the desire to achieve increases as one can see that very little time is in hand to achieve one's target. So, the passion becomes acuter," she says signing off with a chuckle.
(To receive our E-paper on whatsapp daily, please click here. To receive it on Telegram, please click here. We permit sharing of the paper's PDF on WhatsApp and other social media platforms.)