I called Laxma Goud a few days after the sad demise of his wife Ramulamma Goud. He was a shattered man. She was 'my pillar of strength', he said to me. We mourned together in silence.
Laxma Goud, a Padma Shri recipient, is a very humble man. But a proud man. I had heard other artists say that Laxma's anger is like the wrath of the gods. It consumes everything in sight. But to me, Laxma has been kind and loving. After a camp that we attended together in Scandinavia, he sent me a short thank-you letter which I treasure to date because Laxma also drew his signature nude woman on the cover of the letter. Collector friends tell me that were I ever sell the illustration it would easily buy me a short vacation abroad!
Did the boy from Nizampur ever think he was going to be so famous?
75 years ago I never thought fame would sit at my doorstep so faithfully. I was just very notorious. My father always complained that I was never serious at school. I was my father's fourth son. My childhood was spent in a village milieu. Since childhood I was keenly aware, through first-hand observation, of rural traditions, craft and customs. In our village I used to watch Andhra leather puppetry and the creation of terracotta ornamentation. I participated in theatre, and village folk performances. I guess this is what paved my way to the school of Art. I got admitted to the College of Art in Baroda for a 5-years diploma.
Laxma Goud was known in his early days for drawings that depicted eroticism in a rural context. Has that eroticism waned?
Yes, in the early days I tried numerous expressions of my art as I hunted daily to sustain a livelihood. I desired my work to be recognized and accepted. When I used to walk into commercial galleries, my work was not acknowledged because I use to make nude paintings. And nudes were taboo. Galleries were even hesitant to display such works.
I have a huge fascination for erotic subjects. I have received both critical acclaim as well as searing criticism. But neither affected me or my art.
Eroticism has not waned from my works as it is nature itself. You see it expressed perhaps more subtly now in all that I create.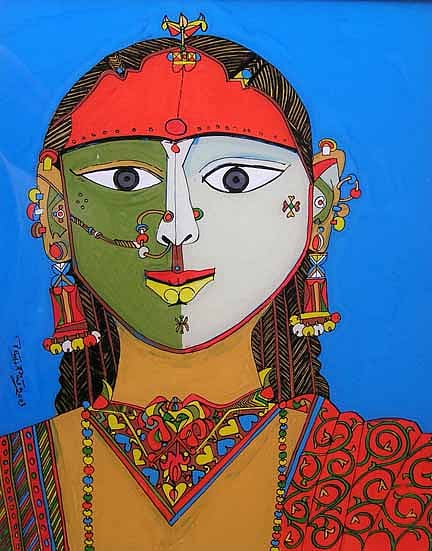 Laxma Goud is a master of etching, gouache, pastels, sculptors, glass paintings, aquatints and more. Which of these art forms give you the most joy and satisfaction?
These are normal practices of every artist. I draw, I doodle, I paint, I sketch, I create.  An artist needs to get perfection in very vertical of art; then only  can he call himself a master. I can use cow-dung for my works, I can use coal to complete my work. We need to keep testing ourselves every day. This is what I have learnt from art school. The whole activity is very soothing and satisfying. Painting gives me lot of satisfaction from inside. I release my joy, my sorrow … everything through my works. You see any of my works : they are unique and different; and carry my image in every brush-stroke.
Tell us about your work in terracotta?
The word 'terracotta' comes from the Italian words for "baked earth."Its a type of earthenware, a clay-based unglazed or glazed ceramic, where the fired body is permeable. It is more seen in Asia and has been used widely since 3000 BC starting with Mohen-jo-daro. It gives a very local appeal, earthy appeal. I learnt this from my professor, the all-time-great K G Subramanyan in Baroda when I was studying mural painting and drawing. I have been doing terracotta for quite a while now. Terracotta gives a new dimension to my messaging and makes my themes easy to communicate. I have done big murals which were displayed over the years in various art shows. I like the purity and earthiness of this medium.
Very few people use aquatints in their etchings today. Do you think you should give back to art society by training disciples your genius?
It depends on practice and consistency on how you carry through the whole process of printmaking. I have passed on my learnings and discoveries to my students whom I believe will keep the tradition alive. The new generation today is very hardworking and hungry for success. They learn old techniques and also keep upgrading themselves with modern inputs in art. Today, they have added advantages which we as artists never got.
Who are your inspirations worldwide? And, in India?
I have inherited many things from the great Prof. K G Subramanyan. He was my teacher and a very versatile artist. He helped me develop a vision on art. I also admire my Indian artist friends, from Hussain to Souza. There are many Indian artists whom I like, and appreciate their works. India is growing many times over in art, all good art, sensitive art. Globally, I am a great admirer of Picasso's works. He was the most multi-faceted artist of the 20th century. His style demonstrates extraordinary talent which evolved after adapting new theories and techniques. His works truly inspires me!
What is Laxma Goud's enduring legacy by which he wants to be remembered?
I have successfully completed many of my works and I live with the hope that I will do more significant works in days ahead. Legacy is not carried on the shoulders of past achievements. My paintings carry my legacy. They will preserve me on walls for posterity, and in the hearts of my loved ones. My three daughters are very hardworking and my elder daughter Nandini is a very fine artist. My other two daughters are earning fame in their respective professions. I am happy. I am satisfied. I am no longer under any pressure that my best is yet to come.
(Mukul Rai Bahadur is an art lover, collector and critic. He lives in Mumbai and works in a media company. He can be reached at mukulraibahadur@kailasham.com).
Pictures courtesy: The Kailasham Trust
(To receive our E-paper on whatsapp daily, please click here. To receive it on Telegram, please click here. We permit sharing of the paper's PDF on WhatsApp and other social media platforms.)