Indian Premier League (IPL) 2018 is back with a bang and fans are eagerly waiting for this year's event. Have you ever wondered who could be in the 'Dream XI' of IPL? IPL is a brand which boasts of the star and marquee players and all the best players in the world compete in this league. So, for fantasy purpose let's make a fabulous XI of the cricketainment league.
Here's presenting Dream XI of IPL 2018:
1. Virat Kohli (RCB):
India's captain and face of brand IPL Virat Kohli need no introduction and his place in the team and captain is a foregone conclusion. Kohli as a player might not be in the mould of Chris Gayle or Glenn Maxwell, but he has redefined T20 cricket and is a player who can bat all 20 overs and score runs consistently (4 centuries in 2016 IPL, 4,418 runs over 10 years). Another advantage being with Kohli in the side is that he can also be skipper and lead the team quite well. Kohli might not have won IPL for Royal Challengers Bangalore, but he is a damn good cricketer and a fierce competitor.
2. Jos Buttler (RR):
England's talisman wicket-keeper batsman Jos Buttler just edges out Australian David Warner as an opener. Buttler might not be in the same league as Warner, but due to team dynamics (more on that later), he opens alongside Kohli. Buttler in the past has opened for England and Mumbai Indians, so he is not unfamiliar with the role. The role of Buttler would be simple, just go out there and bash the bowling from the word go and even if he fails, it won't make a difference. Buttler will also take the gloves for the team.
3. Suresh Raina (CSK):
Indian T20 superstar Suresh Raina is synonymous with IPL. The leading run scorer of IPL (4,540 runs) is a marvellous striker of a cricket ball and is a genuine match winner in this format. Raina might be getting on with the age, but his reflexes and attitude are second to none and is a brilliant T20 batsman. Raina's batting will depend according to the situation and his fielding and off-spin bowling will also come in handy.
4. AB de Villiers (RCB):
South Africa's Abraham Benjamin de Villiers is a player par excellence and a 360-degree batsman. The multi-talented de Villiers will be the heart and soul of the team and with him in the side no target is safe and he can change the complexion of the game within 8-10 balls. The Protea player is a crowd favourite and an unbelievably audacious player.
5. Rohit Sharma (MI):
Indian cricketer Rohit Sharma will take the pivotal No 5 position and would be the man to manage middle overs. Sharma over the past five years has achieved great success as an opener, but the only problem with him opening is both his and Kohli's game are pretty similar and the team could get stuck and not get a fast start. Sharma is very versatile and if something happens to Kohli, Sharma can take over the team. With Mahendra Singh Dhoni nearing the end of his career, the team needs a solid middle order batsman and that's why Buttler keeps the wickets and opens the batting.
6. Ben Stokes (RR):
England's bad boy and maverick all-rounder Ben Stokes will take the slot at No 6. Stokes, who was the highest paid player during the auctions edges out West Indian Andre Russell. Russell would have been in my team but has not played cricket in recent past (doping ban, got injured during PSL) and its a big call to have Stokes in the playing eleven. When in full flow there is no one better than Ben Stokes and he can easily win you a couple of matches single-handedly.
7. Krunal Pandya (MI):
Krunal Pandya in dream XI? I know Krunal's inclusion will raise question marks, but senior Pandya is a brilliant T20 player and has been a match winner for Mumbai Indians for the past couple of years and also one of the main goals of IPL is to produce domestic players. Krunal might be uncapped at the international level, but has huge potential and playing ahead of Ravindra Jadeja, Ravichandran Ashwin could make or break his career. Krunal can also rise to the occasion and this selection might be his ticket to the Indian team.
8. Mitchell Starc (KKR):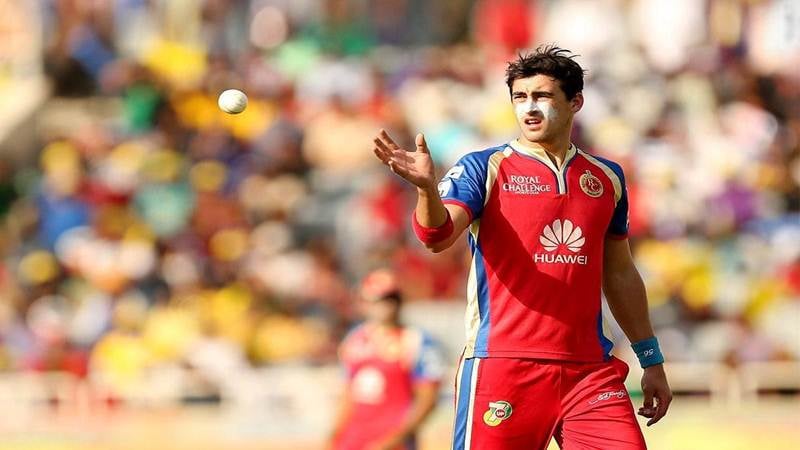 Australian speedster Mitchell Starc is the undisputed No 1 limited overs bowler currently in world cricket. Starc has got pace, bounce, variations and is a lethal pacer both with the old ball as well as with the new ball. Kohli would be relying on Starc to provide early breakthroughs and Starc can also hit some lusty blows down the order.
9. Bhuvneshwar Kumar (SRH):
India's gentleman bowler Bhuvneshwar Kumar will take the new ball alongside Starc (highest wicket-taker in 2016 and 2017). Bhuvi might not be in the limelight that much but is a proven performer and understands the T20 format pretty well.
10. Kuldeep Yadav (KKR):
India's rising star Kuldeep Yadav will be team's main spinner alongside Krunal Pandya. Kuldeep might be raw and inexperienced but in middle overs, you need a bowler who can pick up wickets and he fits the bill perfectly. Another advantage of Kuldeep is his mystery (left arm chinaman) and that is what you need in T20 cricket. Playing under Kohli will also be beneficial for Kuldeep and his game.
11. Jasprit Bumrah (MI):
With Lasith Malinga not around, you need someone who can bowl toe-crushing yorkers and Jasprit Bumrah is your man. Bumrah is currently the best death bowler going around and bowling in tandem with Starc will be great to watch. Bumrah is a dynamic bowler and can make things happen with his pace and acumen.
(To receive our E-paper on whatsapp daily, please click here. We permit sharing of the paper's PDF on WhatsApp and other social media platforms.)
Published on: Monday, March 26, 2018, 01:30 PM IST