Indian Prime Minister Narendra Modi, Vice-President Venkaiah Naidu and several other prominent Indians took part in the fourth International Yoga Day. Vice President M Venkaiah Naidu along with several Union Ministers hosted events across the country. While Vice-President took part at an event in Mumbai alongside Maharashtra CM Devendra Fadnavis, Mumbai BJP chief Ashish Shelar, PM Modi performed Yoga in Dehradun at Forest Research Institute.
Union ministers Rajnath Singh, Nitin Gadkari, Suresh Prabhu, Uma Bharti, Ram Vilas Paswan, Ravi Shankar Prasad also took part in yoga events in Lucknow, Nagpur, Chennai, Rudraprayag, Hajipur and Patna respectively. Union minister Smriti Irani and Chief Minister Manohar Lal Khattar participated in International Yoga Day programmes in Chandigarh and Jhajjar. Ms Irani performed asanas along with around 4,000 enthusiasts at the event.
Yoga boosts mental and physical health and improves the overall well-being. The United Nations (UN) declared June 21 as International Day of Yoga in 2015, and it has inculcated an awareness about the spiritual discipline among people all across the globe.
Check out International Yoga Day 2018 celebrations across Indian below:
Indian Prime Minister Narendra Modi participates in a mass yoga session along with other practitioners to mark International Yoga Day at the FRI in Dehradun. / AFP PHOTO / PRAKASH SINGH |
AFP PHOTO / PRAKASH SINGH |
PTI Photo/Manvender Vashist |
Mumbai: Commuters perform yoga in a suburban local on the occasion of 4th International of Yoga, in Mumbai on Thursday, June 21, 2018. Photo by Bhushan Koyande |
Mumbai: Commuters perform yoga in a suburban local on the occasion of 4th International of Yoga, in Mumbai on Thursday, June 21, 2018. Photo by Bhushan Koyande |
Mumbai: Commuters perform yoga in a suburban local on the occasion of 4th International of Yoga, in Mumbai on Thursday, June 21, 2018. Photo by Bhushan Koyande |
PTI Photo/Nand Kumar |
Uttar Pradesh Chief Minister Yogi Adityanath during the 4th International Yoga Day function at Raj Bhawan, in Lucknow. PTI Photo/Nand Kumar |
Union Home Minister Rajnath Singh with Uttar Pradesh Governor Ram Naik and Chief Minister Yogi Adityanath during the 4th International Yoga Day function at Raj Bhawan, in Lucknow. PTI Photo/Nand Kumar |
ITBP personnel perform yoga to commemorate International Day of Yoga, at the Himalayas near Ladakh. ITBP Photo via PTI |
Yoga enthusiast perform yoga to mark the 4th International Day of Yoga (IYD 2018) at Kanteerava stadium, in Bengaluru. PTI Photo/Shailendra Bhojak |
ITBP personnel perform yoga to commemorate International Day of Yoga, near Ladakh region on Thursday.(ITBP Photo via PTI |
Indian BSF personnel take part in a yoga session on International Yoga Day at BSF headquarters in Khasa on the outskirts of Amritsar. / AFP PHOTO / NARINDER NANU |
Union Minister for Women and Child Development Maneka Sanjay Gandhi participates in a programme, on the occasion of the 4th International Day of Yoga 2018, in Delhi. PTI Photo |
Yoga enthusiats participate in a mass yoga session to mark the 4th International Day of Yoga, organised by Brahma Kumaris, at Red Fort in New Delhi. PTI Photo |
Indian yoga practitioners participate in a mass session to mark International Yoga Day at the Forest Research Institute (FRI) in Dehradun on June 21, 2018. / AFP PHOTO / PRAKASH SINGH |
Indian Armed Forces personnel take part in a yoga sesssion to mark International Yoga Day on the Indian Navy aircraft carrier INS Viraat anchored at the Mumbai harbour on June 21, 2018. / AFP PHOTO / Punit PARANJPE |
Indian Armed Forces personnel take part in a yoga sesssion to mark International Yoga Day on the Indian Navy aircraft carrier INS Viraat anchored at the Mumbai harbour on June 21, 2018. / AFP PHOTO / Punit PARANJPE |
Indian Armed Forces personnel take part in a yoga sesssion to mark International Yoga Day on the Indian Navy aircraft carrier INS Viraat anchored at the Mumbai harbour on June 21, 2018. / AFP PHOTO / Punit PARANJPE |
Indian Armed Forces personnel take part in a yoga sesssion to mark International Yoga Day on an Indian Navy ship anchored at the Mumbai harbour on June 21, 2018. / AFP PHOTO / Punit PARANJPE |
This picture taken on June 19, 2018, shows people practising yoga on a terrace at the Anand Prakash yoga ashram in Rishikesh in India's Uttarakhand state. AFP PHOTO / Sajjad HUSSAIN |
This picture taken on June 19, 2018, shows people practising yoga on a terrace at the Anand Prakash yoga ashram in Rishikesh in India's Uttarakhand state. / AFP PHOTO / Sajjad HUSSAIN |
Practitioners take part in a mass yoga session on International Yoga Day at Rajpath in New Delhi on June 21, 2018. / AFP PHOTO / XAVIER GALIANA |
Practitioners take part in a mass yoga session on International Yoga Day at Rajpath in New Delhi on June 21, 2018. / AFP PHOTO / XAVIER GALIANA |
A practitioner does a headstand as he and others take part in a mass yoga session on International Yoga Day at Rajpath in New Delhi on June 21, 2018. / AFP PHOTO / XAVIER GALIANA |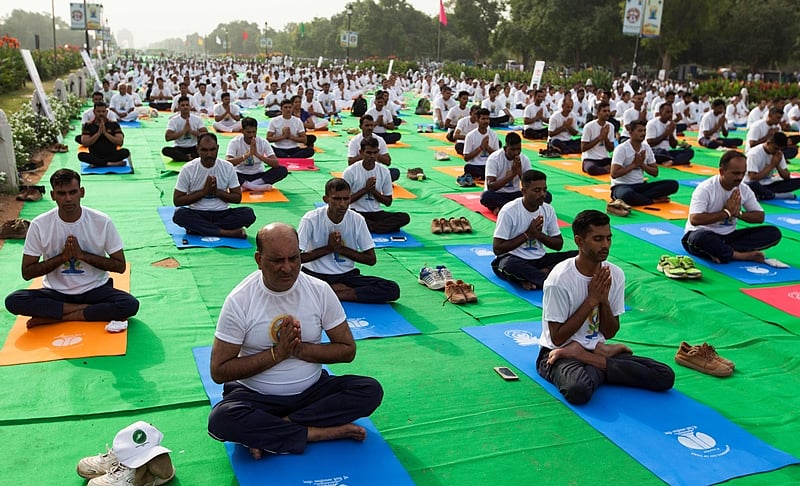 Practitioners take part in a mass yoga session on International Yoga Day at Rajpath in New Delhi on June 21, 2018. / AFP PHOTO / XAVIER GALIANA |
(To receive our E-paper on whatsapp daily, please click here. To receive it on Telegram, please click here. We permit sharing of the paper's PDF on WhatsApp and other social media platforms.)