Women's Day is celebrated all over the world, in order to focus the achievements and contributions of the women in the society. It is celebrated to provide respect to whole women fraternity, appreciate them and to express love for them. As women are the major part of the society and plays a great role in the economic, political, and social activities, the day is commemorated to remember and appreciate women's all over achievements.These year Indian television actress louds with some inspirational advice for women will help to light a fire that will burn brightly for years to come.
Shubhangi Atre: It's pretty amazing being a woman, you have all of the essentials for life within you. You're a very nurturing force, and not only have the power to create life, but to incubate it and deliver it to the world. On an individual level you're able to change and become whatever you want, growing and developing into the life that you choose. It is an amazing experience and one that you'll want to create consciously rather than letting others decide what sort of life you'll have. Never forget that you have these powers within you.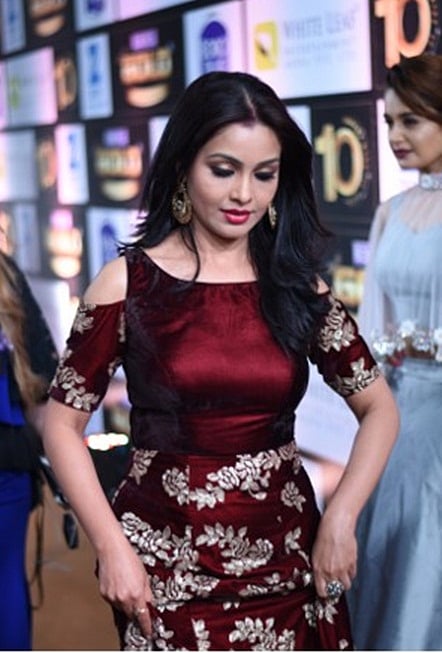 Helly Shah: Speaking up for yourself is a learned habit, no one is just born with it, they had to develop the skill. It's an important skill, and one that will benefit you all the days of your life and help you become the best woman you can be. This dovetails nicely with fighting for your dreams, because when you pursue a dream you're going to have to do a lot of speaking up for yourself. There are those that will try to dissuade you from reaching your dreams and goals and you will have to find your voice.
Arshi Khan: Realise that the true beauty comes from the ability to be yourself, no matter what sort of person you are. In our society so much emphasis is placed on looks that we've lost sight of what real beauty is. There isn't just one ideal when it comes to beauty as far as looks go, but what she's saying here is that there is one ideal for beauty, and that's to be yourself no matter what.
Sara Khan: Not the number of years that we rack up but the number of times we have those moments of awe that make life worth living. Be sure that as you're living your life you are searching out moments that will take your breath away, because that's what we're here for, to experience joy and awe and all of the good things that life has to offer. If you don't lose sight of this, you'll have an amazing life experience and you'll keep that inner youth all the days of your life.
Devoleena Bhattacharjee: Just realize how powerful you really are, and stop spending so much time trying to become beautiful. You already are beautiful, and the power you possess will reveal itself over your lifetime. It's enough to know that you have power, and that it will continue to grow and expand as you allow it. The good news is that realizing you're beautiful just as you are right now is the first step to harnessing the power within you and accomplishing more in life.
Tejasswi Prakash: Being women is s blessing, enjoy it. Being the best version of yourself takes effort and a deliberate attempt to do so. You never really know what the best version of yourself is until you start to try to become it. You'll find that once you work on improving yourself, you'll discover a new way to get better, and it becomes a continual process. The opposite is also true, and should be avoided. If you let yourself slide, you'll find new ways to continue that slide and become a version of yourself you never wanted to be.
Debina Bonnerjee: Make sure that you flex your courage muscle daily. That way when you really need it for something really scary it will be highly developed through daily use. Doing something courageous each day means finding something that you're fearful of and overcoming that fear to do the thing that you wanted to do. It doesn't have to be a big thing at first, and you'll want to start off with small things so that you build up your confidence in your ability to be courageous. As your confidence grows, you can take on bigger and bigger things.
Mahika Sharma: Don't limit yourself for society. They say that some rules are made to be broken, and still others are made to be bent. She's not saying that you should break the law, but our society has so many rules put in place that if you conform to them all you might have a bland and vanilla time here. Find out which rules are getting in the way of some good clean fun, and test the boundaries. Life isn't about staying within the lines, it's about doing what you want without getting in the way of others doing what they want.
Roop Durgapal: Its a long way for Indian women to actually be free, as every change takes time but we should be happy that slowly we women are coming forward, expressing ourselves & asking for our rights.The evil of patriarchy that has been there since ages, will not vanish overnight and women will have to stay united & consistent to fight against all odds. Just like every other evolution, I am positive about this one too.
Rakhi Sawant: Instead of placing the blame on someone else for making you feel a certain way down, take responsibility for letting them make you feel the way you want. This isn't just true to blame others all the time for your feelings of inferiority or for any negative feeling, sad, frustrated, disappointed, etc. You're the one that is in control of how you feel, and others can't bring you down unless you let them.
(To receive our E-paper on whatsapp daily, please click here. To receive it on Telegram, please click here. We permit sharing of the paper's PDF on WhatsApp and other social media platforms.)