Cold winds at18 km/hour, especially during early morning and evening, force people to wrap themselves in warm clothes.
Indore: With further drop in temperature, the Indoreans felt the nip in the air as the city recorded the season's lowest minimum temperature of 9.2 degrees Celsius on Tuesday.
The city reeled under cold winds, especially in the morning and again in the evening, as people were forced to wrap themselves in warm clothes to brave the coldest night the city has seen so far this season.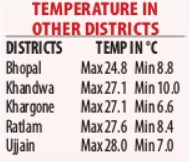 According to regional meteorological department, maximum temperature on Tuesday was 25.5 degrees Celsius, which was one degree below normal while the night temperature dropped to 9.2 degrees Celsius making the night coldest of the season.
"The cold conditions were generated due to cold winds blowing from East and Northeast and rise in humidity level. Chill will increase in coming days as the northern part of the country has witnessed snowfall while more rise in humidity will make fog like conditions" weathermen said.
The humidity level on Tuesday was recorded at 64 per cent in the morning and 30 per cent in the evening.  Winds were blowing in the city with the speed of 18 kilometres per hour.
(To receive our E-paper on whatsapp daily, please click here. We permit sharing of the paper's PDF on WhatsApp and other social media platforms.)
Published on: Wednesday, December 27, 2017, 11:26 AM IST