INDORE: Indrapuri colony residents are victims of chain snatchings, thefts and, fraud by fake cops. Some residents say the incidents are confined to main road only, but others say the interior parts of the colony are worst sufferers.
Residents alleged that police patrolling is rare in the area and criminals take advantage of this. However, the youngsters of the colony have now formed a group to tackle the problems.
Adjacent Vishnupuri colony also face the same problem and the residents are concerned about their safety. There were number of instances of fraud by fake police and police could not nab a single accused. An awareness drive was launched by Nagar Suraksha Samiti telling elderly people that police do not ask people to remove jewellery and this has yielded results. However, the fear of fraud still lingers on in the minds of the elderly.
Ajay Patodi, a resident, said that there were such incidents previously but now residents are alert and keep an eye on suspicious characters roaming around the colony.
Tushar Patidar said that last chain snatchings occurred two months ago and since then there has been no such incident. Residents have created groups and keep vigil and alert other residents about any suspicious movements.
Sunny Botham, a resident of Indarpuri, said that youngsters are more alert now to happenings and awareness is also being created among elderly people and suspicious movements are reported to the police.
Pammi Bhatia said that thefts were common as houses and temples were burgled in the area. "However, some of the burglars were nabbed by us and handed over to the police," Bhatia added.
Another resident, on the condition of anonymity, said that chain snatchings, fraud by fake police and thefts are hurting enough and to add insult to injury police makes the victims run around for filing FIRs.
Notable incidents:
■ On April 6, 2015, three men posing as cops took away jewellery from 75- year-old Basantidevi Jain and her husband Bansilal Jain when they were on their way to a temple. Value of the jewellery was pegged at Rs 1.5 lkah.
■ On November 10, Bhawarkua police nabbed one Shyamlal who stole motorcycles and sold them to auto dealers by forging documents. The police had recovered 11 stolen vehicles from his possession.
WHAT THEY SAY
Two motorcycle borne riders snatched my bag around 9:00 pm in October in Indrapuri Colony and I feel women are not safe in the colony. Regular police patrolling needed.
Sushma Avadhoot, Lecturer in a private school
Youngsters have formed a group in the colony and pass information on suspects to each other. In 2011, we caught a gang of robbers trying to break into a temple.
Deepak Kardam, Journalist and resident
There has been no major theft incident in the colony barring a few minor incidents and residents need to be alert and pass on information on suspicious movements to police.
Nidhi Telang Self employed
There have been some incidents of loot previously but such incident has seldom reported. However, residents need to be alert and inform police immediately about any suspicious movements.
Mukund Telang, Retired bank officer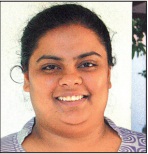 Although no incident of crime is reported lately, the women folk still live in fear and they have to be careful of not being followed by any suspicious characters.
Nidhi Telang, Self employed
(To receive our E-paper on whatsapp daily, please click here. We permit sharing of the paper's PDF on WhatsApp and other social media platforms.)
Published on: Friday, December 02, 2016, 10:27 AM IST