The turquoise colour trend has hit the fashion world and has caught everyone's fancy. Sapna Sarfare finds more details of this rather intriguing colour
Colours make all the difference. The right colour can make you look picture perfect and the wrong one lets you become a character right out of a horror film. If you ask any designer of the colour that is trending, he or she would correctly say turquoise. This rather interesting colour, its tone and its variation have caught everyone's fancy and it also looks graceful.
Something Special
Every can agree that turquoise is indeed a special and interesting colour. It is one colour which looks great on any glamorous attire, right from evening gowns to dresses along with varied fabrics and embellishments. Designer Gautam Gupta reveals, "Turquoise comes from the aqua colour family and that is one of the biggest reasons for it to be so popular.  The colour also has a tint of green in it which again makes it most popular in all the aqua shades. In India it is considered to be auspicious as well. It signifies calmness, happiness, prosperity, vibrancy and many other positive vibes."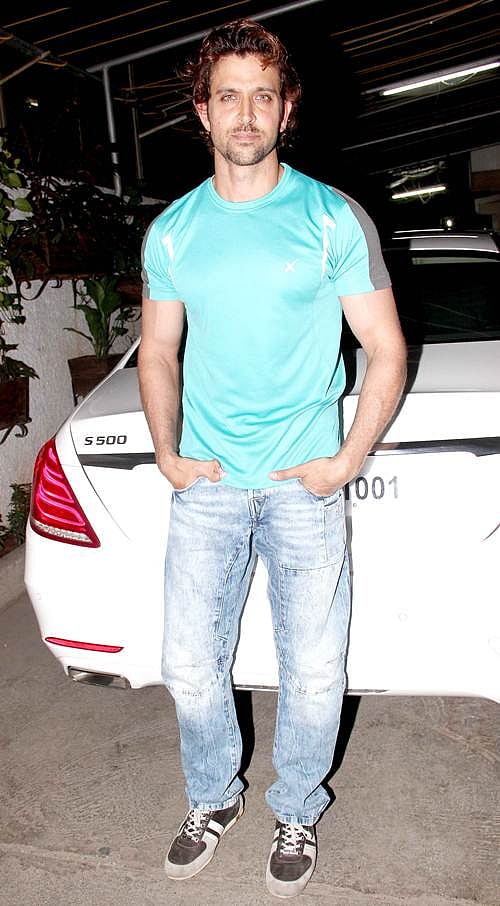 Hrithik Roshan |
Designer Vidhi Wadhwani says, "Turquoise blue is quite special because of its serene and calming effects, I think that is what makes it special." So the shades range from aquamarine to Tiffany blue. It will make you happy that this colour works with other colours quite well, be it whites or creams, autumnal tones and even brighter colours. In fact, it goes great well orange, yellow or even red.
Rise In Popularity
The question then comes of its rise in popularity and it has been seen it in collections recently. Vidhi suggests, "It's been a popular colour over the years. It's risen to fames this season as well. It's used in a lot of gowns, cord sets, etc in collections."
Gautam responds, "It was always popular. In Indian wear, I see it being used almost every year whereas in western wear it is selectively used."
Designers like Balenciaga, Carolina Herrera, Fendi, Gucci, Hermès, Issey Miyake, Miu Miu, Mulberry, Nina Ricci, Prada, Salvatore Ferragamo, Tibi, Valentino, Vivienne Westwood and Zuhair Murad.
Eddie Redmayne |
Incorporating Turquoise
It is always difficult to incorporate colours in your wardrobe unless there are any designer inputs to guide you towards being fashionable. Gautam suggests, "For men, it can be used in shirts, coats and kurtas as well and for those who prefer the nude shades they can use this colour in trims or in accessories just to give an interesting look. For women, from kurtas to crop tops to skirts to saris, the colour can be used anywhere. The colour looks very well with nude shades as well as with pastels and neon. Even on fabrics such as linen, chiffon, georgette to cotton silk and brocade the color is quite appealing which makes it fit in most silhouettes."
Vidhi has her own suggestions. "You can try out a nice short dress, a long maxi/gown or even accessories. Men can try pocket squares and dressy shirts in this shade."
Try pairing a cardigan or jacket in turquoise with other attires in colours ranging from oranges, browns, blacks, eggplants, forest greens, and fuchsia. Using this colour with anything is quite possible. Turquoise with shades of blue is a popular choice. Go for a short dress in turquoise accented by glitter if you want to shine at a formal event. Try summer dresses with interesting patterns for a slightly informal parties or events.
Priyanka Chopra |
Accessories In Turquoise
How about going for accessories in this colour? Gautam suggests, "It is quite handy in terms of scarf, ties, pocket squares, artificial jewellery and even in footwear. Those who love wearing just nudes or monochromes can use the accessory in this colour to break the monotony."
Vidhi agrees with Gautam. She adds, "Accessories look great in turquoise, think a statement neckpiece or a cocktail ring, a bag or even heels." A turquoise bag of any size does the perfect work of adding colour to a simple plain outfit.
Julianne Moore |
Of course, you see the classic combination of turquoise and silver and these days, quite a few designers are using this with a modern touch by also combining it with gold, diamonds and even pearls. Why not choose peacock-coloured jewellery? Go for drop earrings or that collar rubbing necklace.
Handy Tips
You have to get all the tips to wear this cool colour in style. Vidhi has her set of tips. "Try to pair it with neutrals, or white. Try not to go overboard with a particular shade!"
(To receive our E-paper on whatsapp daily, please click here. To receive it on Telegram, please click here. We permit sharing of the paper's PDF on WhatsApp and other social media platforms.)