Dabba goes organic: Check out these 5 healthy dabba services
After all the sugar, oil and calories that come with the festive season, a detox is much required. But what if you don't know how cook, or, cant be bothered to find all those organic goodies that kick in some flavor to your meals? Here's help. There are delivery joints in Mumbai, which provides organic, healthy and delicious meal at your office or home door. Though no joints can serve 100% organic meal but going organic as much as possible is always good.
Also Read: Interview with Zorawar Kalra
 Satva Foods
CA by profession Dipal Shah started her journey by cooking delicious foods for her kids and now caters all Mumbai through her venture – Satva Foods. "After doing my research in to organic food I realised organic food is healthy but expensive at the same time and is not available that easily. So I thought of investing in food venture which would be healthy and pocket friendly," says Shah.
Satva Foods has a nutritionist on board who sees to it that every meal has less than 575 calories. This lunch service doesn't let the boredom set in and repeats a dish only after a month.
Shah further adds, "With the festive season around the corner all I can say is celebrate the festive season in a healthier way and have a healthier approach to life. Try to say no to non-organic food."
Trail meal: Rs. 150 per meal
Order on: 99875 72882
 My Pure Path
Started in 2014 by organic expert Mayavi Khandelwal 'My Pure Path' is an organic, vegan, non-dairy, oil-free, sugar-free and gluten-free meal delivery service. "I used to suffer from hypertension, hypothyroid and diabetes, and was advised to devoid any usage of oil, sugar and dairy products. I followed the diet for more than two years and have reversed my diabetes and have cut back on medications and treatments. The lifestyle became an integral part of my living and it was when the idea of My Pure Path signed in," says Khandelwal.
The menu has loads of Indian cuisines but what sets My Pure Path different is the organic continental platter, which includes Thai, Japanese and Chinese cuisines that doesn't include any processed products. Besides, there are loads of organic snacks such as Karanji, Chakli, Chivda, Sev, Pakodas and Batata Wada on the menu, which are available throughout the year.
Trial meal: Rs. 2,250 + dabbawala charges for 10 days
Order on: 98206 24122
Also Read: Sea Buckthorn-All you need to know about this tiny Tibetan berry
Greenz
Food has always been Hansi's calling. A food aficionado, who competed with the top chefs at Masterchef India, loves tossing up a variety of salads and healthy wraps. The chef brings this experience in designing the perfect menu of exciting and vibrant flavours that will suit everyone's palette. "Started in 2015 with 30 food items today the menu comprises of more than 150 dishes," says Hansi.
We recommend you to try its brown rice meal which is high on fibre, low on carbohydrates and rich in taste. Also try the wheat pasta made using less cream and more milk.
Trail meal: Rs 150 per meal
Order on: 90043 54907
 Dial Organic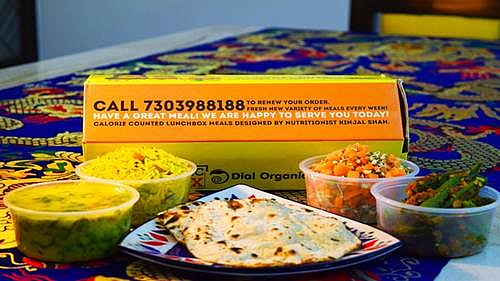 Dial Organic is one of the Mumbai's freshly and neatly prepared organic meal service. The meals served here are 97% organic and are customized as per client's requisite.
"When my son turned one I started to check for good quality milk for him. And then the thought of getting organic sneaked in. After an exhausting research I launched Dial Organic," says Namita Ambani, Founder of Dial Organic. She further adds, "We have a lot of traditional special dishes with organic twist which includes Meethe Chawal, Dal Baati Churma, Nariyal Laddoos and Gatte ke Saag, among others." The food is neatly packed in microwavable boxes.
Trial meal: Rs. 1,100 for 5 days
Order on: 73039 88188
Vegan Bites
An initiative by Samir Pasad, Vegan Bites has a diverse menu to suit every appetite. Pasad earlier used to run a juice bar and expanded to organic tiffin in 2011. Vegan Bites has been felicitated with the PETA Vegan Foods Award in 2013.
Vegan Bites has plenty of things that make it stand out from others. "The food served here are 95% organic, oil and gluten free. It has a special menu for diabetic and heart patients. And the most important, we have organic ice creams on the menu –cookies and creams flavor is a must try," says Pasad. For Diwali, Vegan Bites is introducing organic laddoos and chocolate bliss ball.
Trial meal: Rs. 270 per meal
Order on: 76665 86430
Also Read: From farm to fork
Edible products with digestive enzymes
Macrobiotic Nutritionist Shonali Sabherwal is a celebrity counsellor and the author of 'The Beauty Diet'. When asked about the significance of organic food in our diet, she says, "It is difficult to go 100% organic but whenever it is possible go for organic. Though the food could be a bit expensive but it is good for health and improves blood circulation. And stay away from dairy products. Also whenever getting anything organic watch out for the certification." For edible products with digestive enzymes you can get in touch with Shonali on 98190 35604.
 'Stay Hungry Stay Foolish' is an old adage we say 'Eat Healthy Stay Fit'.
(To receive our E-paper on whatsapp daily, please click here. To receive it on Telegram, please click here. We permit sharing of the paper's PDF on WhatsApp and other social media platforms.)