If you're already not obsessed with chrome nails, Manasi Y Mastakar will make you fall in love with this fad with her tips on how to get and rock it!
Just like fashion, nail art is an ever evolving industry. And just like fashion, nail art has become an intrinsic part of our (read women's) lives. From nail stamping plates, 3D nails, crystals encrusted or embellished nails, you name and the nail industry has it. It's not using plain ol' nail polishes anymore (though nail polishes have undergone a tremendous transformation in the past few years, but that's a topic of discussion for some other time!). Fashionistas these days are experimenting with different nail trends. And one such nail trend that has caught the fancy of nail art lovers is chrome nails.
What are chrome nails?
Chrome nails, also known as mirror nails, can be achieved in several ways. Explaining the latest trend, Ratna Gupta, Nail Trainer at MyGlamm says, "Many might confuse a Chrome manicure with a metallic nail polish. The Chrome Nails effect is a popular trend which boasts a futuristic, bold look with a highly pigmented silver powder. It gives out a chic look which can be recreated in a number of stunning shiny colours. The chrome look comes in two types – glitter chrome and metallic chrome. The pigment in glitter chrome is not as smooth as the metallic one as the particles of the glitter is visible. The pigments in the metallic chrome are fine in their approach and give a smooth and polished finish, boasting a mirror-like effect on the nail."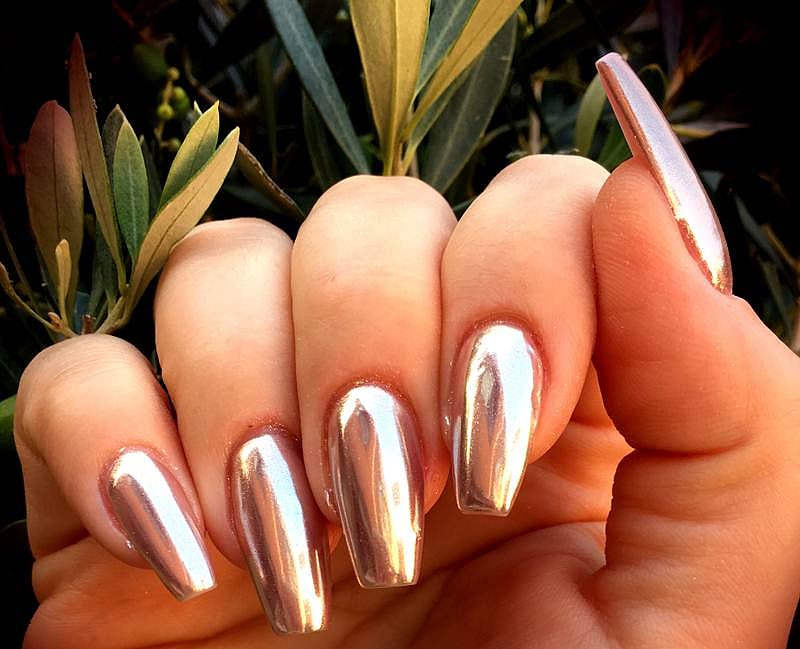 Get the look
While Gupta suggests "using a chrome nail polish, metallic nail wraps or a highly pigmented powder" to achieve the look, Amyn Manji, Director, Nailspa Experience feels, "It's best to do chrome nails with gel polishes, acrylic and gel extensions. They cannot be done on a regular nail polish. This highly pigmented mirror powder is rubbed onto cured gel polish and sealed with a topcoat to create nails you can literally check your reflection in." Rittika Bansall, owner of Nail Kouture, seconds the thought saying, "Chrome powders are the best options because the look that you get with a powder is so fine that you can actually see your reflection in it. Though there are chrome polishes, I have not been too happy about them. Nail foils are great too, but nothing beat the chrome powder."
The multi-chrome effect
Apart from the normal silver and gold chrome looks, there has been an upsurge in multi-chrome effect as well. Speaking about it, Gupta says, "The multi-chrome trend is just as popular as the normal chrome trend. Not only does this trend compliment all outfit colour choices, it also gives an interesting reflection of the rainbow. This trend serves a refined, modern sheen and has become a popular choice for a majority of fashion and beauty enthusiast."
"You can have many different styles with these pigments! All you need is bright summery base colours done in an ombre style to get the multi-chrome look," adds Manji. The multi-chrome look goes best with western wear, adds Bansal.
 Complexion co-ordination 
Since the chrome look is shiny and it gives different effect on different skin tone, one should be careful while choosing the right colour. After all, one wouldn't want to regret the look after having invested time and money in getting the chrome manicure!
Providing a helping hand in going for the right shade, Gupta suggest, "With fair skin, one should opt for classic reds, warm jewel toned plum colours, shimmery metallic shades, neons as well as neutral shades. Shades such as orange, pink, blue, red, lalic, metallic and glitter look good on people with wheatish skin tone and they should avoid dark purple, navy blue, bronze, pale and pastel colours. For dark skin tone, one should opt for timeless red hues, rose gold and copper metallics, banana yellow, neutrals, greens and blues. A black tourmaline shade is ideal for dusky complexion. Other shades include blues, green, corals and soft pastel shades."
 Shape matters
For the uninitiated, today there are several ways in which one can file (just rounding them off at the tips is passé). Apart from round nails, other shapes are almond, square and squoval (a variant of square shape). So which shape is best for flaunting the chrome look? While Bansal, Manji suggest the almond shape, Gupta says, "The possibilities are endless when it comes to pulling off the Chrome Nail effect. This trend looks good on all nail shapes. The squoval and an almond nail shape has gained popularity in terms of nail shapes. It is not necessary to find a perfect shape for a particular occasion. The person should select the shape as they desire."
[alert type="e.g. warning, danger, success, info" title=""]
How to get chrome nails at home
Since the best way to get the chrome look is with chrome powders, here are tips to get them at without causing a hole in your pocket by going to a nail salon:
Gel polishes don't stick to shiny nails, hence it's mandatory to slightly buff your natural nails (not too much if you have thin nails). If you have acrylic nails, you need not bother with this step, unless you have polish on. In this case, buff the polish.
Invest in a good range of gel polishes, gel base coat and gel top coat. Apply the gel base coat first and cure (dry) it in an LED or UV lamp (the curing time is generally mentioned on the product as each brand has a different curing time). Post this, apply a black gel polish (you get better chrome effect with black, but you can also experiment with other dark colours). Light coloured polishes should be used for a colour like rose gold. Again cure it in the lamp for the prescribed time. Apply the gel top coat, cure again. Please note, gel polishes don't dry naturally so having a lamp is a must.
Next comes the chrome powders. Pick a little amount on an eye shadow applicator or a nail sculpting brush and start rubbing it on the nail. You will see the black nail being transformed into a chrome nail immediately.
Seal the effect with a gel top coat and cure it in the lamp. Your chrome nails are ready.
[/alert]
[alert type="e.g. warning, danger, success, info" title=""]
What are chrome powders and where to buy them?
Chrome powders have come to dominate the nail art scene in the past few months. They are highly pigmented and are best used on gel polishes only.
There are several kinds of powders available. The finer the powder the clearer and cleaner the chrome look will be. A cheap or low quality powder will give you a botchy look.
If your chrome powder is good and has been applied correctly, the silver and gold powders will give you a mirror finish (yes, you would actually be able to see yourself in your nails).
To experiment with the look you can opt for multi-chrome (or chameleon colours) which will give you different shades in different lights.
India is still lagging behind when it comes to finding the best or good nail art products. You can buy these online on several ecommerce portals. Or you can visit bornprettystore.com which has a wide range of chrome powders and other nail art product. Other places such as sparkly-nails.co.uk and nailsuperstore.com also have some good nail art products.
[/alert]
(To receive our E-paper on whatsapp daily, please click here. To receive it on Telegram, please click here. We permit sharing of the paper's PDF on WhatsApp and other social media platforms.)