It's the countdown to Christmas Eve. No wonder, you have been busy baking cookies and decorating your house for the festive season. Glittery Christmas tree and fragrance of freshly baked cookies are some of the things that make the festival so special. It is the time you get into the festive mode and celebrate with your loved ones. If you are playing a host, then what better way to put on an apron and impress your guests with some lip-smacking delicacies? With Christmas in the air, we bring to you scrumptious recipes that won't let you down. Here you go.
Recipe by Chef Neelabh Sahay, Executive Chef, Novotel Kolkata Hotel & Residences
Roast Leg of Lamb
Ingredients:
Olive oil – 2/3 cup
Dry red wine – 1/2 cup plus 2 tablespoon
Red wine vinegar – 1/4 cup
Balsamic vinegar – 2 tablespoons
Fresh rosemary, diced – 5 tablespoons
Garlic cloves – 10
5 lb. leg of lamb, butterflied, with bone removed
Salt and fresh cracked pepper to taste
Recipe:
Mix all the ingredients, except the salt and pepper, in a big glass bowl and add the lamb.
Make sure that all the lamb is covered. Cover with plastic wrap and refrigerate for at least 24 hours, turning every now and then.
Remove from the fridge for about an hour before roasting, in order to bring the lamb to room temperature.
Remove lamb from marinade and sprinkle generously with salt and fresh cracked pepper.
Roast the marinated lamb leg in a pre-heated oven at 180 C for 50 minutes. (Regulate the duration depending on the desired doneness)
Remove lamb from the oven and keep aside for 20 minutes to allow the juices to settle down.
Carve and serve.
Vanilla Crescents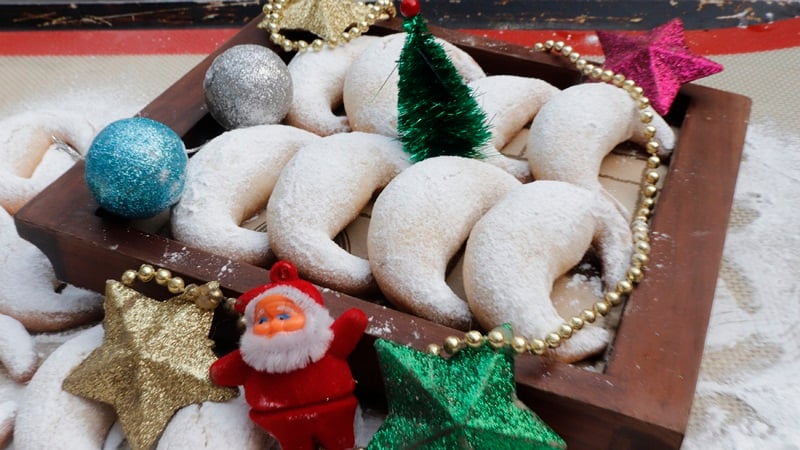 Ingredients:
Soft butter – 600 grams
Caster sugar – 180 grams
Salt – 5 grams
Egg yolk – 120 grams
Flour – 500 grams
Almond Powder – 300 grams
Cinnamon powder – 15 grams
Vanilla beans – 10 grams
Recipe:
To make delicious Vanilla Crescents, cream the butter and sugar till it gets light and fluffy.
Add egg yolks to the above mixture followed by vanilla beans.
Sieve all the dry ingredients together and fold in the mixture.
Make small balls, make it flat and twist the edges. Bake at the temperature of 180 degrees Celsius.
Dust the icing sugar on top of it.
Recipes by Executive Chef, Gopal Jha, Grand Mercure Bangalore
Brunsli with Meringue cookie 
Ingredients:
Ground hazelnuts – 100 grams
Egg whites – 2
Salt
Lemon juice – ½ teaspoon
Sugar – 125 grams
Vanilla sugar – 1 tablespoon
Cinnamon – 1 teaspoon
Ground almonds – 100 grams
Recipe:
Beat egg whites with lemon juice, salt, and sugar to a firm meringue.
Put aside 3 tablespoons of the meringue, to the rest add the vanilla sugar, cinnamon, nuts, and almonds. Cover and refrigerate for 2 hours.
Roll out about to about ¾ cm on a sugar-covered surface (you can roll the dough between two layers of cling film to make things easier).
Cut out stars, put them on baking racks and cover with the meringue that you have put aside, adding to it some drops of water.
Bake in the warm oven at 150 °C in the lowest part of the oven for 15-18 minutes.
Take off the racks and let cool while still on the baking sheet. They should be stored in tin boxes and get softer after 1-2 days.
Chocolate Nero cookies
Ingredients:
Almonds – 1 cup
Eggs – 2
Granulated Sugar – 1/3 cup
Chopped bittersweet chocolate – 2 cups
Unsalted butter – 2 tablespoons
Flour – 1/2 cup
Baking powder – 1 teaspoon
Castor sugar and icing sugar to roll
Recipe:
Toast the almonds in the oven until light golden brown and once cool, grind finely and set aside.
Set a stainless steel bowl over a double boiler, and melt the chocolate and butter together, stirring frequently.
Once completely melted, remove from the heat.
In a separate bowl, combine the eggs and sugar.
Beat on medium speed about 5 minutes, or until the mixture is pale and frothy.
Slowly pour the chocolate mixture into the eggs mixing well to blend.
Add the flour, baking powder and almonds to the chocolate and eggs and mix just until a smooth dough is created.
Refrigerate the dough for two hours.
Heat the oven to 325 degrees F.
Remove the dough from the refrigerator and take small pieces about the size of large olives and roll into a ball.
Roll each ball first into the granulated sugar, then into the powdered sugar and place on a parchment covered baking sheet.
Continue to use up all of the dough in the same manner.
Bake the cookies for about 15 minutes or until they expand and begin to crack.
Gingerbread with jaggery
Ingredients:
Unsalted butter -100 grams
Jaggery granules (chopped fine jaggery) – 135 grams
Honey – 45 ml
Water – 30 ml
Dried ginger powder – 1 teaspoon
Cinnamon powder – 1 teaspoon
Zest of 1 orange
Baking powder – 1 teaspoon
Baking soda – 1/2 tsp
Eggs – 2
Whole-wheat flour – 175 grams
Demerara sugar for sprinkling over
Recipe:
Preheat oven to 180 C. Line a baking sheet with parchment and lightly grease 5 mini cake mould.
Place the jaggery, butter, honey, and water in a heatproof bowl. Then heat in the microwave for a minute, until the butter has melted. Whisk well with a balloon whisk until the jaggery and butter have combined.
Add the ginger powder, pie spice, orange zest, vanilla extract, baking powder, and baking soda. Whisk well.
Whisk in the eggs one by one. Now fold in the whole-wheat flour gently.
Ladle into prepared tins, sprinkle over dried orange crystals. Bake for approximately 20-25 minutes until risen and light golden brown (40-45 minutes for a larger cake). Use a tester to check if done.
Allow to cool in pan for 10 minutes, and then gently loosen sides to demould. Serve warm as it is or with a drizzle of unsweetened whipped cream.
Recipes by Executive Sous Chef, Lokesh Jarodia, Novotel Imagica Khopoli
Roast Turkey with Cranberry Sauce
Ingredients:
Turkey – 1
Butter – 100 grams
Chopped onion – 100 grams
Chopped celery – 100 grams
Crumbled sage, thyme – 10 grams
Salt and pepper
Chopped fresh parsley – 10 grams
1 bay leaf
Minced garlic – 10 grams
Balsamic vinegar
Sugar – 20 grams
Cranberry – 150 grams
Recipe:
In a skillet, melt butter over medium heat. Stir in onions, celery, sage, thyme, and pepper; cook, stirring occasionally, for 10 minutes or until browned
Remove giblets and neck from the turkey cavity, keep for gravy. Rinse turkey inside and out with running water.
Stir together butter, sage, salt, and pepper; rub over turkey, inside and out. Loosely pack stuffing into neck and body cavities, fold over and skewer neck flap closed over stuffing. Tie legs together.
Place turkey, breast side up on the rack in roasting pan. Cover with foil and roast in 325°F oven for about 1.5 hours, basting with pan juices every 30 minutes. Remove foil and continue to roast or 1 3/4 hours, basting every half hour, or until instant-read meat thermometer inserted into thickest part of the thigh reads 185°F. Keep it under a lamp for carving.
Meanwhile, in a saucepan, bring chicken stock turkey neck, giblets, onion, and bay leaf to boil, reduce heat and simmer. While cooked turkey rests, skim excess fat from roasting pan whisk in flour until well combined
Gradually whisk in reserved giblet stock. Bring to boil and cook, season to taste with salt and pepper. Strain and serve alongside turkey.
For cranberry sauce in a small saucepan, heat oil over medium heat, stir in onion and garlic and cook, stirring occasionally, for 5 minutes or until softened.
Put balsamic vinegar; boil for 5 minutes or until reduced now mix together cranberries, sugar, salt, and pepper. Mix into onion mixture; bring to boil and cook, until cranberries are tender and sauce is thick.
Raspberry and Balsamic Dome
Ingredients:
Dark chocolate – 450 grams
Butter – 450 grams
Sugar – 225 grams
Water 125 grams
Eggs- 8
Egg yolk – 30
Caster sugar – 150 grams
Honey – 375 grams
Dark chocolate – 2 kilograms
Whipped cream – 875 grams
Melted butter – 900 grams
Gelatin – 80 grams
Egg white – 20
Recipe:
Prepare silk sponge by mixing dark chocolate, butter and mix sugar syrup and egg at last and then bake in a tray in 180C for 25 minutes.
Make chocolate dome mixture by mixing sugar and eggs in a double boiler. Melt the chocolate and butter keep it aside.
Soak gelatin in cool water, and add sabayon and chocolate mix to the mixture. Add soaked gelatin and fold the whipped cream in a mixture of chocolate and butter.
Beat the egg whites and make meringue, then add the raspberry puree and balsamic in dome mixture and set it in dome mould.
(To receive our E-paper on whatsapp daily, please click here. We permit sharing of the paper's PDF on WhatsApp and other social media platforms.)
Published on: Thursday, December 20, 2018, 02:45 PM IST