Interior designer Mustafa Eisa shares 10 easy, economical ways to add glamour to your spaces
Nothing like a shot of glam to banish dullness and give your home some much-needed pizzazz! The good news is, you don't have to break the bank to amp up the style quotient of your spaces. Mustafa Eisa, of Mustafa Eisa Design, shares 10 viable ways to get glitzy…
Colour – There is nothing more economical than paint when it comes to adding a fresh or even glamorous look to your home. You may choose to paint all rooms in your home in a different shade, but if your budget allows for a slight extravagance, you can go with a stucco finish on an accent wall.
Mirrors – In an urban environment where space is at a premium the clever use of mirrors can enhance the size of your space. Space undoubtedly is a luxury – so by making your space appear bigger it appears more luxurious. For an ultra-glamorous look you could use a bronze or even a gold-tinted mirror.
Go Eclectic – For those on a budget, going 'eclectic' allows you to mix rather than match. It also allows you to purchase furniture and objects you like within your budget without having to worry about coordinating a specific theme. Achieving an eclectic look however isn't always easy, and could end up looking too mismatched. A trick to avoid this happening is to use colour as a common thread to bind together different pieces.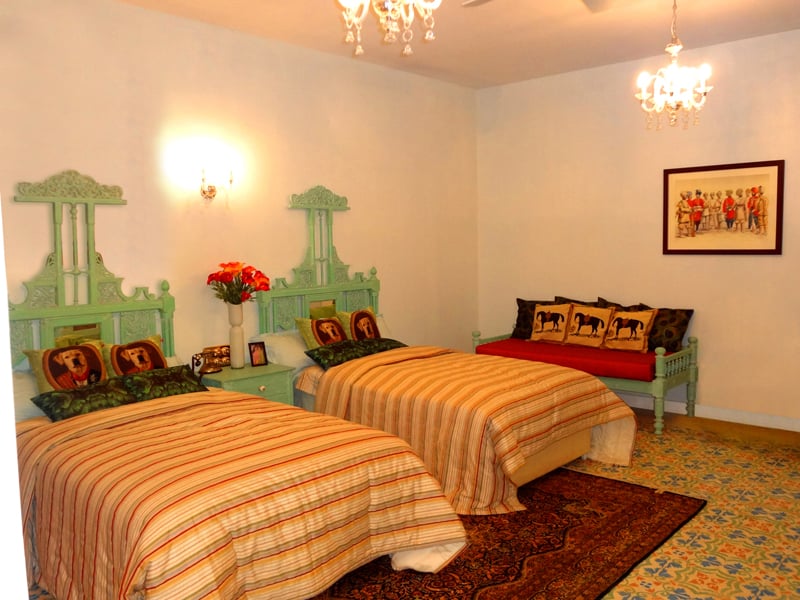 Lighting – It plays an extremely important role in adding glam to your home. Use only yellow light since nothing looks shabbier than white light in a home. Replace some of your light switches with a dimmer; dim light adds glamour and hides flaws. You need to know the difference between 'task lighting' (generally brighter in the form of spots or tube lights) and 'decorative lighting' (by way of chandeliers, floor and table lamps). When entertaining, use mostly decorative lighting to achieve a glamorous look, and if you are challenged by dark areas where you don't have a decorative light simply use your task light with a dimmer.
Decorate your walls – Using art on your walls need not be expensive anymore. Just go online and search for artworks or photographs that go with your look. You can take this image to your local printer and print it on canvas and then have it framed. If you have an artist at home, get them to add some brush strokes in paint over the print so it appears more like a painting than a print. (Images may be subject to copyright).
 Repurpose – It's a great idea to repurpose old furniture and accessories. Using a new coat of paint or replacing fabric on an existing piece gives it a new life. You will be surprised how glamorous an old armchair your grandparents gave you would look when upholstered with a contemporary geometric fabric, or the pizzazz an old piece of furniture painted in a bright colour can achieve.
Shop Online – Take advantage of online players who offer heavy discounts to boost their sales numbers. Remember that they are basically doing this at a very low profit margin – since their only goal is to gain a larger customer base for now. Use this to your advantage
Accessorise – Accessorising is an important tool to glamorise your home. Try and group things together to achieve a look of synergy. Candles too should be grouped together in different parts of your home. They are a simple way to add a touch of glamour and warmth. You can even use books to accessorise coffee tables and empty shelves.
 Prioritise your budget – Spend more on the living and dining room than on bedrooms, as these are spaces you use to entertain and spend time with your family. Bedrooms should be more minimal anyway, since this is a place to relax and sleep. Spend your budget wisely even within zones of the living area, for example your coffee table is more of a focal point than your corner table. Invest in a few good accent pieces that add glamour to an area – for example a beautiful chandelier over your simple dining table will enhance the look dramatically.
Deconstruct & De-clutter – Get rid of things that don't belong or make the rest of your space look cheap or shabby. Objects that are there just to fill up a space without adding any aesthetic value – must go. A neat and organised space is a statement unto itself, as is a disorganised and crowded space.
[alert type="e.g. warning, danger, success, info" title=""]
MUSTAFA EISA DESIGN
Established in 1993, Mustafa Eisa Design is the brainchild of the talented Mustafa Eisa whose passion for design, innovation and re-invention was supplemented with formal academics with an intensive course in 1993 at one of the world's leading design institutes – the Parsons School of Design. Guided by the able and renowned master David Brogna, Mustafa topped his class, flew homeward and marked his debut in the world of the interiors with Mustafa Eisa Design (MED) in the autumn of 1993.
With 25 years of design experience, Mustafa has elevated industry standards to new heights with his visionary approach. Mustafa Eisa Design stands amongst the leaders in industry through committed leadership with pioneering trends, a focus on the customer, integrated processes and an unrelenting commitment to quality.
The philosophy of MED stems from Mustafa's 'passion principle' – that of uncompromising quality supplemented with constant innovation and re-invention. Stamping a signature has never been MED's style, thereby constructing paths of versatility through creative freedom. Complimenting this house philosophy is the belief that 'superlative design should never be an excuse for impracticality in function'!
[/alert]
(To receive our E-paper on whatsapp daily, please click here. We permit sharing of the paper's PDF on WhatsApp and other social media platforms.)
Published on: Sunday, July 22, 2018, 04:13 AM IST