This book authored by veteran journalist Khalid A-H Ansari and edited by Clayton Murzello is a unique ode to contemporary cricket's finest batsman. The book also captures critical moments of Tendulkar's wondrous cricketing career from photographers who have followed him throughout his distinguished career.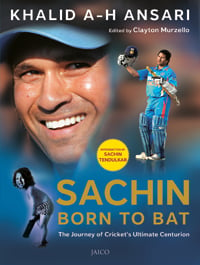 Is there anyone who doesn't want to know about Sachin Tendulkar. The more one knows about him the more one wants to know because the man seems endlessly fascinating.
Media-owner and sports writer Khalid Ansari in his Introduction to this delightful, highly informative and even more thoroughly enter-taining book says Tendulkar has "more significantly boosted the sense of national pride and self-esteem of fanatical cricket aficionados in a nation of a million plus people, often helping their spirits soar celestially in on otherwise mundane existence".
As Ansari sees Tendulkar, he is arguably the best batsman ever, greater than even Don Bradman, considering his ex-ploits in all three forms of the game. It is not that Ansari is a blind fan of Sachin. Par from it.
For example, he says Tendulkar was never a brilliant captain and was "often prone to placing friendship over team interest". At the same time he quotes a columnist C.P. Surendran as saying that the English language "fails Tendulkar" because no one word can really fully describe the man that he is.
But there is one story about him that is most touching. He was playing for India in the 1999 World Cup in England when news came to him that his father has expired.
Sachin took the immediate next flight to Bombay, to be close to his family, when, the story goes, his mother chided him, saying: "You were playing for your country. Who asked you to come back?" Sachin took that in the right spirit. He stayed on till the last rites were over, then rushed back to England in time to participate in a crucial match against Kenya to score 140 not out, in an unbeaten stand of 237 with Rahul Dravid in 27 overs. That 140 Sachin dedicated to his father. A touchingtribute. Mathew Haydon once said of Sachin: "I have seen God. He bats at No. 4 in India in Tests!"
This is, let it be clear, not a definitive bio-graphy, though one wishes Ansari had ordered one to be written. It is a collection of many articles written on Sachin by many who have known him well, men like Milind Rege, Harsha Bhogle, Ayaz Memon, Claton Murzello, Sourav Ganguly, Ian Chappell et al. What more can one possibly ask?
According to Chappell: "Tendulkar is the best batsman of his era, slightly better than Brian Lara". Mike Coward has his own comment to make on this subject. Over the years, he noted, there has been much animated debate as to who, among the two, Tendulkar or Lara, has been the pre-eminent batsman of the contemporary game. But then, Coward added: "Lara, the more classical of the two, was never in doubt that the distinction belonged to Tendulkar". Lara himself has been quoted as saying: "Sachin is a genius, I'm a mere mortal!"
Cricketer after cricketer has showered undiluted praise on Sachin. To quote just a few: to Nari Contractor, Tendulkar "is the epitome of humility and politeness". To Kapil Dev "Tendulkar is one of the greatest sportsmen produced by India".
To Richie Benaud,   Tendulkar "has defined cricket in his fabulous, impeccable manner". Andy Flower, former Zimbabwe captain saw it, in a different light. AS he put it: "There are two kinds of batsmen in the world: one – Sachin Tendnlkar; two – all others!" That was his way of saying that Sachin was one of his kind, unique.
It is amazing the kind of tributes cricketers from all over the world have showered on Sachin. It has apparently not affected him in any way. As Khalid Ansari himself states "for all his splendiferous achievements, Sachin remains conspicuously sell-effacing, exceptionally deferential towards his opponents, inordinately understated in his demeanour and unfailingly respectful towards elders".
Four people, it is claimed, exercised the most powerful influence on Sachin: his father, Ramesh Thackeray, mother Rajni, close school friend, Ramesh Pardhe (now Sachin's personal assistant) and long-term coach and mentor Ramakant Achrekar, all with names beginning with the letter 'R' – if that fact is of any significance.
If one thinks of letters, then Sunil Gavaskar has his own way to assess Sachin's genius. Gavaskar attributes it to what he calls the B.R.E.T.T. factor, 'B' standing for Balance, 'R' standing for Respect for the game, 'E' for Enthusiasm, he first 'T' for Talent and the second for Temperament.
AS Gavaskar saw it, "talent is nothing without temperament and Sachin's tempera-ment was such that "the biggest of crises does not faze him". Actually Sachin remains the first player to score five Test tons before the age of 20. He was just about 15 when he first played for the Cricket Club of India along with the likes of Sandeep Patil and Ravi Shastri.
And what is just as interesting is the fact that during India's 1991-1992 tour of Australia, Sachin became the youngest ever to score a Test century at the Sydney Cricket Ground. Australian fielders were heard to mumble: "Jesus, this is something special."
What are his virtues and his shortcomings, if there are any? The one who could speak with authority surely would be his wife Anjali who was interviewed. She described Sachin as "a very normal kind of person at home, as all husbands are".
Sachin, however, was not one to do any dusting or other routine household work, but was willing to help with cooking and being very fond of non-vegetarian food, ready to do the cooking himself. Sachin apparently thought that he was not just a "very good cook" but was "greatest".
He seldom talked cricket with his wife because he thought she knew nothing about it. So, what did she think of him? As any wife would say Anjali said: "He is very stubborn and once he made up his mind to do something he will not rest till he has finished it at any cost, no matter what the consequence. I would like to change his stubbornness!" One wonders whether she ever has succeeded.
The additional charm of this book is that it has pictures of Sachin since his childhood. For Sachin fans this would be an ideal gift. Ansari claims that his aim was to "focus the scanner on Sachin's persona from the empathic and cognitive prism". And he has succeeded. But one still feels Ajnsari had brought out as much about the man as about the cricketer. Surely, there is more to life than being a success as a cricketer?
M.V. KAMATH
(To receive our E-paper on whatsapp daily, please click here. We permit sharing of the paper's PDF on WhatsApp and other social media platforms.)
Published on: Sunday, December 09, 2012, 12:40 AM IST