As polling started for first phase of civic polls in Madhya Pradesh, voters lined up in large numbers outside polling booths. Weather also seemed clear against apprehensions that rain might play spoilsport today. Voting picked up as the day progressed. Bhopal recorded around 16% turn out in first four hours of polling. Around 10% Indoreans cast their votes in forst two hours while at Ujjain, voting percentage till 11am was 26%. Chhindwara saw 26% voting by 11am, Jabalpur 35% and Gwalior around 30% by 12 noon.
An elderly helped by poll staffers to reach the polling booth in Ujjain | FPJ
Indore Commissioner of Police Harinarayanchari Mishra exercised his franchise and urged voters to do the same in impartial and fearless manner.
ExLok Sabha speaker Sumitra Mahajan casting her vote with family in Indore at booth no. 42 in Indore | Pintu Namdev
A wheelchair born old woman also cast her vote in Indore on Wednesday | Pintu Namdev
Women of all age groups and classes lined up at polling booth in large numbers at indore | Pintu Namdev
A groom reached polling booth before his marriage procession left for wedding destination in Damoh | FPJ (screen grab)
Muslim women casting their vote for civic polls at MLB college in Bhopal | FPJ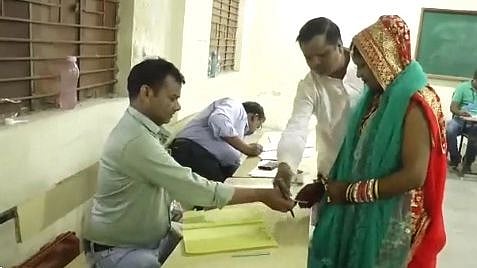 A bride Madhuri reached a polling booth in Dulhan attire and exercised her franchise in Bhopal | FPJ
Savitri, 108) have been casting votes in every election on regular period. She is a resident of Gori Nagar and casted her vote at ward 20. She came here with her family including her daughter-in-law and grandsons. The family informed that she is a regular voter and never miss out a chance to cast her vote. She does not consider her age as hindrance and acts as a responsible citizen.
Former CM Digvijaya Singh cast his vote with wife Amrita Singh at ward 24 Shyamla Hills in BHopal | FPJ
Indore Congress mayoral candidate Sanjay Shukla alleges that police are acting as BJP agent and taking no action in case of his supporter beaten up on camera
Farheen, 20, she's trying to cast vote from last 2 years but every time she gets her name in the list but her vote gets deleted. She had reached Govt school at Govindpura, Bhopal | FPJ
Princy Jain | FPJ
First time voter
Princy Jain, casted her vote for the first time at Kendriya Vidyalaya near Maida mill road, Arear Hills, Bhopal on Wednesday. She said that the election process was smooth and the officials were helpful.
Supporters of a Congress candidate and supporters of an Independent candidate clashed with each other during the first phase of civic bodies elections at ward no. 30, Sehore district on Wednesday. Following the clash one of the supporters of the Congress candidate attacked a supporter of the independent candidate with a sharp edge weapon. As soon as the police received information about the incident, they rushed to the spot and admitted the injured to the district hospital.
111-year-old Ram Kunwar Bai, a resident of Barkhedi, reached Rashidiya school polling station to cast her vote. | FPJ
(To receive our E-paper on whatsapp daily, please click here. To receive it on Telegram, please click here. We permit sharing of the paper's PDF on WhatsApp and other social media platforms.)