BHOPAL: All 1.30 lakh students who had enrolled themselves for CBSE Class 12 examinations from the 1,505 schools in the state have been declared successful. Around 7,000 students had enrolled for the school-leaving exam from 100 CBSE schools in the city.
The results were declared at 2 pm on Friday. As the examinations were cancelled owing to the pandemic situation, the CBSE has calculated the marks of the students on the basis of their performance in classes 10 and 11 and the internal assessment in class 12.
Among the major schools in the city, almost a quarter of the 275 students of Delhi Public School have scored 95% or higher marks. More than 10 students of the school have scored the perfect 100 in different subjects. Siddhanth Dass with 99.6% is the school topper.
Shashwat Jha with 98% marks in PCM is the topper in Campion school, followed by Amber Tripathi (97.8%). A total of 345 students, including 134 girls and 211 boys, had appeared in the exam from St. Joseph's Co-ed School, Arera Colony. Mayukh Roy (PCM) with 97.6% is the school topper, followed by Pranjal Verma (97.2%).
Namrata Vaswani of PCM stream with 97.3% marks has emerged as the topper in the St. Joseph's Girls Senior Secondary School, Idgah Hills. In St. Paul School, Aditya Saxena, 98.2% has scored the highest marks. In Anand Vihar School, TT Nagar, Prasoon Mishra with 96.6% is the school topper. Chindanshi Bohra Jain with 96.2% scored the highest marks in St. Xavier's School.
Free Press talked with some of the top scorers from Bhopal. Here is what they said:
Students celebrate after CBSE declared class 12th results, in Bhopal, Friday | FP photo
Siddhanth Dass | FP photo
99.6% Siddhanth Dass, Humanities
- 'Want to pursue graduation in history from DU'
Though I was a bit apprehensive earlier about how I would fare, I am now happy with my marks. It would have been better had exams been held but on the other side, we are perhaps safe because they weren't held. My father is an SDO in the state irrigation department and my mother is a lecturer in a government higher secondary school. I want to pursue graduation in history from the Delhi University. I aspire to become a professor in a college or join the civil services. I am active on Twitter, as being a student of political science, I need to keep myself updated on current affairs.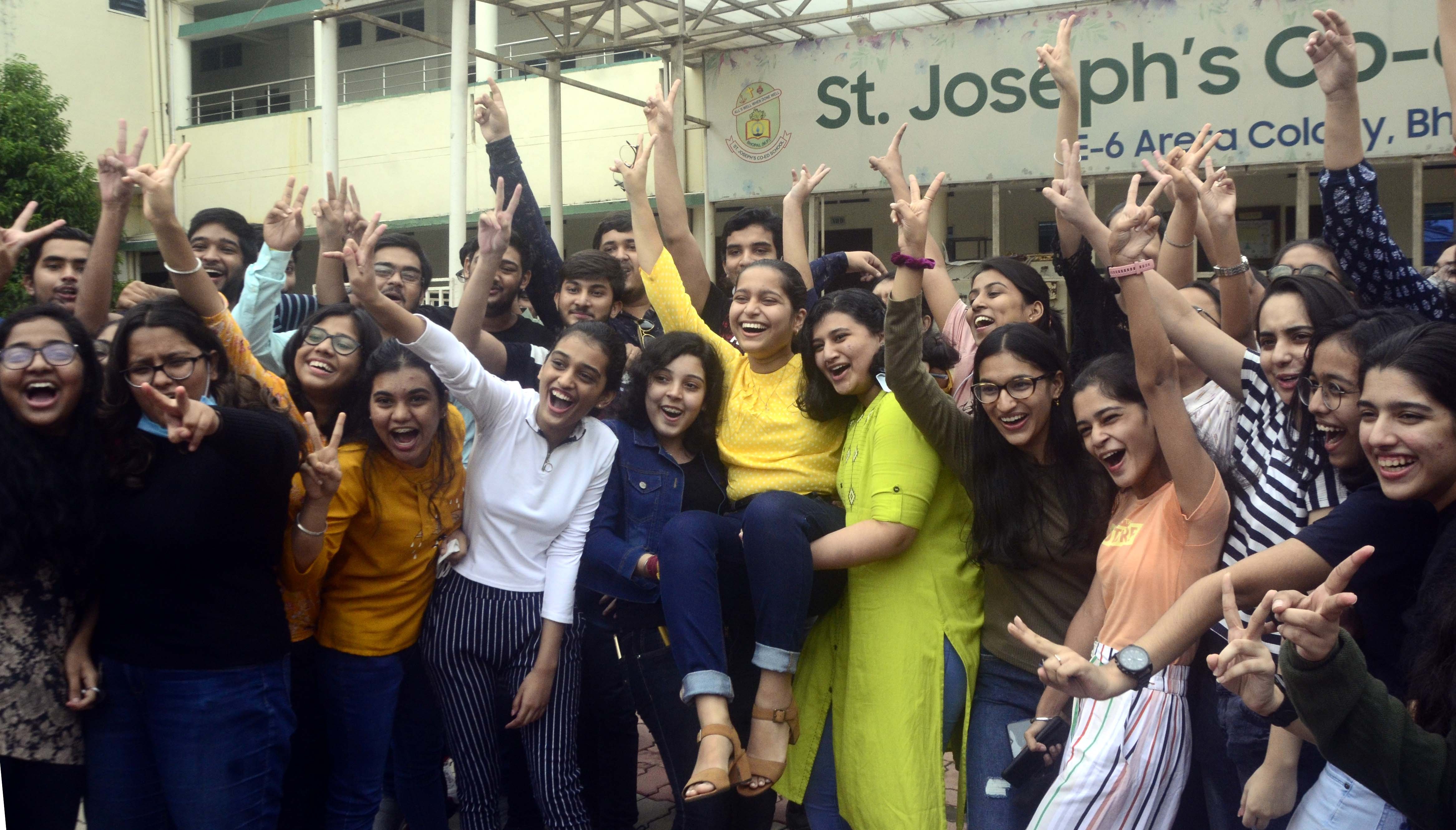 Students celebrate after CBSE declared class 12th results, in Bhopal, Friday | FP photo
Ishika Kanotra | FP photo
99.2%Ishika Kanotra, Humanities
'My ambition is to join the IAS'
I am happy and satisfied with my marks. If the examinations were not held, it was not our fault. I was full prepared for the exams. I had appeared in three pre-boards. After it was finally announced that we won't have to take an examination, I made 'positive use' of the time available. My father is a general manager in a private engineering company while my mother teaches in DPS, Kolar. My ambition is to join the IAS. As for social media, I am active only on Instagram.
99.2% Celinaa Srivastava, Commerce
'Want to make a career in finance or management'
I am feeling very good. I was expecting around 98% marks but what I have got is higher. Our academic session stretched up to one and a half years, against the normal one year. We faced uncertainty, there were health concerns and sometimes I felt very disturbed. But all's well that ends well. I think the decision to cancel the exams was correct. They did the best they could have done in the given circumstances. Mathematics and economics are my favourite subjects and I want to pursue a career in finance or management. My dad is an IRS officer and my mom is a music teacher. I am on Instagram. I use no other social media platform.
98.8% Vansh Uppal, PCM
"Want to be physician or a mathematician"
My father runs an LPG agency and my mother is a homemaker. I am a bit disappointed but happy. The decision to cancel the examinations was right as at the time the situation was out of hand. I am inclined towards research. I want to become either a physician or a mathematician and pursue research in either of the two disciplines. As for social media, I consider it a waste of time. But it is a good way of giving oneself a break. I am on Twitter.
(To receive our E-paper on whatsapp daily, please click here. We permit sharing of the paper's PDF on WhatsApp and other social media platforms.)
Published on: Saturday, July 31, 2021, 05:05 AM IST